Yeezy Gap Clothes Displayed in 'Trash Bags' Divide Fans
The way that Yeezy Gap Clothes are being displayed in stores is causing a stir online, as "trash bags" are being used instead of traditional hangers.
Kanye West, now known as Ye, has launched a major collaboration with GAP, co-created with Balenciaga designer Demna. While fans are excited about the clothing, some are less thrilled about the way that they're being marketed and displayed in stores.
Social media users have shared images and stories of Yeezy Gap clothes, which sell for upwards of $300, being piled on top of each other in large black bags.
Newsweek has reached out to GAP, and its parent company GAP Inc., for comment.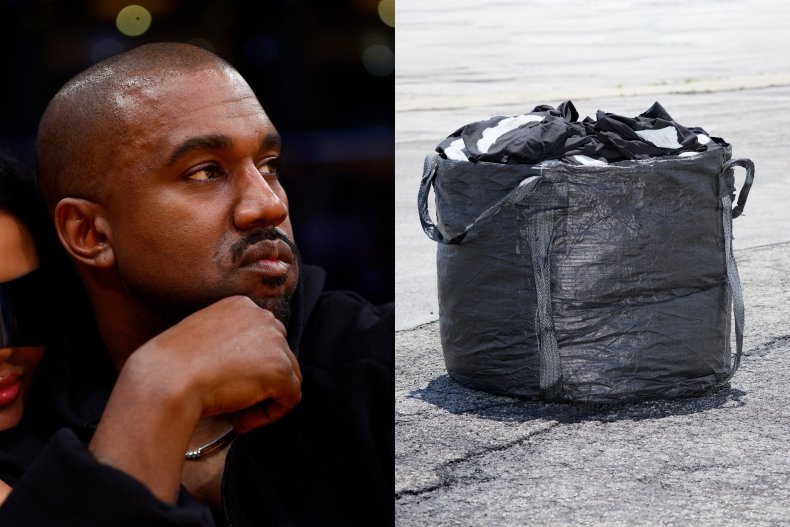 The range was announced earlier this year, and finally launched in late July, but images of the clothes in stores have started to circulate online.
CNBC journalist Jay Yarow took a picture of three large black bags sitting central in a GAP store in a New Jersey Mall.
He called them "Yeezy Gap trash bags."
Twitter user @Owen__lang, real name Owen Langan, took a picture of three large bags, seemingly filled with Yeezy Gap clothes in the Garden State Plaza mall in New Jersey.
"This is how they are selling Yeezy GAP," they wrote. "The sales associate said Ye got mad when he saw they had it on hangers and this is how he wanted it. They won't help you find ur size too, you just have to just dig through everything." The claim that Ye "got mad" is unverified.
"I thought it was an installation or something for an ad campaign at first," Langan told Newsweek, before he was informed by a member of staff that everything was in fact for sale.
Thousands of people weighed in to comment on the presentation choice.
One Twitter user saw it as a refreshing change. "I'm not mad at it. Changing things up its fun and different," but another wryly replied with, "Yeah looks really fun digging through a giant pile of clothes, laundry is so fun."
Others compared their own experiences and thoughts of seeing the display in their local GAP store. @TerranceOmar described spotting it in a Houston GAP.
"As a former visuals manager I can say this would make me quit my job if I were still on the visuals team," they wrote.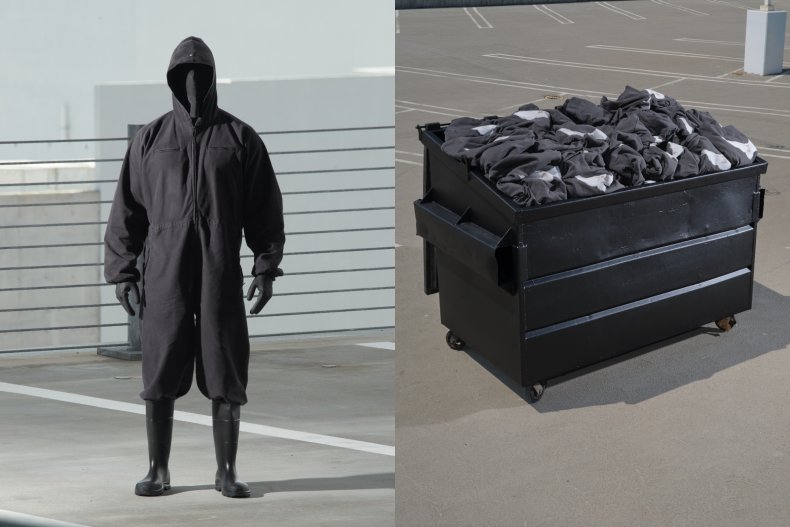 "This gotta be a social experiment" questioned @Dazrick18JOE, to which others agreed. "I kinda think so too. I love Kanye but couldn't imagine paying $200 for basic clothes out of a bag on the floor," wrote @PretzelPapi who also added, "I think he exploits [fans] vanity to build his empire."
The display directives seen in GAP won't be a surprise to fans of Ye's clothing brand.
During the recent launch between him and GAP, promotional pictures showed the bags, as well as clothes displayed in black vans and black dumpsters.
The clothes are also displayed on models whose faces are completely covered in black material, just as Ye has been seen wearing in public across 2022.
Article updated on 08/17/22 at 06:00 a.m. ET: Addition of direct quotes from Twitter user Owen Langan.