As Yellen Plays Down Inflation Risks, Rand Paul Asks if U.S. Will Be Next Venezuela
The federal deficit is expected to increase significantly with the implementation of Congress' new coronavirus relief package, and Republican Senator Rand Paul is concerned that the government borrowing could cause inflation,
"Will US be the next Venezuela with Congress borrowing over $6 trillion in one year?" Paul wrote on Twitter Sunday. The senator's tweet referenced a Bloomberg report about hyperinflation in Venezuela, which caused the nation's central bank to begin issuing bills worth 200,000, 500,000 and 1 million bolivars on Monday, in order to meet present economic "requirements." Venezuela's 1 million bolivar note is currently worth about $0.53, according to the latest exchange rates published by the central bank.
The Kentucky senator's concern countered recent remarks from Treasury Secretary Janet Yellen, an economist who previously chaired the Federal Reserve and assumed her latest position in January. Responding to questions from economists about the possibility of inflation following passage of the relief package, Yellen told MSNBC on Monday, "I really don't think that is going to happen."
"We had a 3.5 percent unemployment rate before the pandemic, and there was no sign of inflation increasing," Yellen said, adding that "there are tools to address" inflation if it does begin to materialize.
Over the weekend, Paul voted along with all Senate and House Republicans to oppose the new bill, but it eventually passed in a party-line vote of 50-49 in the upper chamber. President Joe Biden's package, totaling $1.9 trillion, will return to the House for a second vote on Tuesday and will likely pass with Senate amendments included.
Jerome Powell, who was nominated to chair the Federal Reserve by former President Donald Trump and has held the position since early 2018, pushed back against Republicans' inflation concerns while testifying before the Senate Banking Committee in February. Powell cited average U.S. inflation rates dating back roughly 25 years, which remained lower than 2 percent, and told the committee that projections indicate those numbers will be consistent throughout the next 12 months.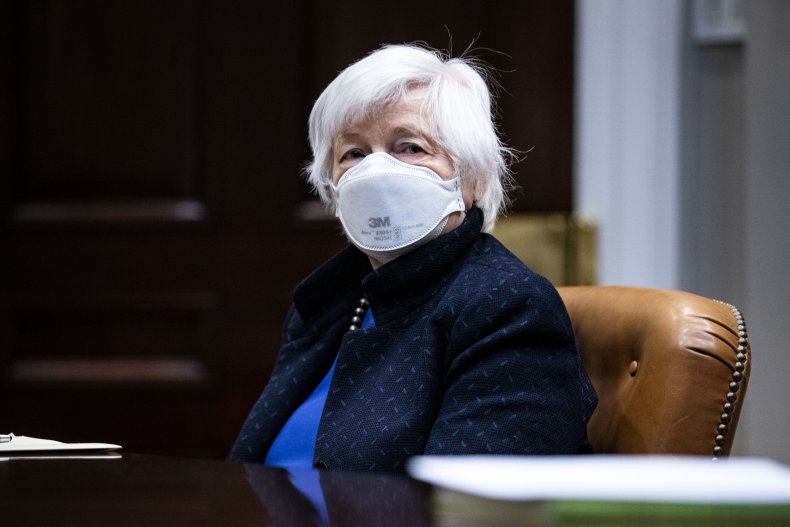 "The pandemic has also left a significant imprint on inflation. Following large declines in the spring, consumer prices partially rebounded the rest of last year," he said in prepared testimony. "However, for some of the sectors that have been most adversely affected by the pandemic, prices remain particularly soft. Overall, on a 12-month basis, inflation remains below our 2 percent longer-run objective."
Newsweek reached out to the Treasury Department for comment but did not receive a reply in time for publication.