Yellen Says Treasury Department Will Reach Debt Limit Dec. 15, 12 Days Later Than Predicted
Treasury Secretary Janet Yellen told senators that the United States will reach its debt limit 12 days later than she initially predicted, giving Congress more time to reach an agreement before risking a shutdown or a default on the national debt.
Yellen told lawmakers in a letter that her newest deadline of December 15, extended from December 3, came after President Joe Biden signed his $1 trillion infrastructure bill into law.
"Yesterday, the President signed the Infrastructure Investment and Jobs Act, which appropriates $118 billion for the Highway Trust Fund," she wrote. "These funds must be transferred into the Highway Trust Fund within one month after the enactment of the legislation, and the transfer will be completed on December 15."
Yellen continued, "While I have a high degree of confidence that Treasury will be able to finance the U.S. government through December 15 and complete the Highway Trust Fund investment, there are scenarios in which Treasury would be left with insufficient remaining resources to continue to finance the operations of the U.S. government beyond this date."
She concluded that it is critical that Congress raise or suspend the debt limit as soon as possible to avoid a financial crisis like a recession or the U.S. dollar losing its value.
In October, the Senate voted 50-48 to extend the debt ceiling, the legal limit on how much outstanding debt the federal government can hold, through early December after a weeks-long partisan stalemate over the issue. Lawmakers finally agreed to waive the filibuster, which paved way for the Democrats to pass the bill along party lines.
The extension temporarily raising the debt ceiling to $480 billion, the figure the Treasury Department reported needing to make it to December, was passed in the House shortly after. Yellen previously said the increase "provides only a temporary reprieve" until the deadline.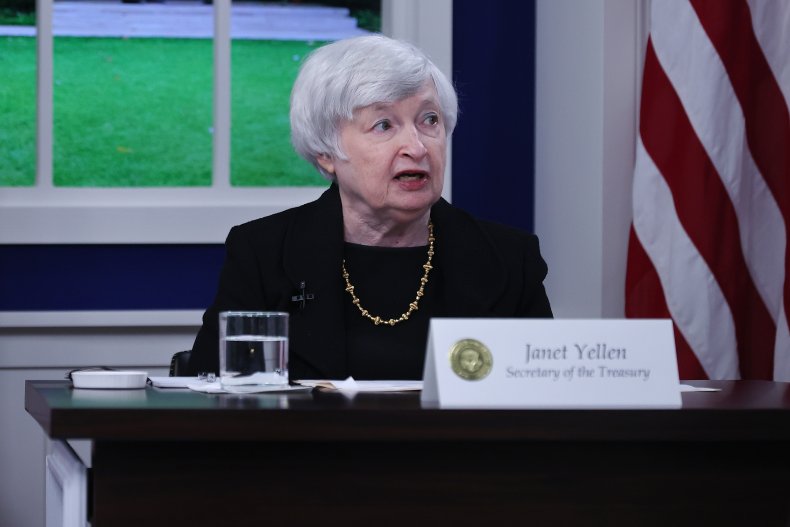 Both political parties agree that the nation cannot default on its debt but have differed on how to solve the problem.
Republicans believe that Democrats should address the debt ceiling through budget reconciliation, but Democrats argue that the process is too time-consuming and that it should be a bipartisan responsibility.
Senate Minority Leader Mitch McConnell believes that the agreement gives Democrats, who have a slim majority in both houses of Congress, more time to raise the debt limit along party lines.
Yellen said at the start of November that the U.S. Treasury Department plans to borrow $1.02 trillion during the current quarter, and has plans to borrow more if Congress raises the national debt ceiling.
The newest package is the largest amount borrowed since spring 2020, when the government began passing trillion-dollar rescue packages to help the nation's economy.
Newsweek reached out to McConnell and Senate Majority Leader Chuck Schumer for comment.