Couple Find 4.38-carat Yellow Diamond at Arkansas State Park
Amateur treasure hunters have stumbled across a rare diamond less than an hour into their search at a U.S. National Park.
Noreen Wredberg of Granite Bay, California, spied the 4.38-carat yellow diamond sitting on top of the ground.
Her find is believed to be the largest diamond spotted in almost a year at Crater of Diamonds State Park, Arkansas.
Noreen and her husband Michael have spent much of their retirement traveling and touring America's National Parks.
While in Arkansas, the keen-eyed couple made a spur of the moment decision to visit the area's famed Crater of Diamonds.
Noreen told Arkansas State Parks: "When I realized we weren't too far away, I knew we had to come."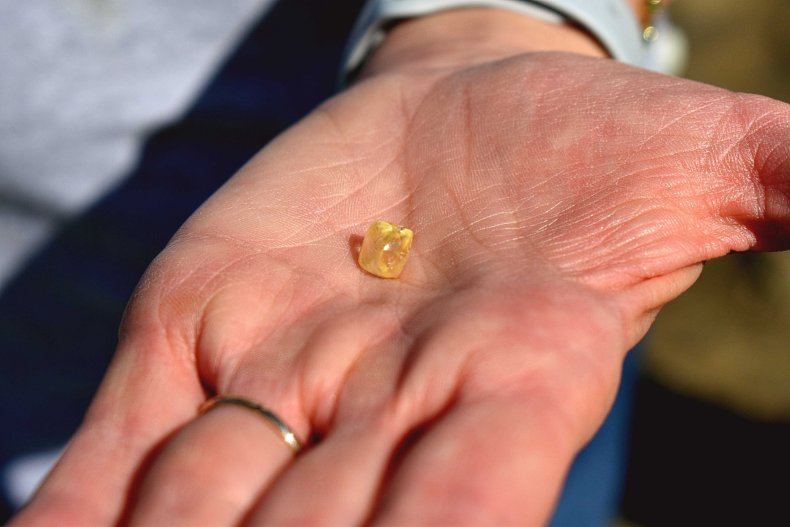 Her husband claims some of the credit for the find after suggesting where she should search.
He said: "It was cold in the shade that morning, so I told Noreen we should go to the middle of the field, where it was warmer."
She spotted the sparkling gem on top of the ground approximately only 40 minutes later.
Noreen said, "I didn't know it was a diamond then, but it was clean and shiny, so I picked it up!"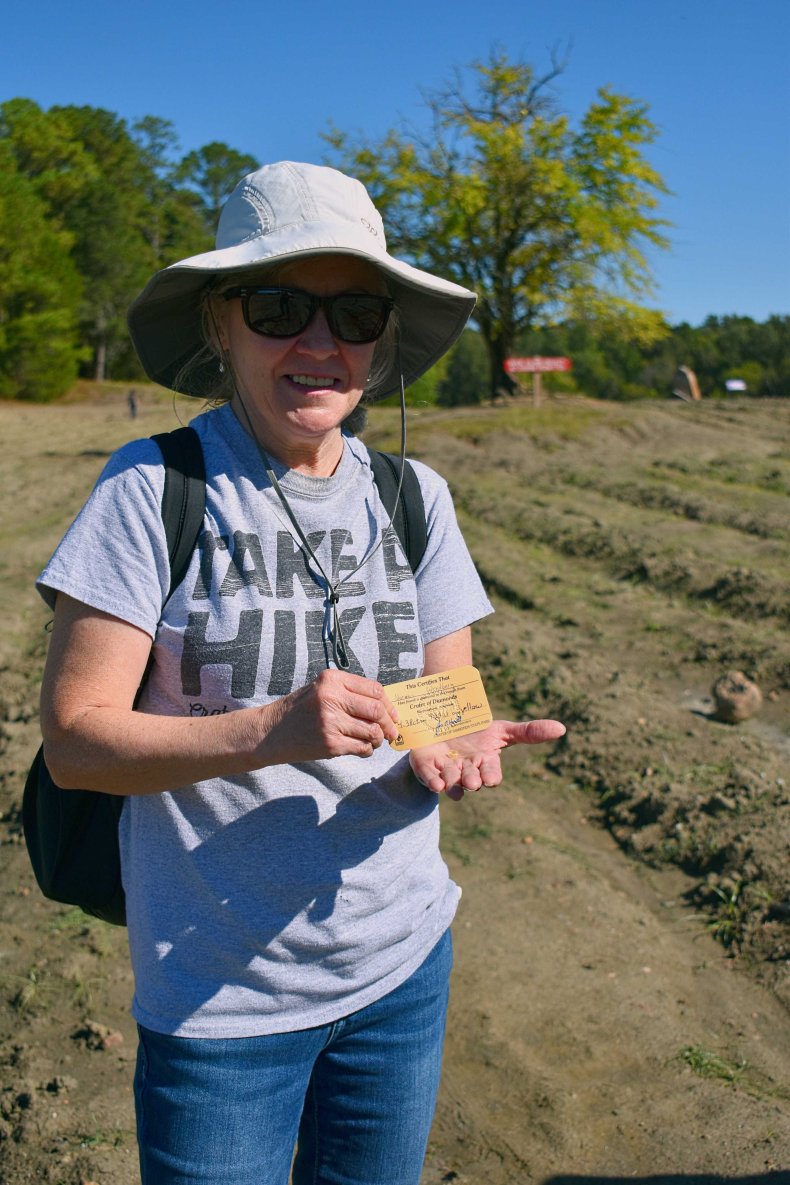 The lucky pair proceeded to bring their bounty to the park's Diamond Discovery Center for identification and park staff eventually informed how they had stumbled upon a huge yellow diamond.
Park Superintendent Caleb Howell said in a statement: "When I first saw this diamond under the microscope, I thought, 'Wow, what a beautiful shape and color"
"Mrs. Wredberg's diamond weighs more than four carats and is about the size of a jellybean, with a pear shape and a lemonade yellow color."
Park Interpreter Waymon Cox said many of the park's most prized diamonds are found simply sitting on the ground.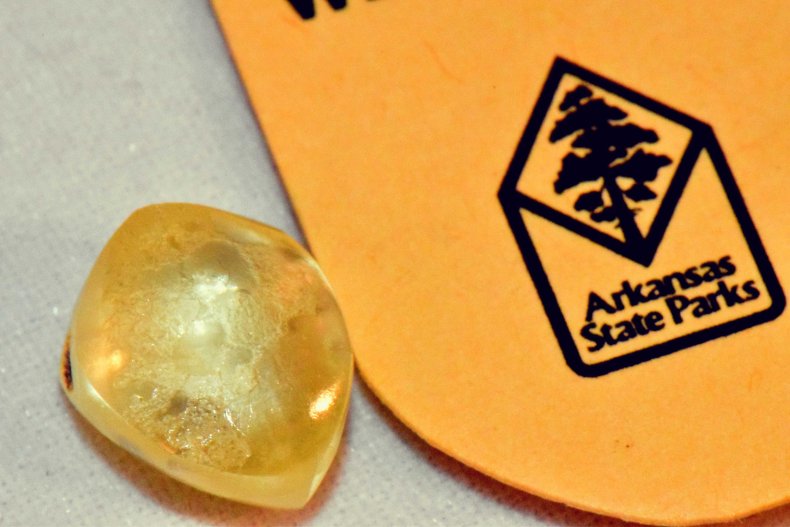 He said: "We plow the search area periodically to loosen the soil and promote natural erosion.
"Diamonds are somewhat heavy for their size and lack static electricity, so dirt doesn't stick to them.
"When rain uncovers a larger diamond and the sun comes out, its reflective surface is often easy to see."
The largest diamond ever discovered in the U.S. was unearthed in Diamonds State Park in 1924 during a mining operation.
This white diamond with a pink cast weighed 40.23 carats and was dubbed Uncle Sam.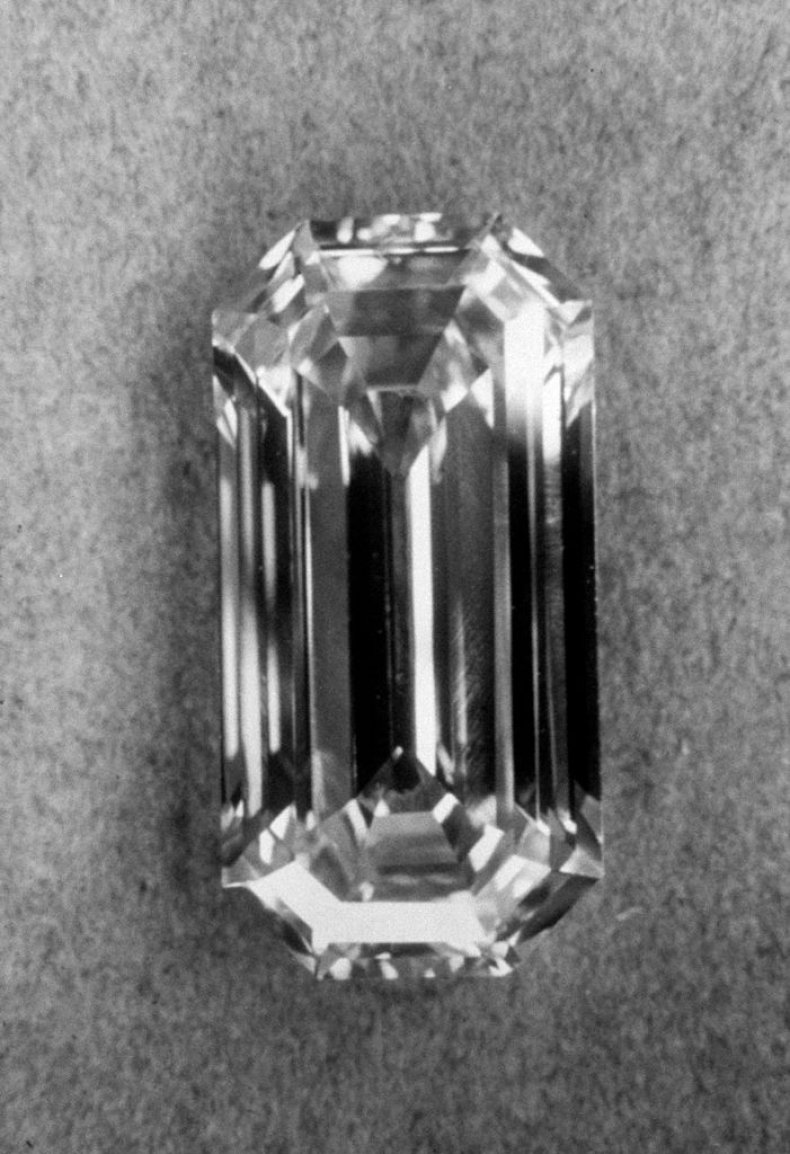 It was later cut into a 12.42-carat emerald shape and bought by a private collector for $150,000 in 1971.
However, last month's discovery has been put into perspective, following June's announcement sound waves may have detected approximately a quadrillion tons of diamonds lying beneath deep beneath our feet.
And the Crater of Diamonds State Park discovery coincides with news scientists have synthesized a glass-like material as hard as diamond and capable of conducting electricity.
An international team of experts in September detailed what they described as an "ultrahard, ultrastrong, semiconducting" synthetic carbon."