When Yellowstone quietly landed on Paramount+ back in 2018, nobody could have foreseen how huge the show would become. For Season 4 alone, on average, almost 8 million viewers have tuned in each week to see what has happened at the Yellowstone ranch and since Season 1, the series has received numerous award nominations.
This year, Yellowstone has a chance to win Outstanding Performance by an Ensemble in a Drama Series at the Screen Actors Guild Awards (SAG), and the Yellowstone gang is set to be in attendance, minus Forrie J. Smith who plays ranch hand Lloyd. Newsweek has everything you need to know about his absence.
Why Yellowstone's Forrie J. Smith Is Missing From the SAG Awards
Forrie J. Smith will be noticeably absent from this year's SAG Awards as a result of his decision not to have the COVID-19 vaccine.
Taking to Instagram to offer an explanation to his fans, Smith confirmed he would not be in attendance as guests are required to show they have received the COVID vaccine.
He said in the now-deleted video, seen by Newsweek: "Hey, I want to apologize to y'all for not being at the Screen Actor Guild Awards. I mean no offense to anyone. I'm not vaccinated and it's a requirement to be vaccinated to be at the Screen Actors Guild Awards ceremony. You have to be vaccinated with a booster shot and a negative COVID test within 48 hours, you've got to wear a...mask...
"I'm not vaccinated, I will not get vaccinated. I haven't been vaccinated since I was a little kid. I don't vaccinate my dogs, I don't vaccinate my horses. I've never had a flu shot. I never will. I believe they compromise your immunities.
"Man, I'm sorry. I was sure looking forward to walking down the red carpet in my big black American hat and my Justin boots and representing my culture and heritage but I'm not going to be able to do that. I apologize to y'all out there who are part of my culture and heritage, I won't be representing us at the Screen Actors Guild Awards, walking down the red carpet. It's no offense to anybody, anything. It's just my beliefs. I just don't believe in that stuff. Whatever.
"Thank you, y'all enjoy watching the show anyway. Maybe next year I'll get down there on that red carpet. Thank y'all, God bless."
Smith's video is no longer available on the photo-sharing platform, but clips have made the rounds on Twitter. Newsweek has contacted Smith's representatives and Paramount+ for comment.
The SAG Awards' COVID-19 protocols are described on the organization's website as follows: "All ticketed attendees will be required to show proof of vaccination plus booster shot (if eligible), proof of negative lab-based COVID-19 PCR test within 48 hours of the event, and negative antigen (rapid) test the day of the event."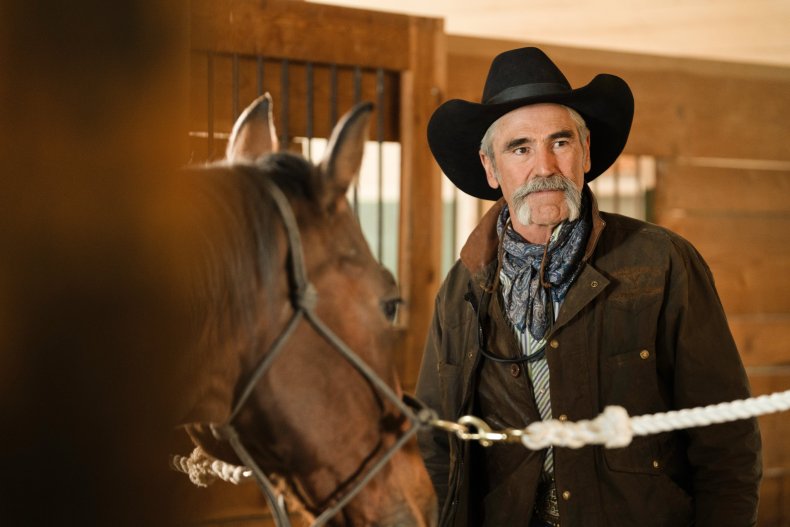 The ceremony is set to take place on Sunday, February 27 at the Barker Hangar in Santa Monica, California.
Yellowstone has competition for the SAG Award for Outstanding Performance by an Ensemble in a Drama Series as it is up against The Handmaid's Tale, The Morning Show, Squid Game, and Succession.
At the moment, the majority of Smith's Yellowstone co-stars are expected to attend the event. Yellowstone is nominated for best TV drama ensemble so fans can expect to see Smith's co-stars Kelsey Asbille, Wes Bentley, Ryan Bingham, Gil Birmingham, Ian Bohen, Eden Brolin, Kevin Costner, Hugh Dillon, Luke Grimes, Hassie Harrison, Cole Hauser, Jen Landon, Finn Little, Brecken Merrill, Will Patton, Piper Perabo, Kelly Reilly, Denim Richards and Jefferson White, and creator Taylor Sheridan potentially in attendance and hopefully, taking home the coveted award.
Jen Landon, who plays Teeter in the series, shared her excitement via Instagram when the SAG nominations were announced.
Writing on Instagram alongside an image of her castmates nomination, Landon said: "Congratulations to my @yellowstone family for the #sagawards nomination for Outstanding Performance by an Ensemble in a Drama series!!!!!! Y'all are brilliant and thanks for taking me along for this ride. @sagawards #yellowstonetv."
Gil Birmingham, who plays Chief Thomas Rainwater, shared the same image, penning underneath: "Great news! Yellowstone's first-ever SAG Awards nomination for Outstanding Performance by an Ensemble in a Drama Series. It is a privilege to work with such an outstanding cast, crew, and everyone involved with @Yellowstone. @sagawards #sagawards"
Ian Bohen, who stars as Ryan, posted another announcement of Yellowstone's nomination, writing beside the post: "This is the best show on television. @yellowstone."
The SAG Awards take place on Sunday, February 27, and will be available to watch via TNT and TBS.