Yellowstone Park Like You've Never Seen It Before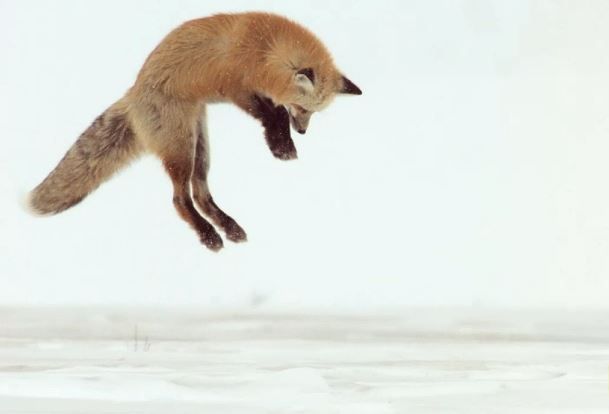 You're probably familiar with Yellowstone National Park and its beautiful, geyser-riddled landscape, graced with incredible animal residents like bison, wolves and grizzly bears. It is, in fact, the only place left in North America where "all the animals that are supposed to be there are still around," says park superintendent Dan Wenk.
You may know a thing or two about Yellowstone and its animal residents. But even if you've been there, you've probably never seen anything quite like Wild Yellowstone, a two-hour film that debuts this Sunday (December 6) at 9 p.m. ET on Nat Geo Wild.
Otters sledding down a snowy hillside? Check. Grizzly bears eating tens of thousands of moths? Yep. Testosterone-crazed bighorn sheep knocking each other off steep cliffs? You bet.
The film is a collaboration between National Geographic and Brain Farm, a Jackson, Wyoming–based production company best known for visually compelling coverage of extreme sports like snowboarding and surfing. This aesthetic carries over well to animals like bison, which are—let's admit it—a bit more extreme than humans. You'll probably agree when you see the 1,000-plus pound animals, which only survived extinction by hiding out in a remote valley of what is now Yellowstone National Park, slamming into each other at full speed as they fight over females.
The slow-motion ripples of flesh that follow the collisions are enough to make you cringe. An empathic, full-of-awe cringe. A bison shiver.
Executive producer Karen Bass says this show is meant to "put you directly into each animal character's world," and it does it well. In the segments covering bighorn sheep, for example, you see "intense close-ups" of other sheep, because that's what you'd see if you were one of them, Bass says. The result is sometimes wrenching, as with bison and sheep ramming the bejesus out of each other with, scientists say, enough force to kill a human instantly. Other times, it's humorous: The looks on the faces of the male sheep as females go into estrus, signaling that they are ready to mate, are comical beyond belief. For bighorn sheep, the thirst is real—and it's terrifying.
Wild Yellowstone did well at the Jackson Hole Wildlife Film Festival in late October, where it won the awards for best cinematography and best editing.
The film comes out just in time for the National Park Service's 100-year anniversary in 2016. In fact, that was part of the impetus to make Wild Yellowstone, Bass says, as the whole team views it as a celebration of the nation's first national park.
"It's a story that deserves to be told well," she says.