Yellowstone River Death: Found Human Bones Are from 21-year-old Man Swept Away Four Years Ago, DNA Shows
Human bones found in Yellowstone National Park last year have been positively identified as belonging to a 21-year-old man who was last seen four years ago.
The National Park Service announced that DNA testing completed by the University of North Texas Center for Human Identification confirmed the remains were of Feiyang "Isaac" Xiang, a seasonal employee from China who was swept down Yellowstone River on July 23, 2015.
Law enforcement officers collected the human bones and sent them to scientists after they were found close to the suspected drowning site by Yellowstone staff in February last year. The NPS said in a press release the park had received positive confirmation in June this year.
Its statement noted: "Officers have stayed in touch with Xiang's family since the incident. When the remains were positively identified, staff notified the family. In July 2019, Xiang's family returned to the park and collected his remains. They have since returned to China."
Before his death, Xiang had been backpacking in the northern section of the park. He was in the water with two friends when he was pulled away by river currents at approximately 11:45 am.
He struggled to stay afloat and efforts by the companions to pull him back to shore failed. Xiang was swept downriver into a stretch of rapids and disappeared from view, the NPS said. A call for help was successfully made at roughly 12:40 p.m—the delay due to patchy reception.
A major search operation was established, eventually swelling to include up to 100 people. They used dogs, ground searchers and helicopter search teams but were unable to locate Xiang. In the initial period after his disappearance, ground and air searches were conducted daily.
The search for Xiang was eventually scaled down on August 1, but the national park said it would continue to do "periodic searches of the river corridor," place information flyers about the case on trailheads and give relevant details to local businesses and fishing guides in the region.
"These searches will be conducted during daily backcountry patrols and incorporated into routine research operations and wildlife monitoring overflights," read an August 2015 media release.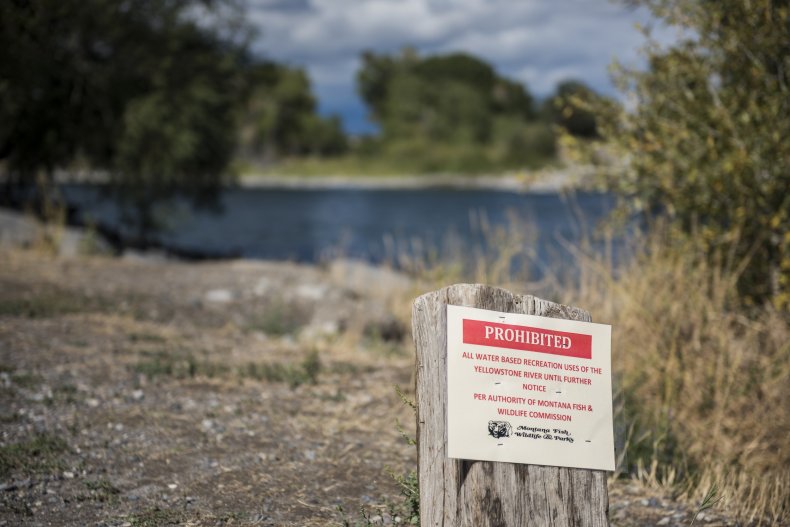 Covering 3,472 square miles and spanning the states of Wyoming, Montana, and Idaho, the vast Yellowstone is considered to be America's first national park. It famously sits on a dormant volcano and boasts more geysers and hot spring areas than any other place on earth.
Those conditions can quickly turn deadly.
In April this year, a blog post on the Yellowstone National Park's website warned the landscape of the vast region remains highly "perilous" for the four million people who visit every year.
It is home to predators, including grizzly bears and wolves, and visitors often suffer burns from its boiling waters. In the most tragic of cases, people have died after slipping into the geothermal springs. In June 2016, Colin Scott, 23, slipped into a spring after leaving the boardwalk at the Norris Geyser Basin. Temperatures in such waters top 199 degrees, NBC News reported.
"Geothermal attractions are one of the most dangerous natural features in Yellowstone, but I don't sense that awareness in either visitors or employees," Hank Heasler, the park's top geologist, was quoted as saying in the blog post, appealing for visitors to read on-site warning posters.
It remains unknown when Yellowstone's giant volcano will erupt again, according to the United States Geological Survey (USGS). The area is consistently monitored for volcanic activity.
"There is no evidence that a catastrophic eruption at Yellowstone is imminent, and such events are unlikely to occur in the next few centuries," the USGS says on its website. "Scientists have also found no indication of an imminent smaller eruption of lava."
As reported last month, concerns recently spiked online that two strong earthquakes recorded in California could result in a massive eruption at the park. The notion was quickly dispelled by experts.