How 'Yellowstone' Episode 3 Sets Up the New Spin-Off Series '6666'
Paramount Network are laying the groundwork for the spin-off series 6666, and the latest episode of Yellowstone shows exactly how the two series will crossover.
Season 4, Episode 3 "All I See Is You" introduces some of the characters we may see in 6666, and reveals how one major Yellowstone character will transition to the new show.
The latest episode of Yellowstone aired on Sunday, November 14 on Paramount Network. There's no word yet on when 6666 will start but it is understood to be in development.
How Yellowstone is setting up 6666
A large portion of Season 4 Episode 3 of Yellowstone focuses on ranch hand Jimmy (Jefferson White) as he prepares to depart the ranch.
He's still recovering from the serious barrel racing injury he suffered during the attacks at the end of Season 3. He's still wearing his neck and back brace while he recovers.
John Dutton (Kevin Costner) has decided to send Jimmy away to work on another ranch for a while, which draws a strong reaction from the other workers.
As John explains to Jimmy though, this is "not a punishment. It's an opportunity." He informs Jimmy he'll be representing his ranch down in Texas, and he's welcome to return to Yellowstone when he feels he's ready.
Quite suitably, the character Travis, played by the showrunner Taylor Sheridan, is the one that breaks the news that he will be going to "the four sixes ranch" in Texas (ie. 6666). In another gesture that threatens to break the fourth wall, Travis, the showrunner, will also be the one to physically deliver Jimmy to the 6666 ranch.
Upon hearing the news, the ranch hands, and especially Mia (Eden Brolin) seem unhappy, as they predict "he won't last a week."
Later Walker (Ryan Bingham) tells Jimmy about what to expect, revealing he's been there before. He says the biggest regret of his life is leaving 6666, and he doesn't think Jimmy should ever come back. He also tells him to brush up on his Spanish as he might need it.
At that point, with great indifference, Travis leads Jimmy into the truck where he meets his new colleagues. They're all especially cruel to Jimmy, and Travis instructs him to take his support braces off.
After more teasing we see Jimmy, Travis and the rest of the Bosque Country Performance Horses troupe drive off to their first stop at Scottsdale, Arizona. On their out of the ranch, Mia steps out to watch as they leave.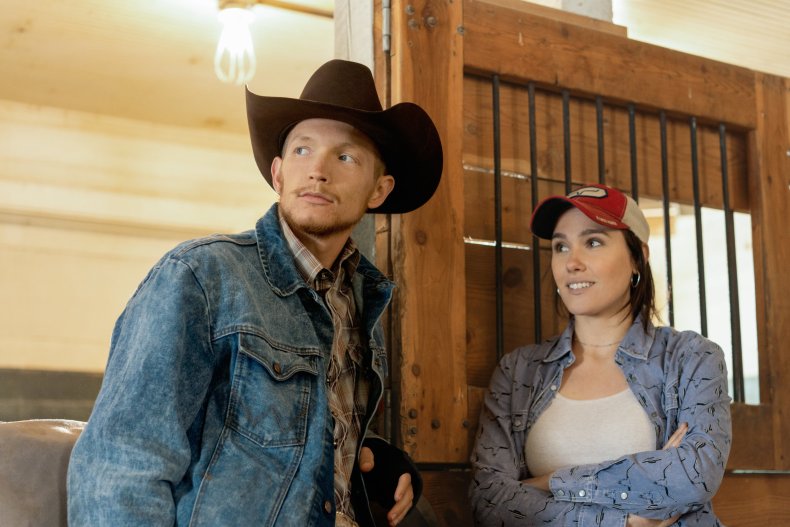 What we know about 6666
6666 will air exclusively on Paramount+, expanding the Yellowstone universe. It will be the second spin-off series, after the prequel show 1883, which recently debuted its first trailer starring Sam Elliot. Tim McGraw and Billy Bob Thornton.
The spin-off series could be set and filmed at the real 6666 ranch in Texas after the Star-Telegram reported that Sheridan fronted a group that bought the property in December 2020. Yellowstone has already filmed sections of Season 4 on the 6666 ranch.
When Paramount announced there would be a 6666 series, they described it as the place "where world-class cowboys are born and made."
No casting announcements have been formerly made but it seems Yellowstone character Jimmy will begin life on the ranch while Walker could also return.
We don't know whether we'll see the Dutton family out there, but Kelly Reilly, who plays Beth, revealed on her Instagram that she was at the 6666 ranch in April this year.
Season 4 of Yellowstone continues next Sunday with Episode 4 airing on November 21 at 8 p.m. ET, 7 p.m. CT exclusively on Paramount Network.