'Yellowstone' Star Says He Won't Take Vaccine, 'Never Had a Flu Shot'
Yellowstone co-star Forrie J. Smith pledged to "never" take any vaccine while explaining that he will not be attending the upcoming Screen Actors Guild (SAG) Awards ceremony due to his refusal to comply with COVID-19 vaccine requirements.
Smith, who plays ranch hand Lloyd Pierce on Yellowstone, was nominated this year alongside fellow cast members for a SAG Award in the Drama Series Ensemble category. In an Instagram video posted Monday, Smith said he would not be attending the February 27 ceremony due to COVID-19 protocols, while noting that he firmly opposed all vaccinations.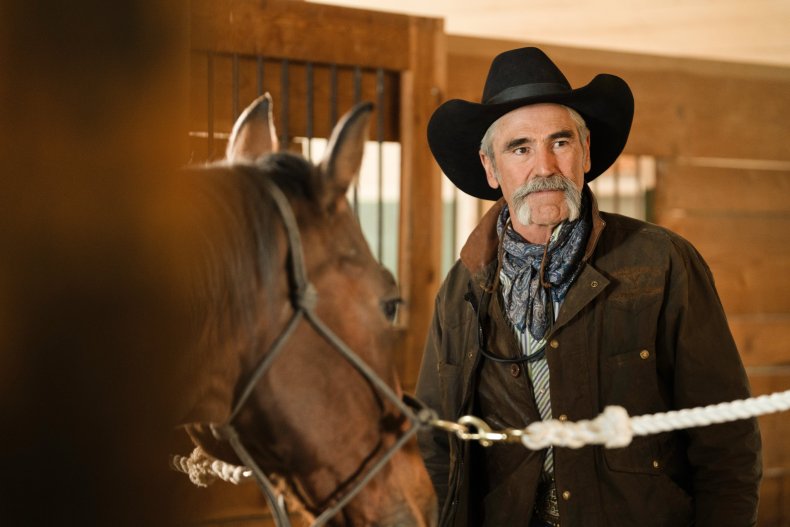 "I'm not vaccinated, I will not get vaccinated," Smith said in the video. "I haven't been vaccinated since I was a little kid. I don't vaccinate my dogs, I don't vaccinate my horses. I've never had a flu shot. I never will. I believe they compromise your immunities."
Although claims that flu vaccines compromise the immune system have been popular among vaccine opponents, the notion has been debunked by the Centers for Disease Control and Prevention (CDC) and other medical experts.
This year's SAG Awards ceremony is being held with strict COVID-19 safety protocols in place, including a requirement that attendees provide proof of full COVID-19 vaccination. Vaccine booster shots are required for those who are eligible.
In addition, attendees are required to provide a negative PCR test within 48 hours of the ceremony and a negative rapid antigen test result on the day of the ceremony. There is also a requirement to wear KN95 or KN94 face masks "for the entirety of the event."
Smith insisted he meant "no offense to anybody" while deciding to skip the awards ceremony. He said his decision was made due to his strong "beliefs" against vaccinations, as well as the ceremony's other COVID-19 restrictions.
"I want to apologize to y'all for not being at the Screen Actors Guild Awards," said Smith. "I mean no offense to anyone. I'm not vaccinated, and it's a requirement to be vaccinated to be at the Screen Actors Guild Awards ceremony."
"It's just my beliefs that I don't get...I just don't believe in that stuff," he added. "And, uh, whatever."
Smith noted that he had been "looking forward to walking down the carpet in my big black American hat" and cowboy boots. The actor's video was accompanied by hashtags including #cowboy and #heritageandcultural.
Smith offered his apologies to "y'all out there that are part of my culture and heritage, I won't be representing us at the Screen Actors Guild Awards walking down the red carpet."
Smith declined to comment any further after Newsweek contacted his representative.
Newsweek reached out to SAG for comment.