Yellowstone Volcano's Steamboat Geyser Smashed Record for Eruptions in 2019
The Steamboat geyser at Yellowstone Volcano smashed the record for the number of eruptions in a single year over 2019. In its monthly update of activity, the Yellowstone Volcano Observatory (YVO) confirmed there were 48 eruptions last year. That's 16 more than the previous record set in 2018, when there were 32 eruptions at Steamboat.
Steamboat is the world's tallest currently active geyser. It has two vents, with the north one producing the highest water columns—up to around 300 feet into the air. Eruptions at Steamboat do not take place at regular intervals, and sometimes it does not erupt for decades. In 1961, it erupted for the first time in 50 years. It also experienced "quiet periods" during the 1990s and late 2000s, National Park Service notes. In this time, there were years between single eruptions.
What is behind the uptick in eruptions over 2018 and 2019 is not known. "There don't appear to be any obvious changes in the geyser, at least in terms of surface activity," Mike Poland, the scientist-in-charge at YVO told Newsweek. "For subsurface activity, we're hoping to learn more from some seismic deployments that happened in 2018 and 2019."
Poland said that by comparing seismic sensors placed around the geyser over the last two years should help researchers work out if anything has changed over time—but the huge amount of data collected will take time to analyze.
"A preliminary look suggests that Steamboat has a plumbing system that is more complex and deeper than that of Old Faithful, which might be a reason for the different (taller) eruption style, and also the reason that Steamboat eruptions cause nearby Cistern Spring to drain," he said.
"But we'll have to await a more thorough analysis for the final results. Steamboat, and many other geysers, do this sort of thing from time to time—they erupt a lot and then almost not at all. Giant is another good example. That one was very active in 2018, but basically went back to sleep in early 2019.
"Steamboat, of course, is very interesting, and I would like to take advantage of the frequent eruptions to continue to learn more. At some point, this cycle of activity will stop, and the geyser will go back to sleep. When that happens, our window for learning more about this interesting geyser will effectively end," Poland said.
The graphic below, provided by Statista, illustrates the number of Steamboat Geyser eruptions over the decades.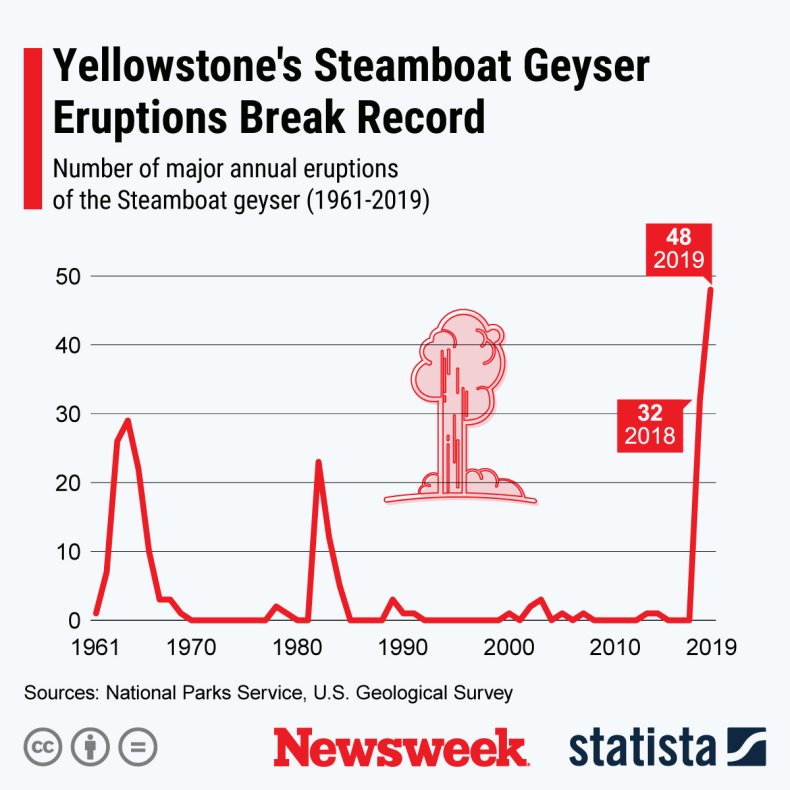 2019 also saw fewer earthquakes at Yellowstone than normal. The YVO said that over the year, there were 1,217 earthquakes, which is "well below the annual average of 1,500-2,500 earthquakes." There was also "no significant uplift" in the area for the first time in several years. Earthquake activity at the volcano varies over time, and the level recorded was all part of the normal fluctuations.
Over the coming year, researchers are planning to deploy more seismic equipment and GPS instruments as part of projects to study the volcano, Poland said. "There are hopes to do more research into hydrothermal areas, and specially Norris Geyser Basin," he added. "So we'll start making plans for that, working with the Park to see what might be possible."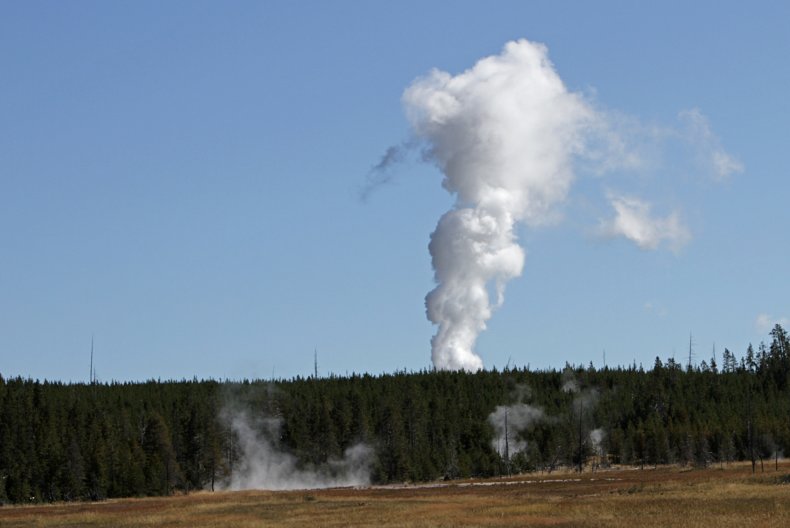 This article was updated to include an infographic.