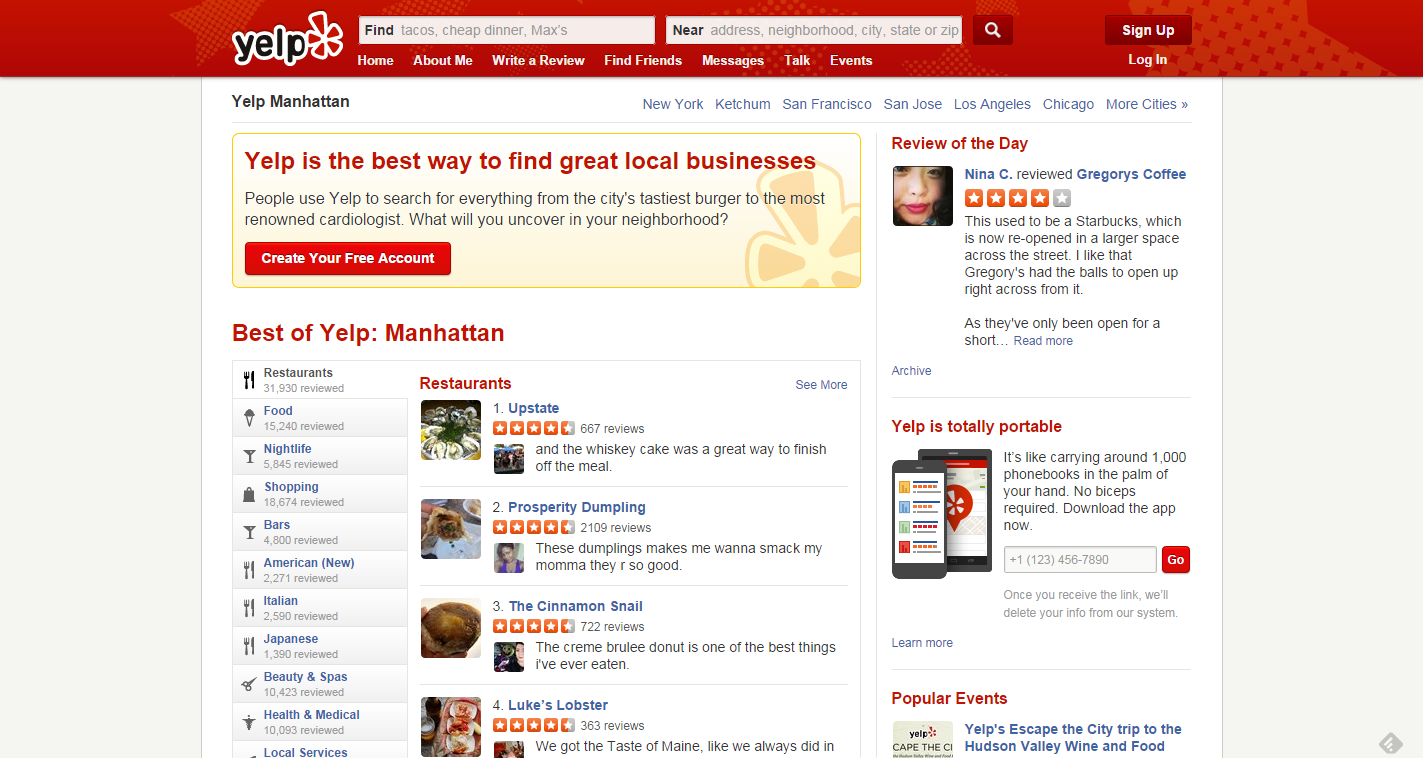 Though it has long been accused of the practice, Yelp denies that it tweaks reviews of businesses on its site in exchange for advertising dollars. But it could if it wanted to, the U.S. Court of Appeals for the 9th Circuit ruled on Sept. 2.
Four business owners filed a class-action lawsuit against Yelp for attempting to extort "advertising payments from them by manipulating user reviews and penning negative reviews of their businesses." Far from extortion, the court said, Yelp's alleged actions—if they actually happened, which the court said the business owners did not prove—were mere "hard bargaining," SFGate reports.
In the suit, the business owners claimed "approximately 200 Yelp employees or individuals acting on behalf of Yelp have written reviews of businesses on Yelp and...Yelp's chief executive officer admitted to a New York Times reporter that Yelp has paid users to write reviews, although it does not do so directly anymore."
Boris Levitt, one of the plaintiff-appellants, said several five-star reviews disappeared from his business's review page two days after he declined to purchase advertisements with Yelp. Another plaintiff, Cats and Dogs Animal Hospital in Santa Barbara, California, said sales representatives from Yelp offered to "hide negative reviews" or "place them lower" on the business's page if the owner agreed to buy ads on Yelp. Another business owner accused Yelp of posting "false reviews" in retaliation for his refusal to buy ads.
Yelp denies that it intentionally manipulates reviews, but does admit that its automated algorithm—designed to prevent business owners from penning negative reviews about their competitors or positive reviews about themselves—does sometimes cause certain reviews to be removed. It insists, however, that the process is completely automated and therefore cannot be subject to human bias.
Still, the court's decision that Yelp could rig reviews, if it wanted to, is sure to rankle some consumers and business owners.