A Visitor Didn't Want to Hear About Slavery on Her Plantation Tour. This Historical Interpreter Has Something to Say About That
Earlier this month, a review of Whitney Plantation in Wallace, Louisiana, went viral for all the wrong reasons.
Whitney is billed as the only plantation museum in Louisiana "with an exclusive focus on the lives of enslaved people." But some visitors, apparently, prefer their trip to a Southern plantation to avoid unpleasantness.
That seemed to be the perspective in a two-star review on Google that was screenshot and tweeted on August 7 by Saira Rao, a first generation Indian American and former congressional candidate from Colorado.
"My husband and I were extremely disappointed in this tour," the review starts. "We didn't come to hear a lecture on how the white people treated slaves, we came to get this history of a southern plantation and get a tour of the house and grounds. The tour guide was so radical about slave treatment we felt we were being lectured and bashed about the slavery [sic]."
"I am by far not racist or against all Americans having equal rights," she added, "but this was my vacation and now we are crossing all plantation tours off our list. It was just not what we expected."
The writeup ended with the woman claiming she and her husband would return to Louisiana "[to] see some real plantations that are so much more enjoyable to tour."
Not all the reviews of the Whitney Plantation are complaints.
"Forget your discomfort, or mine, or anyone else's. History is history," wrote one woman. "It happened, and it MUST be learned so we can move forward to not only understand that the implications of what happened are still happening right now, but also to try and be better."
But then there are ones like this: "Would not recommend. Tour was all about how hard it was for the slaves and how hard done by they were. They forget how hard it was for most poor people in those days anywhere in the world. Go somewhere different if you want to experience a plantation tour."
One user simply warned the Whitney Plantation tour was "very racist—If you're white, don't go."
Rao's tweet was shared 25,000 times and liked more than 100,000 times. It sparked articles on The Root and The Washington Post. It also inspired an essay, "Dear Disgruntled White Plantation Visitors, Sit Down," by chef and food historian Michael W. Twitty, who has cooked at plantations and historical sites across the country.
Twitty, a James Beard Award winner, has spent his career researching and re-creating early African-American foodways and teaching the evolution of black cuisine, which draws from African, Native American and European culinary traditions.
"It's not my job to comfort you," Twitty, author of The Cooking Gene, writes in response to the unnamed reviewer. "It's not my job to assuage any guilt you may feel. That's really none of my business. My job is to show you that my ancestors, (and some of yours...) resisted enslavement by maintaining links to what scholar Charles D. Joyner famously called a 'culinary grammar' that contained whole narratives that reached into spirituality, health practices, linguistics, agricultural wisdom and environmental practices."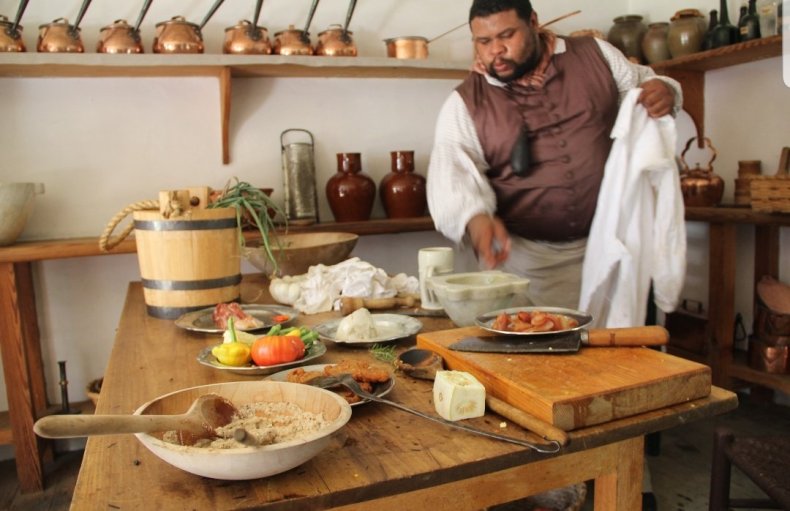 "The Old South may be your American Downton Abbey but it is our American Horror Story," he continues, "even under the best circumstances it represents the extraction of labor, talent and life we can never get back. When I do this work, it drains me, but I do it because I want my ancestors to know not only are they not forgotten but I am here to testify that I am their wildest dreams manifest."
Twitty says he was bothered by the review, but he insists his essay—which appeared on his site, Afroculinaria—is more about getting Americans to consider how myth-making shapes their shared history "and essentially question how someone could post a review like that without shame."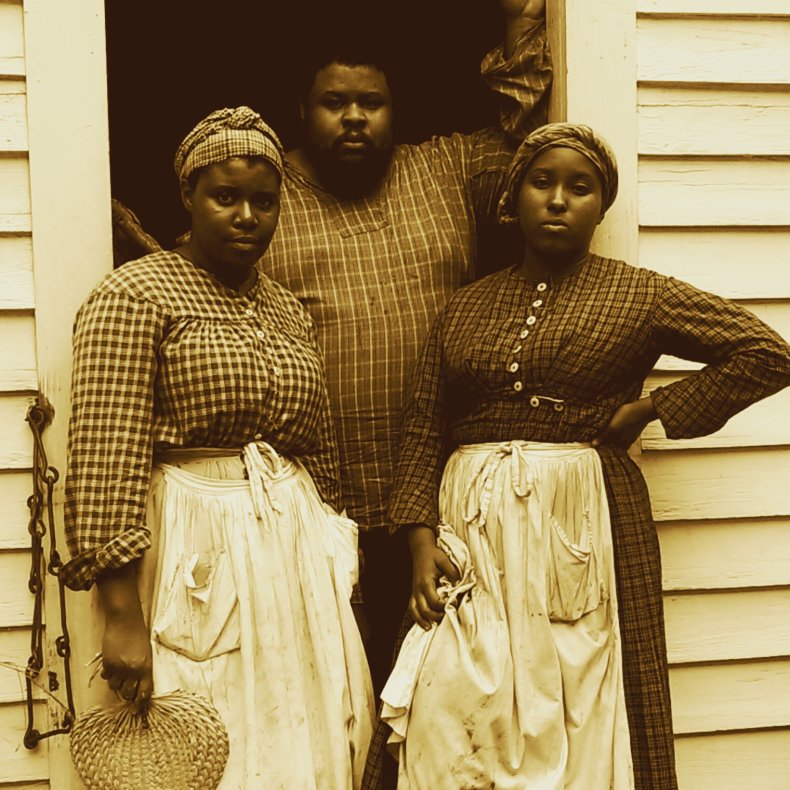 He believes the couple was so turned off because they had a white interpreter "and felt as though he should be an ally."
"Typically my white colleagues encounter banter that [guests] hope will affirm their beliefs about African-Americans," Twitty tells Newsweek. "Not historically, but today—there is a retroactive sentiment that tries to ascribe all assumed socio-cultural ills to the very rootstock of the black experience."
With black interpreters, he says, visitors sometimes try to explain that slavery wasn't so terrible.
"Comments that talk about the living conditions not being 'so bad' or enslaved people 'being fed well' not only favor the idea of the benevolent slaveholder but also see black people as beneficiaries of white care-taking."
Black male interpreters may endure crass comments. For female interpreters of color, he says, it can be much worse.
"Comments about their bodies, threats of sexual or physical assault made in pseudo-contextual ways aren't infrequent," Twitty says. "One of the most common situations is to be asked questions like 'Who is your master?' Or 'Who do you belong to?' Their game is trying to see what they can get away with."
Such incidents are not everyday occurrences, he insists, but "when they happen it's disrespectful and dehumanizing."
Correction: An earlier version of this story indicated the negative review was posted on Yelp. It was posted on Google. We regret the error.