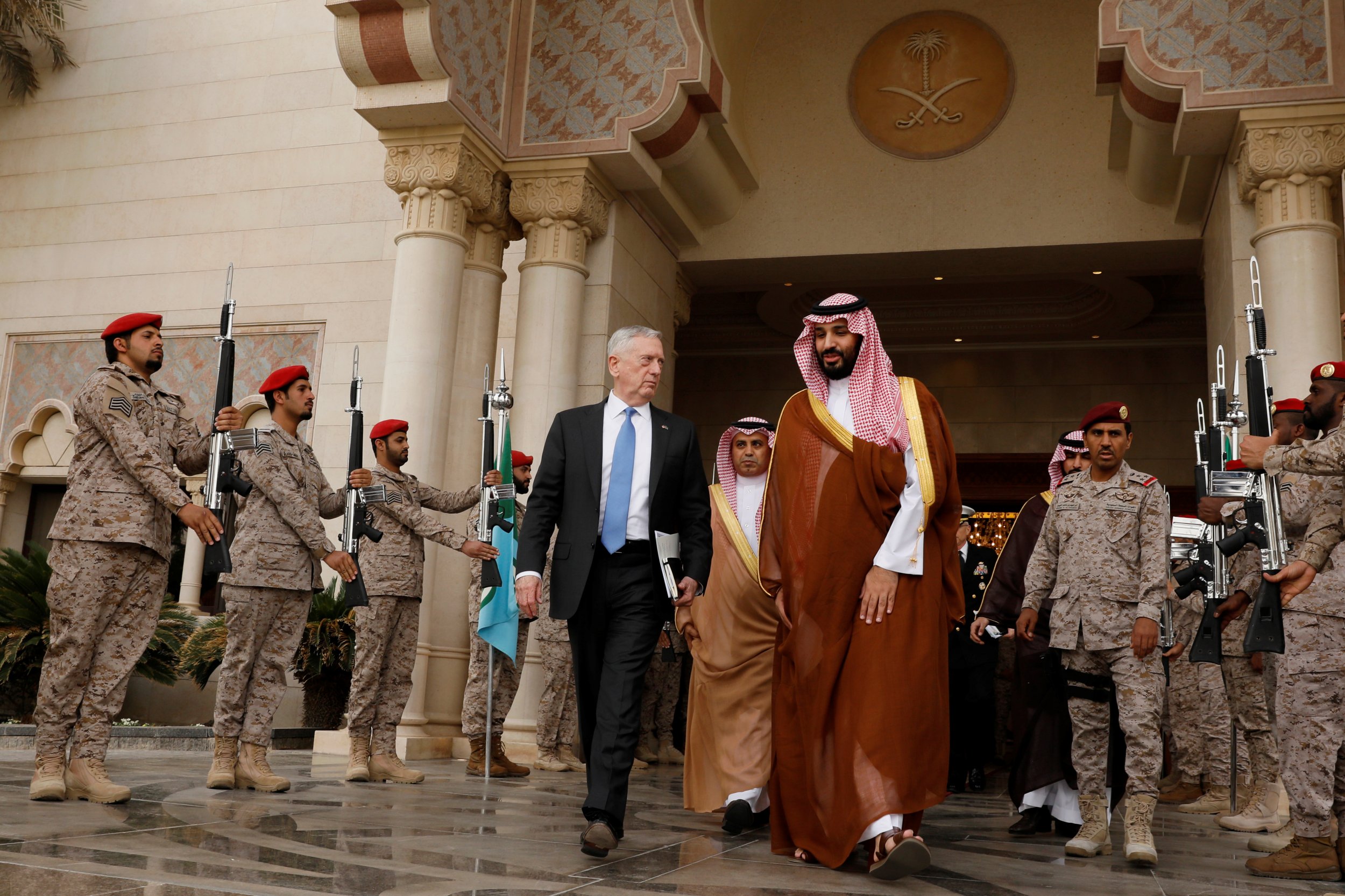 For weeks, the U.S. has been weighing up whether to increase its support for Saudi Arabia's involvement in Yemen's ongoing civil war. On Wednesday, as U.S. defense secretary James Mattis met with Saudi royals, American officials suggested that Washington might provide additional military and intelligence assistance to the kingdom's fight in Yemen.
During his two-day trip to Saudi capital Riyadh, Mattis called for a political solution to the war that has lasted for more than two years. U.S. officials, quoted by the AP, added that military pressure would also be needed to help end the conflict.
Various actors are embroiled in the war, which began when Iran-backed Houthi rebels ousted Yemen's leader, Abdrabbuh Mansour Hadi from the capital Sanaa in February 2015. A coalition led by Saudi Arabia, which counts the U.S., the U.K., Canada and various Gulf states among its members, fought back against the Houthis, while al Qaeda and the Islamic State militant group also entered the fray.
The U.S. support for Saudi Arabia—which includes arms sales, refueling of aircraft and supplying intelligence—has long been controversial. Rights groups have repeatedly accused the kingdom of targeting civilians, notably through airstrikes on schools and hospitals.
Read more: The full details of Trump's botched Yemen raid that killed nine children
On Thursday, two child advocacy groups—Save the Children and Watchlist on Children in Armed Conflict—published a report calling on the U.N. to put Saudi Arabia on its list of violators of child rights. The report said that the kingdom had targeted medical facilities and blocked aid from reaching Yemenis, leading to a situation where the number of severely malnourished children has tripled since before the conflict.
Saudi Arabia is considering an attack on the rebel-held port city of Al Hudaydah even amid warnings that it could worsen Yemen's humanitarian crisis, which has left 70 percent of the country in need of aid.
On Thursday, Jamie McGoldrick, the U.N. humanitarian coordinator for Yemen said that the port was the only one the U.N. could use to assist the majority of the country's needy population. "This port is the most essential, the most crucial part of our ability to feed people and get medical services [into Yemen]," McGoldrick said. Mattis made no mention of Al Hudaydah during his trip to Riyadh.
It is not yet clear how the U.S. might increase its support to Saudi Arabia. Speaking to the AP, anonymous officials said that they might provide more intelligence support—such as supplying more drones and aircraft for reconnaissance missions—but would not commit to sending more troops to the country.
The U.S. may also consider resuming the sale of precision guided missiles to Saudi Arabia. In December, then-President Barack Obama blocked a shipment of the munitions worth $390 million over concerns that Saudi Arabia was indiscriminately targeting civilians.
Regardless of how, or if, the U.S. ramps up its aid to Saudi Arabia, it is increasingly clear that Washington is worried about one main actor in Yemen—Iran. On Wednesday, Mattis told reporters he was concerned about Iran's influence in the Middle East saying: "Everywhere you look, if there's trouble in the region, you find Iran." Earlier he had said the U.S. must "reinforce Saudi Arabia's resistance to Iran's mischief."
Secretary of State Rex Tillerson echoed his concerns. Though he had said Tuesday that Iran was upholding its nuclear agreement with the U.S., by Wednesday he had changed tack. Tillerson said he was concerned about Tehran's support for Syrian President Bashar al-Assad and its backing of groups that threaten the state of Israel, as well as cyberattacks from Iran.
Despite both secretaries' comments, some U.S. lawmakers have shown opposition to increased involvement in Yemen. On April 6, four members of the U.S. Senate, including the Republican senator Rand Paul, introduced a bill calling for President Donald Trump to block the sale of arms to Saudi Arabia until it was clear the kingdom was avoiding civilian deaths and allowing aid to enter the country.
The same day, 31 members of the House of Representatives wrote to Mattis and Tillerson asking that Saudi Arabia release full details of its bombing campaign in Yemen. Five days later, on April 11, 55 members of the House wrote a letter to Trump demanding that he end the U.S. practice of refueling Saudi planes.
Though the administration might well ignore these requests they're a clear sign that increased U.S. support for Riyadh will be met with opposition.