Aid Workers in Yemen Face Stark Choice: Stay and Save Lives or Flee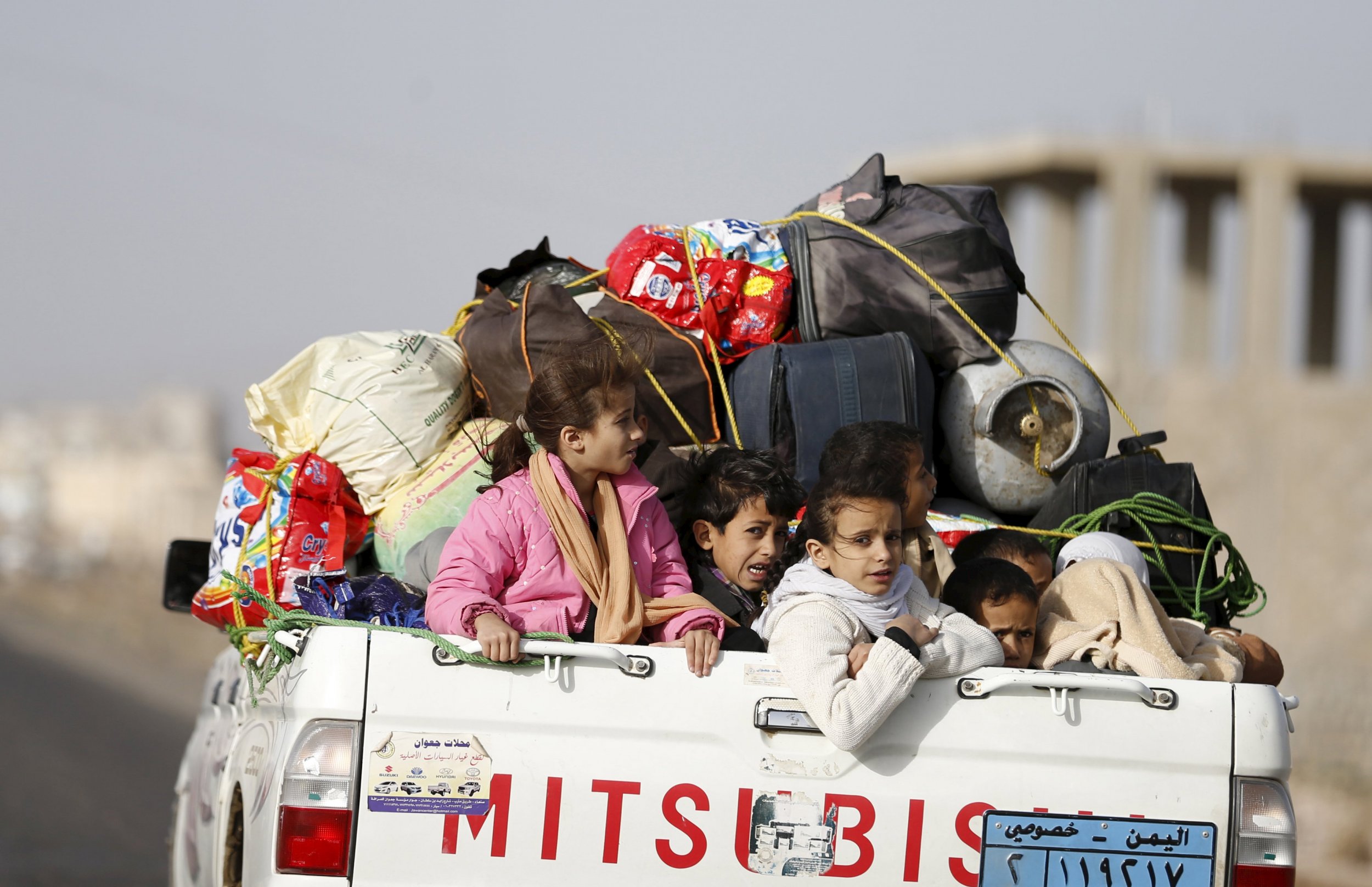 When Jonathan Bartolozzi woke up to the roar of explosions in the early hours of March 26, he could tell it was different from the familiar sound of wedding fireworks commonly heard across Sanaa, Yemen's capital.
What woke up Bartolozzi, director of programs in Yemen for humanitarian nonprofit Mercy Corps, were the first rounds of airstrikes by a Saudi Arabia-led coalition, an attempt to stem the advance of Shiite, Iran-allied Houthi rebels who have controlled Sanaa since September.
"I was shocked to find out that this was not any old explosion, but a foreign airstrike," Bartolozzi says from Asti, Italy, adding that such airstrikes were a "worst nightmare, worst-case scenario."
That night, Bartolozzi joined his colleagues in the basement of his home in Sanaa, where he had lived for just over a year, before going upstairs and turning on the TV. Taking a cue from the United Nations, which began to evacuate and relocate around 200 staff, he and eight other international Mercy Corps employees found themselves two days later on the last plane out of Sanaa, one of four chartered flights organized by the U.N. and the Indian Embassy.
"Never in our wildest dreams did we think Yemen would ever be a place where conflict would get to the point of evacuation," says Bartolozzi.
Nearly two weeks after the Saudi-led airstrikes began, the security situation in Yemen continues to unravel, and humanitarian workers are increasingly finding themselves on the front line.
Over the past week, three Red Cross and Red Crescent workers were killed while delivering aid to besieged Yemenis. Two of the workers were brothers. They died from sniper fire in the southern city of Aden as they were taking wounded people to the hospital, according to the International Committee of the Red Cross (ICRC). The organization is now demanding a 24-hour humanitarian corridor and all land, air and sea routes be opened up to allow aid and medical supplies to reach those who need it.
"We are continuing our activities as much as possible where they're allowed," says Sitara Jabeen, a spokeswoman for ICRC. "The biggest concern is the hospitals, which are now running very low [on supplies]."
The Red Cross, which has around 300 staff in Yemen, says it has permission from Yemen's government to deliver 48 tons of medical supplies for between 2,000 and 3,000 people, but it has not been able to bring them into the country. The organization is in need of a cargo plane to deliver the goods, but with more and more airlines suspending flights to Yemen, including national airline Yemenia, there are limited resources available.
"We hope within the coming days it will improve," says Jabeen.
While some humanitarian organizations have evacuated international staff from Yemen and some countries such as India, Jordan and China have pulled staff out of the country, the need for aid workers in growing. Since Saudi airstrikes began on March 26, 74 children have been killed and 44 have been wounded, according to UNICEF. More than 100,000 people have fled their homes.
Aid deliveries have been compromised in recent days as fighting in Aden has created road and port blockades, Reuters reports. While Yemenis are used to uncertainty in their lives, the start of the airstrikes "destroyed many peoples' hopes of peaceful resolution to political deadlock," says Bartolozzi.
The poorest nation in the Middle East, Yemen, with a population of 24 million, is also one of the five most water-scarce countries in the world. Water is a national security issue. Yemenis have 86 cubic meters of water per person, compared with 2,262 cubic meters per person for the U.K. There are fears that Sanaa could soon become the first capital city in the world to run out of water.
Before 2011, humanitarian work in Yemen largely focused on refugees and internally displaced people (IDPs). But food security and nutrition concerns have drawn a number of nonprofits to the country. A rapid population boom since the 1960s means food prices are high and as many as 1 million children under the age of 5 are malnourished, The New York Times reports.
For the 100 national Mercy Corps staff still in Yemen, it's business as usual: providing schools with latrines and access to water and helping clinics fight malnutrition. Bartolozzi remains in constant contact with his national staff remotely.
"There's a sense [among Yemenis] that involving an external party in an internal fight wasn't the best thing to do," he says.
Daw Mohamed, Yemen country director for humanitarian organization CARE, was also evacuated and has been in his hometown of Khartoum, Sudan, since March 29. Like Bartolozzi, he was taken aback by the swiftness of the attacks.
"People became so scared, not just because of the airstrikes but because of the bullets," he says.
Mohamed also flew out of Sanaa on Saturday. The busy flight of around 220 people was nerve-racking, and he was worried the plane could be shot down. Mohamed recalls the flight attendants holding hands and crying, and there was relief when the plane landed in Djibouti.
"I'm still very much concerned about my colleagues on the ground," he says.
For Hajir Nur Maalim, Yemen country director for humanitarian nonprofit Action Against Hunger, it's important to stay put for now. Maalim was relocated inside Yemen from his usual base in Sanaa to the coastal town of Hodeida around 185 miles east. With Houthi rebel groups advancing on the embattled southern port city of Aden, much of the organization's focus was initially getting international staff out of the city. But the level and pace of deterioration across the country was unexpected.
"We didn't expect it to happen that quickly," Maalim says.
Maalim had the option to leave, but he chose to stay in Yemen with a number of colleagues to "keep a presence," he says. The five international staff keep one another company as the country around them collapses. There's pressure on him to leave, with friends and family asking him why he has chosen to stay.
"I've never been this popular in my life," jokes Maalim about the number of calls and emails he's been receiving about his safety.
"I still feel safe so far. The major concern right now is being at the wrong place at the wrong time," he says. That could mean being hit by a rocket intended for military targets. But before the rockets and sniper fire, he points out, aid workers were at risk from kidnappings and suicide attacks.
Still, Maalim's base is "very close" to the northern Yemen refugee camp where more than 40 people were killed last week in an airstrike. If things get worse, there's a possibility he'll leave Yemen, but for now he's focused on providing women with antenatal and prenatal care, helping communities with sanitation support and facilitating cash assistance to vulnerable households. In communities he's visited since the airstrikes began, people have told Maalim they are afraid.
"The amount of suffering from the people around us is enormous, so you put it into perspective. You sometimes forget even about your own safety. [If we stay in Yemen], there is a bigger chance we can make a difference," says Maalim.