Congress rarely gets outraged over an internecine war in a distant land where American troops are not bleeding and dying. But in a rare exception, lawmakers have become deeply troubled over the Pentagon's role in Yemen's civil war—a conflict that has eviscerated the civilian population, provoked a deadly famine and ignited what health officials are calling the worst cholera outbreak in recorded history.
For the first time since the war began in 2015, U.S. lawmakers are taking concrete steps to halt or tightly restrict weapons sales to their allies Saudi Arabia and the United Arab Emirates—the leaders behind an Arab coalition fighting Yemen's rebels, who are seen as proxies for a common enemy, Iran. Much of the damage from the war, independent observers say, has been caused by Saudi and UAE airstrikes using U.S. and British warplanes and munitions, leading human rights groups to accuse Washington and London of complicity in Yemen's agony.
Amid such accusations, Senator Bob Menendez of New Jersey, the ranking Democrat on the Foreign Relations Committee, in late June blocked the Trump administration's proposed $2 billion sale of smart bombs to Saudi Arabia and the UAE. (Senate rules allow any member to hold up an arms sale. The block can be lifted by a so-called cloture vote, which requires a majority of the Senate for approval.) "I am concerned our policies are enabling...a conflict that has resulted in the world's worst humanitarian crisis," he said.
Senator Bob Corker of Tennessee, the committee's Republican chairman, has also voiced his doubts about the strategy behind U.S. aid to the Arab coalition, which includes participation in a naval blockade of rebel-controlled ports.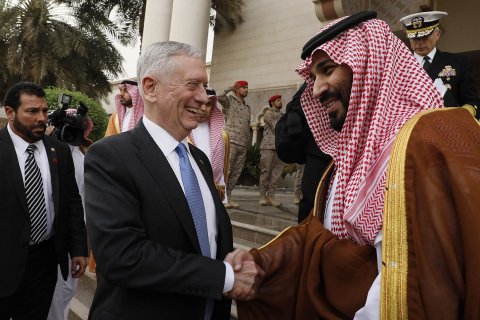 In another sign of congressional resistance, the House and Senate agreed to include a mandatory provision in the annual defense policy bill, which orders Secretary of Defense James Mattis to investigate whether Saudi Arabia and the UAE committed "gross violations of internationally recognized human rights" when they used U.S.-supplied warplanes, bombs and in-flight refueling to repeatedly hit civilian targets. Such crimes would violate U.S. law and disqualify the two Persian Gulf countries—the recipients of hundreds of billions of dollars of American military hardware over the decades—from receiving any further U.S. arms or military assistance.
A second provision in the bill, which Congress passed on August 1 and sent to President Donald Trump for his signature, requires the Pentagon to determine whether any U.S. personnel participated in interrogations at more than a dozen UAE-run prisons in Yemen where prisoners were reportedly tortured. And another provision restricts U.S. military support for the Arab coalition's Yemen campaign unless Saudi Arabia and the UAE reduce civilian deaths, resolve the humanitarian crisis and support a United Nations attempt to broker a truce between the two warring sides.
Stephen Seche, a former U.S. ambassador to Yemen, says the Yemen provisions in the defense bill are unprecedented. "This is something Congress has never authorized before," he tells Newsweek, "and it underscores the growing opposition in both the Senate and the House regarding the deepening U.S. support for the Saudi-led coalition."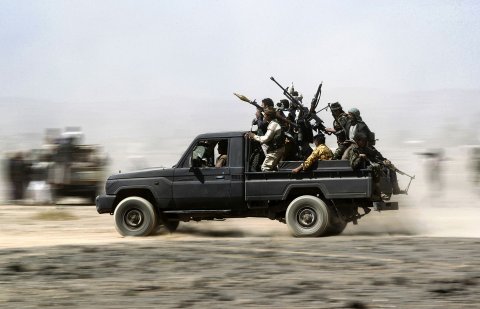 Leading From the Wings
The conflict erupted in 2014, when a rebel force made up of Houthis, a large Zaydi Shiite tribe, rose up against years of official discrimination and neglect to oust Yemen's government. Sweeping out from the mountains along the Saudi border, the Houthis took control of the capital, Sanaa; the Red Sea port of Hodeidah; and a large swath of northwestern Yemen, where most of the country's 25 million people live.
The following year, Saudi Arabia led a joint Arab military intervention to reinstate the country's leaders. The critical U.S. offstage support includes providing the Saudis with military intelligence and aerial refueling so coalition warplanes can fly more bombing sorties. The reason: to counter Iran's role in the conflict.
The U.S. says Iran supports the Houthis with weapons, money and military training. Tehran denies any military connection, a claim that U.S. and European intelligence officials dismiss. They cite numerous U.S. and French naval interdictions, off Yemen's Houthi-controlled Red Sea coast, of ships carrying hidden cargoes of Iranian small arms and missile parts. Tehran sides with the Houthis, current and former U.S. and Arab officials say, to extend Iranian influence across the Middle East. Supporting the Houthis, they add, is also an inexpensive way for Iran to bleed the Saudis, their biggest rival, in the fierce competition for dominance over the region.
An example of the Houthis' utility to Iran occurred at the end of July, when the rebels attacked two Saudi oil tankers off Yemen's coast, prompting Riyadh, the capital of Saudi Arabia, to halt oil shipments through the nearby Bab el-Mandeb Strait, a critical passageway for nearly 5 million barrels of oil every day. For the Houthis, the tanker attack was retaliation for Saudi airstrikes. For Iran, however, it also served as payback for Trump's efforts to cut off its oil exports after withdrawing from the Iran nuclear deal.
Until now, Congress has approved the Saudi and UAE arms deals, prompting little public debate. But after more than three years of fighting, the Arab coalition—the only side in the conflict with air power—has produced a staggering record of civilian casualties and devastation of Yemen's civilian infrastructure. Farms, hospitals, schools, and water and power stations have been destroyed by Arab coalition forces largely using U.S.-supplied warplanes and bombs, according to the U.N. and international relief organizations. Both sides have engaged in actions that amount to crimes against humanity, the U.N. says.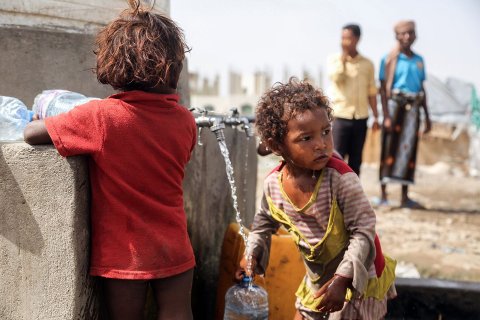 Besides the tens of thousands killed and wounded and the 3 million displaced, another million people are suffering from cholera in what the World Health Organization has called the largest epidemic of the disease in modern history. Some 50,000 people, the WHO says, already have died from cholera. Meanwhile, the International Rescue Committee estimates that famine is spreading, putting more than 8 million people at risk of starvation.
Some 22 million people, more than three-quarters of the country's population, now depend on international aid for food and medicine, which often can't reach them because of the war, U.N. officials say. Secretary-General António Guterres called Yemen's plight "the world's worst humanitarian crisis."
Human rights groups say it's not just the huge amount of advanced military equipment that the U.S. and Britain sell to Saudi Arabia and the UAE that makes them complicit in the crisis. It's also the types of weapons. Amnesty International has documented the Arab coalition's use of American- and British-made cluster munitions in its aerial campaign. Such munitions—banned under international law—scatter scores of small bomblets over a wide area, some of which don't explode on impact, becoming de facto mines that detonate when touched.
Concerned about the civilian casualties in Yemen, the Obama administration blocked the sale of cluster bombs to Saudi Arabia in 2016, but months later the Republican-led Congress included a provision in the fiscal 2017 defense bill that lifted the ban, saying it would "stigmatize" the weapon. The bill was considered must-pass legislation, and President Barack Obama signed it into law.
"There is no reasonable explanation by states such as the U.S. and the U.K. that would justify their continued support and irresponsible arms flows to the Saudi Arabia–led coalition," says Lynn Maalouf, Amnesty International's director of Middle East research. "They have resulted in enormous harm to Yemeni for three years."
Under questioning by lawmakers earlier this year, General Joseph Votel, commander of all U.S. forces in the Middle East and Central Asia, admitted that after U.S. tanker aircraft refuel Saudi and UAE warplanes in-flight, American military personnel don't monitor which U.S. munitions the warplanes carry or the results of their airstrikes.
A Growing U.S. Footprint
Another major concern for lawmakers is what appears to be the U.S. military's growing footprint in the Yemen war. A recent New York Times report, confirmed by Newsweek, said some 50 Green Berets and U.S. intelligence analysts are on the ground at a military base in the southern Saudi city of Najran to help Saudi forces locate and destroy Houthi missile stockpiles and launch sites just over the border inside northern Yemen. U.S. officials say the Houthis have fired at least 100 missiles at Riyadh, and oil installations and military bases. They also have fired thousands of shorter-range missiles at small towns in southern Saudi Arabia.
The presence of U.S. soldiers on the ground in the war zone contradicts repeated Trump administration assurances that its support for the Arab intervention is strictly limited to weapons sales, intelligence sharing, midair refueling and participation in a naval blockade of Houthi ports.
Amid concerns of U.S. mission creep in Yemen, Senator Tim Kaine, a Democratic member of the Senate Armed Services Committee, has accused the Trump administration of the deliberate "blurring of lines between train and equip missions and combat" in the Yemen war. He wants Congress to update the 2001 authorization that successive presidents have used to pursue counterterrorism actions ever since.
The new measure, which Kaine crafted with Corker, the Tennessee senator, "would not authorize the engagement of U.S. military forces in Yemen's civil war," says Kaine, "and it would force Congress to finally take back its authority to decide who and where we are fighting."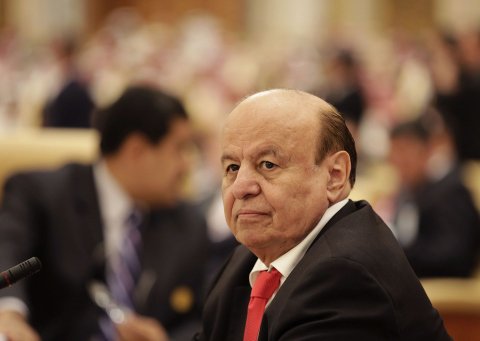 Uncertain Truce Talks
A large UAE-led ground force is poised to launch a new offensive to take Hodeidah, the principal Houthi port and gateway for three-fourths of the humanitarian aid and commercial goods entering Yemen. Coalition forces tried to take the city of 600,000 people in June but halted their advance to give U.N. truce efforts a chance.
U.N. Special Envoy Martin Griffiths is trying to persuade the warring parties to accept a plan under which the Houthis would withdraw from Hodeidah's port and allow U.N. personnel to take it over, clearing mines and installing new cranes to unload relief supplies from ships. As Griffiths shuttles among the Saudi, Emirati and Houthi leaders, only Yemen's exiled president, Abed Rabbo Mansour Hadi, has signed on to the plan. Saudi Arabia and the UAE want the Houthis to withdraw from Hodeidah; the Houthis have refused and fortified their defenses in preparation for urban warfare.
As the diplomatic efforts continue, the Emiratis have launched a lobbying campaign in Washington to soften the growing opposition on Capitol Hill to the Trump administration's support for the Arab coalition. A senior government minister flew in from Abu Dhabi recently to emphasize the coalition's humanitarian efforts, including the preparation of food supplies to feed 6 million Yemenis for a month. Meanwhile, UAE lobbyists have briefed lawmakers on Emirati plans to refurbish three Hodeidah hospitals, supply shelters for displaced families and bring in desalination systems to provide clean water to city residents, according to Al-Monitor, a news site that focuses on the Middle East.
But lawmakers suspect another motive for the lobbying: to win more U.S. military aid if the truce talks break down and the UAE's Hodeidah offensive resumes. Specifically, congressional aides say, the UAE wants greater intelligence sharing, drone surveillance and U.S. minesweepers to clear Houthi mines from the port, all to help facilitate an amphibious assault on the city by the coalition. In June, just before the first attempt to take the city, Trump denied a similar UAE request out of concern an attack would only intensify Yemen's humanitarian crisis—and feed congressional opposition to any U.S. role against the Houthis.
Seche, the former U.S. ambassador to Yemen, says Trump remains committed to helping the Arab coalition fight the Houthis as part of his get-tough policy toward Iran. But with Congress now closely watching for signs of mission creep in Yemen, he says, Trump remains wary of granting any future coalition requests for more U.S. military assistance—and of fueling additional moves by Congress to curb his military authority.
"This administration," says Seche, "will be very reluctant to light a fire under the level of concern that already exists in Congress."