A senior official of the Zaidi Shiite Muslim militia in control of the Yemeni capital and other parts of the war-torn country has told Newsweek his group is dismissing being labeled a terrorist organization in the final days of President Donald Trump's administration, which the official felt lacked credibility.
Nasreddin Amer, deputy information secretary of the Ansar Allah, or Houthi movement, government based in Sanaa, repudiated the designation as part of a problematic pattern of decisions including the U.S. leader's support for protesters that broke into the Capitol on Wednesday to disrupt the certification of his electoral loss, sparking violent clashes that left at least five people dead.
"We consider it to be a decision issued by an administration lacking sensibility, internally and externally," Amer told Newsweek, "and that Trump caused the storming of the Capitol and is meddling internally and externally."
"Since his internal behavior is absurd and rejected by the whole world, his external behavior is also absurd and should not be accepted by anyone," he added.
Amer argued that the Trump administration's actions against Ansar Allah may actually help the group due to the U.S.' great unpopularity in a country ravaged by nearly five years of conflict between the powerful rebel group aligned with Iran and an exiled government backed by a Saudi-led coalition with U.S. support.
"Basically, the Yemeni people carry great indignation against America and the Trump administration in particular," Amer said, "and therefore any decision of this kind will increase the size of the popular rallying around Ansar Allah."
He argued that as a result of its actions throughout Yemen's devastating role, the U.S. was more befitting of the label it sought to brand on Ansar Allah.
"We are practicing legitimate defense for ourselves and our people," Amer told Newsweek. "And those who practice terrorism are those who attack us and our country for six years, especially the United States of America, which has been running this war and supplying it with weapons to kill children and women and practicing the siege on our country, even though we have not attacked anyone, but we are defending ourselves and our country."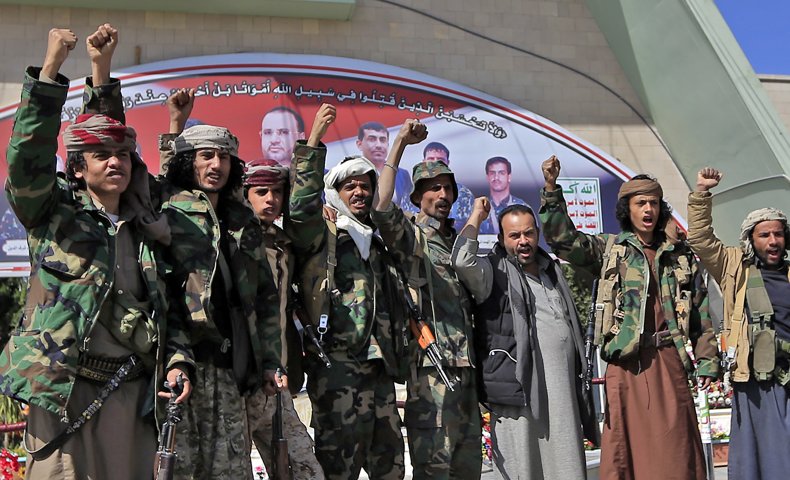 Secretary of State Mike Pompeo announced the decision in a statement published late Sunday, which informed of his "intent to designate Ansarallah – sometimes referred to as the Houthis – as a Foreign Terrorist Organization (FTO), under section 219 of the Immigration and Nationality Act, and as a Specially Designated Global Terrorist (SDGT) entity, pursuant to Executive Order 13224."
Also set to be designated are Ansar Allah leaders Abdul Malik al-Houthi, Abd al-Khaliq Badr al-Din al-Houthi and Abdullah Yahya al-Hakim.
Pompeo referred to Ansar Allah in the statement as "a deadly Iran-backed militia group" guilty of "terrorist acts, including cross-border attacks threatening civilian populations, infrastructure, and commercial shipping."
He argued the move was also intended to advance efforts to bring Yemen's civil war to an end, and acknowledged concerns that humanitarian efforts could be affected by the designations, though the Trump administration was "planning to put in place measures to reduce their impact on certain humanitarian activity and imports into Yemen."
But the concerns of some groups involved in the humanitarian field were not assuaged.
"The Trump administration's decision to designate the Houthi movement in Yemen as a Foreign Terrorist Organization is both reckless and destructive," Refugees International Vice President for Programs and Policy Hardin Lang said in a statement sent to Newsweek.
Lang cast suspicion on the timing of the move, which may take effect before measures to mitigate the impact on humanitarian activities.
"Coming just days before Trump leaves office, the designation will complicate diplomatic efforts to end the war in Yemen and will disrupt relief efforts for the world's worst humanitarian crisis," Lang said. "Particularly alarming are reports that Secretary Pompeo is moving forward before finalizing waives and licenses that would allow humanitarian aid to continue to flow. If true, it is difficult to imagine a more irresponsible decision."
He said the designation would neither end the conflict or alleviate the suffering of a country undergoing what the United Nations considers the world's worst humanitarian crisis, with suffering exacerbated by conflict, disease and famine. He urged President-elect Joe Biden, who is set to take office on January 20, to immediately reverse the move.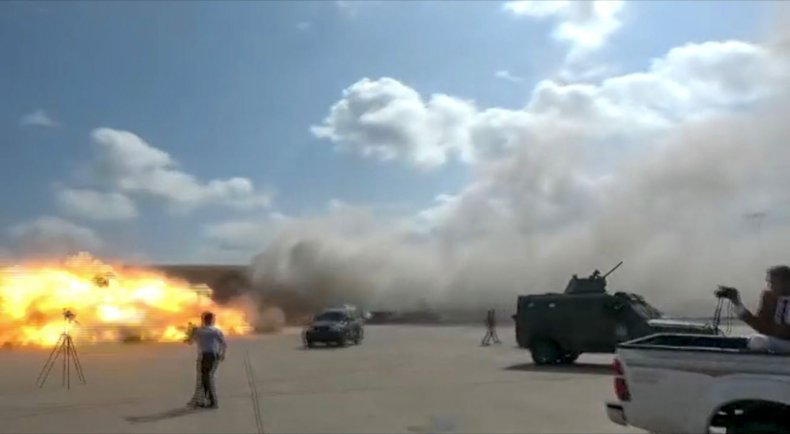 Biden was vice president when President Barack Obama first greenlit the U.S. military assistance to a Saudi-led coalition against Ansar Allah in early 2015. The group had recently taken Sanaa in an advance that forced Yemen's still internationally-recognized leader, President Abed Rabbo Mansour Hadi, to flee to the southern city of Aden. Following a split between his forces and allied southern separatists backed by the United Arab Emirates, he later fled to Saudi Arabia.
Riyadh has attempted to ease tensions between the two factions, both of which are opposed to Ansar Allah. Negotiations ultimately led to the formation of a new unity cabinet whose arrival late last month in Aden was met with a surprise attack at the airport that killed 28 people.
All sides and their international supporters condemned the attack and blame one another, though no party has taken responsibility. Officials from Ansar Allah and the UAE-backed Southern Transition Council blamed one another in statements sent to Newsweek at the time, and Saudi and Ansar Allah officials have also accused one another of orchestrating the attack.
Both Saudi Arabia and the UAE already consider Ansar Allah to be a terrorist organization, while Iran considers the group to be the rightful authority in Yemen.
The U.S. and partnered Sunni Muslim monarchies of the Arabian Peninsula accuse Iran of offering Ansar Allah direct support, including ballistic missiles that occasionally strike neighboring Saudi Arabia. Ansar Allah and Tehran deny military ties.
Lawmakers in Washington have repeatedly tried to halt U.S. military assistance to Riyadh and its allies, citing human rights concerns, but Trump vetoed such efforts.
The Trump adminstration has also toughened the U.S. position on Iran, having labeled the Revolutionary Guard a terrorist organization in April 2019, nearly a year after the White House abandoned a 2015 nuclear deal and began imposing intensive sanctions against the Islamic Republic. Tensions erupted a year ago with the U.S. killing of Quds Force commander Major General Qassem Soleimani and his companions, including Iraqi Popular Mobilization Forces deputy head Abu Mahdi al-Muhandis, at Baghdad International Airport.
The State Department also announced sanctions Friday against Popular Mobilization Forces commander Falih al-Fayyadh, whose largely Shiite Muslim militia collective rejoiced at the news.
We congratulate the friend of the martyrs, Popular Mobilization Committee Chairman Falih al-Fayyadh, on his inclusion with the honorable ones whom the U.S. administration considers enemies," a spokesperson said in a statement sent to Newsweek.
The spokesperson then added in hashtag form alongside a peace sign: "Our leaders are terrifying America."