Saudi Arabia Stops Yemen Rebels' Volcano Missile From Hitting King Salman's Royal Palace
Yemeni rebels fired a missile at the Saudi royal palace in Riyadh on Tuesday, but it was intercepted as it flew over the capital, according to Saudi state media.
Mohammed Abdussalam, spokesman for Yemen's Houthi rebels, tweeted that a Volcano 2-H ballistic missile was fired at the palace.
It came on the day that King Salman was due to announce the Saudi budget from the palace, which is also known as the Al-Yamamah Palace.
"Ballistic missile intercepted over Riyadh," the Saudi-led coalition battling Yemen's Houthi rebels said in a statement, AFP news agency reported.
Houthi television reported that the rocket was targeting a meeting of Saudi officials, according to Reuters. The palace is where the kingdom's ruler King Salman receives foreign dignataries.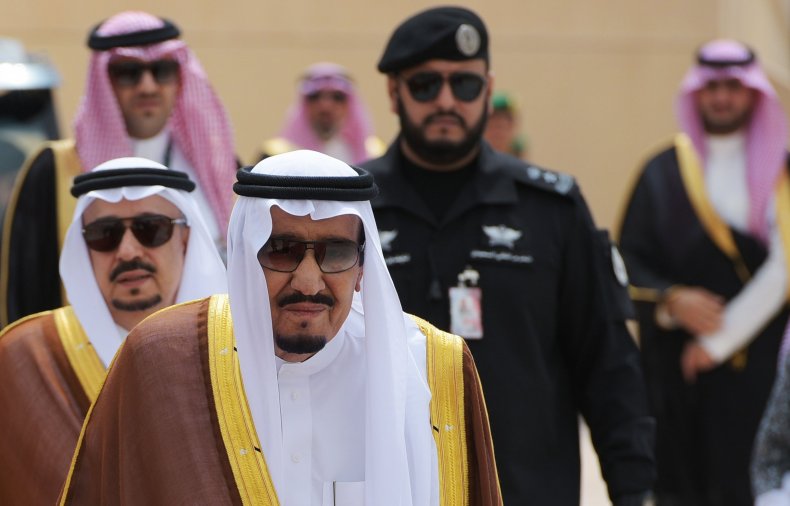 The rebels fired another missile into Saudi territory on November 4, targeting Riyadh international airport. Saudi Arabia accused Iran of providing the missile to the rebels, and U.S. ambassador to the United Nations Nikki Haley last week said there was "undeniable" evidence that the missile was "made in Iran."
In protest at Haley's charge, Iran called her comments "irresponsible" and summoned the ambassador of Switzerland, Markus Leitner, who represents Washington's interests in the Islamic Republic.
On the same day as the missile launch, the U.N. human rights office said it had confirmed the deaths of 115 Yemeni civilians by airstrikes carried out by the Saudi-led coalition waging war in Yemen.
The conflict between the Shiite Houthi rebels and the Saudi coalition, supporting the restoration of the internationally recognized Sunni government in Yemen, began in March 2015 and has lasted for more than 1,000 days.
The rebels ousted President Abed Rabbo Mansour Hadi from the capital Sanaa in a March 2015 offensive. The war has killed more than 10,000 people and left three million people displaced.
The State Department on Monday called for the delivery of World Food Program shipments to Yemen amid a worsening humanitarian crisis. Riyadh has imposed an economic blockade on the country and ongoing fighting is preventing the delivery of goods to thousands of civilians.