American Bombs Have Killed Hundreds of Civilians, Including Children, in Unlawful Strikes on Yemen: Report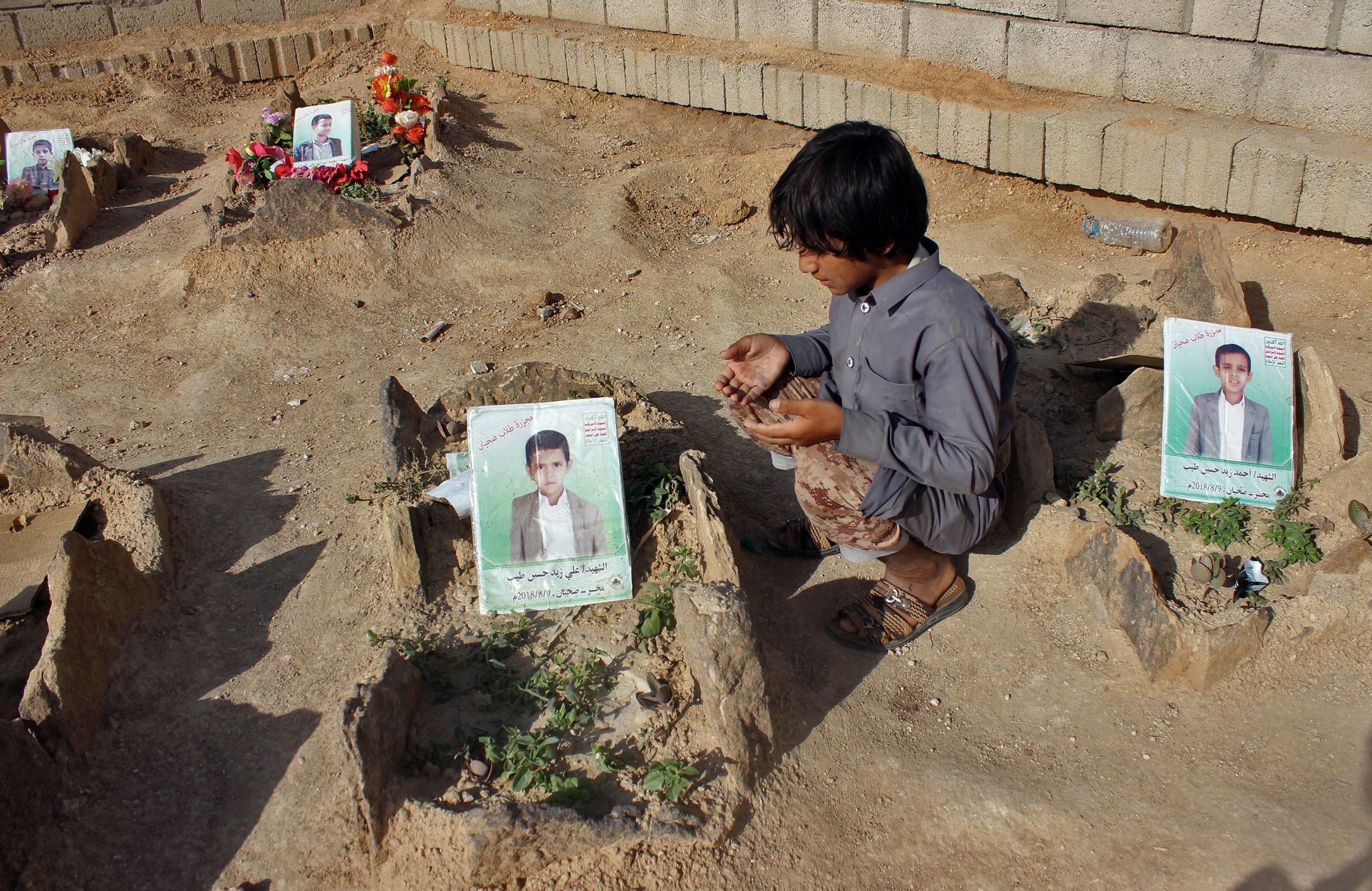 A new investigation found that hundreds of civilians—including children—have been killed or maimed by U.S.-made weapons in unlawful air strikes conducted as part of the ongoing war in Yemen.
A report published by the U.S.-based University Network for Human Rights (UNHR) and Yemeni monitoring group Mwatana identified 27 air strikes launched by the Gulf alliance—led by Saudi Arabia and the United Arab Emirates—between April 2015 and April 2018, which they said were unlawful.
The organizations said U.S.-made weapons were likely used in 25 of the attacks. In total, the 27 unlawful strikes killed at least 203 people and wounded close to 750. More than 120 children and at least 56 women were among the casualties, the report said.
Among them was the April 2018 bombing of a wedding party, which killed 21 people and injured 97. The attack used an American-made GBU-12 Paveway II laser-guided bomb, according to the report.
Not included in the scope of the report was the bombing of a school bus in August 2018, which killed as many as 51 people—40 of them children. According to CNN, the weapon used was a 500-pound laser-guided MK 82 bomb produced by U.S. company Lockheed Martin.
The Saudi-led coalition has been bombing Yemen since March 2015 in support of President Abdrabbuh Mansur Hadi, who was deposed by Iranian-linked Houthi rebels. Four years later, there was little sign of an end to the fighting, which left more than 60,000 people dead and 14 million at risk of starvation.
Successive United Nations–sponsored peace plans have collapsed and devastating air strikes have continued. Both sides have been accused of a range of war crimes. The Saudi-led forces have allegedly bombed hospitals, markets, weddings and funerals as part of their punishing campaign to destroy the Houthis, who Riyadh considers Iranian proxies.
The U.S. has sold Saudi Arabia around $27.9 billion worth of military equipment in the past two years, according to the State Department. And between 2013 and 2017, Saudi Arabia, at 18 percent, and the UAE. at 7.4 percent, accounted for more than 25 percent of all American major arms exports, according to Stockholm International Peace Research Institute.
The U.S.—along with the U.K.—has also provided extensive logistical support for the Gulf coalition since 2015. Washington shared intelligence with Saudi counterparts and provided training to weapons operators and analysts. American tanker aircraft were also refueling coalition warplanes over Yemen until November 2018, when the U.S. halted the missions amid outrage over the Saudi murder of dissident Washington Post journalist and American resident Jamal Khashoggi.
American and British troops are also present in the Saudi and UAE military command and control rooms with access to target lists, assisting in selection, and, according to both Washington and London, helping to reduce the risk of civilian casualties.
Though the White House retains its support for the campaign, lawmakers in Congress have registered their opposition. Last month, for example, the House passed a resolution to withdraw American support for the war.
In December, senators voted to call for the end of U.S. military aid to Saudi Arabia's campaign in Yemen, though the then-Republican House did not take up the resolution. The Senate is expected to vote again on the matter within the next month, though Trump's administration has already said it will veto congressional efforts to withdraw American support for the Gulf coalition.
A State Department spokesperson told Newsweek that the U.S. was focused on supporting U.N.-driven ongoing peace efforts.
"Throughout this conflict, the United States has called upon all parties to take appropriate measures to mitigate the risk of civilian casualties and damage to civilian infrastructure," the spokesperson continued. "We urge transparent investigations by the Joint Incidents Assessment Team into incidents of civilian casualties when they occur, and the swift implementation of the recommendations from these investigations."
"The United States has taken a number of actions to help the Saudi-led Coalition support the Yemeni government and defend Saudi territory, while minimizing civilian casualties, including training, providing better equipment and advising the Saudi military to help them improve their targeting processes. U.S. forces are also providing training on Law of Armed Conflict and best practices for preventing civilian casualties."
But the new report suggested the number of unlawful strikes—which took place far from military targets or caused disproportionate harm to civilians for little military benefit—is on the rise.
Mwatana said it counted 128 apparently unlawful attacks in 2018, which killed at least 418 civilians, including 181 children. In 2017, there were 90 such attacks, killing over 350 civilians, including 161 children and 45 women.