Yemen War Heats Back Up After Relative Lull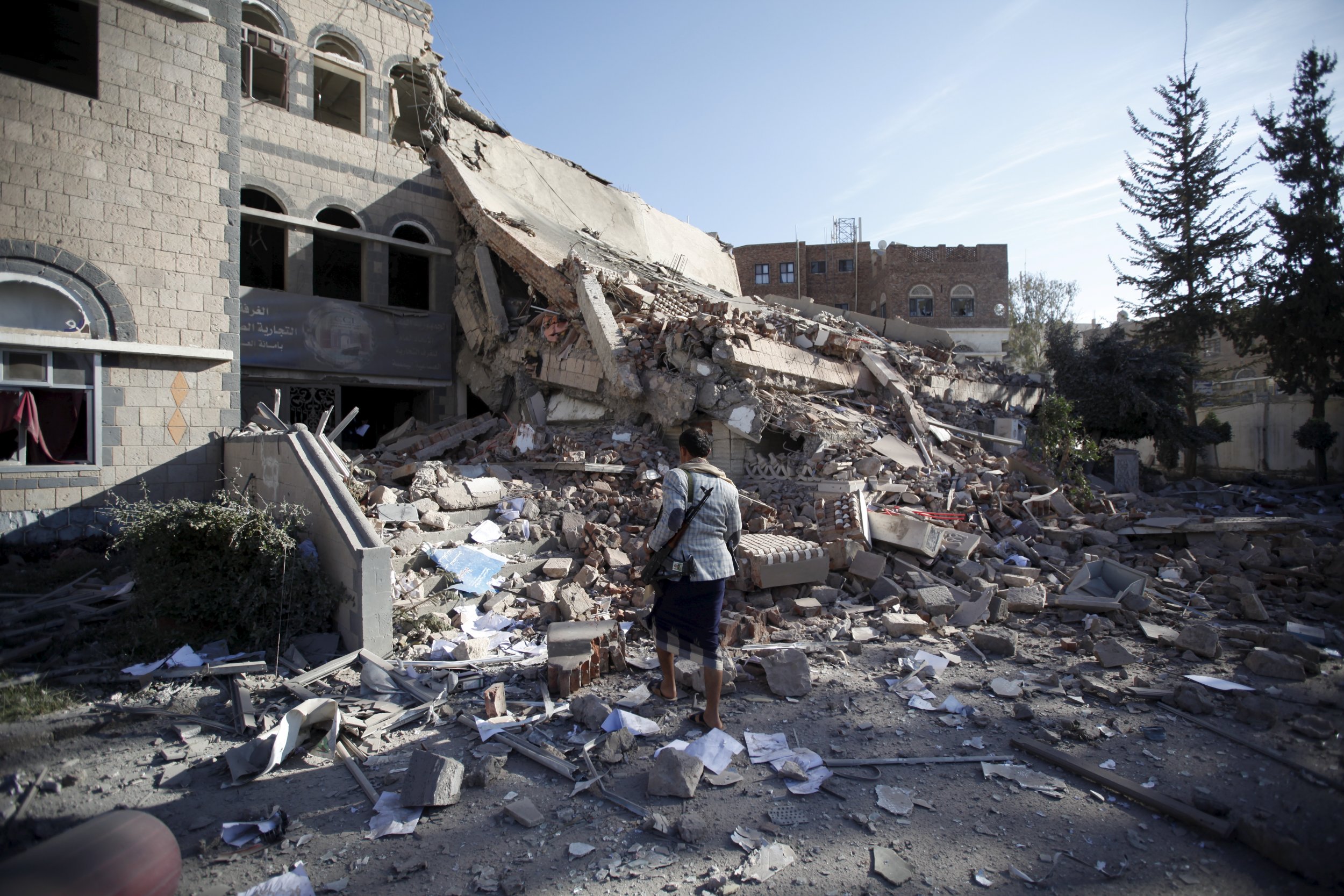 ADEN (Reuters) - Air strikes led by Saudi Arabia targeting Iran-allied Houthi forces intensified in Yemen on Tuesday, residents said, ending weeks of a relative lull in the war after a major diplomatic row erupted between the kingdom and arch foe Tehran.
Large air strikes targeted military positions linked to Yemen's ascendant Houthis in the capital Sanaa, the port city of Hodaida and the disputed southwestern city of Taiz.
Residents reported that the air raids hit a care center for the blind and Yemen's chamber of commerce headquarters, in which there were no casualties.
Heavy shelling resumed on battle fronts which had been largely static during a truce which began on Dec. 15 in tandem with United Nations-backed peace talks.
Houthi fighters launched Katyusha rockets at the city of Marib, residents said, their first attack on the area since Gulf Arab troops and armed loyalists of President Abd-Rabbu Mansour Hadi seized it from the group over the summer.
Houthi forces also advanced against government militiamen in the northwestern province of Hajja and the far southern province of Lahj, reversing recent gains made the coalition.
Local medics in Hajja reported that around 20 Houthi fighters were killed in the clashes.
A military coalition led by Saudi Arabia and its Sunni Muslim allies has been fighting Yemen's Shi'ite Houthi movement to repel what it sees as creeping influence by the group's ally, Iran.
The kingdom on Saturday announced the end of the truce, which had reduced fighting but had been repeatedly violated by both sides.
Earlier the same day, Saudi Arabia executed a dissident Shi'ite cleric convicted of "terrorism." This led to attacks by Iranian protesters on Saudi missions and the severing of ties with Iran by the kingdom.
Nearly 6,000 people have been killed since the Saudi coalition entered the Yemeni conflict in March, almost half of them civilians. The war has exacerbated hunger and disease in Yemen, the Arabian Peninsula's poorest country.
Aden Attack
Three senior southern Yemeni officials survived a suicide car bomb attack on their convoy in Aden and a subsequent gun battle that killed three of their guards on Tuesday, a government spokesman and security sources said.
The southern port city is suffering from a security vacuum as loyalists of Yemen's embattled government, which has its temporary seat in Aden, seek to wrest the capital Sanaa from the Houthis.
"A suicide bomber in a car detonated as the convoy of the governors of Aden and Lahj provinces along with the Aden security director passed through the area of Inma," Nizar Anwar, a government spokesman said.
The assailants retreated into the desert, he said.
Aidaroos al-Zubairi was appointed governor of Aden after his predecessor was killed in a car bomb attack on Dec. 6 claimed by Islamic State's new Yemen branch.
Security officials have launched a crackdown on suspected militants, imposing a curfew and arresting at least 70 suspects overnight, according to security sources.
Alliance and anti-Houthi forced seized Aden from the Houthis over the summer but have yet to impose their writ on the city, where militants and other gunmen have a prominent presence.