Yemeni TV Correspondent First Journalist Killed in 2015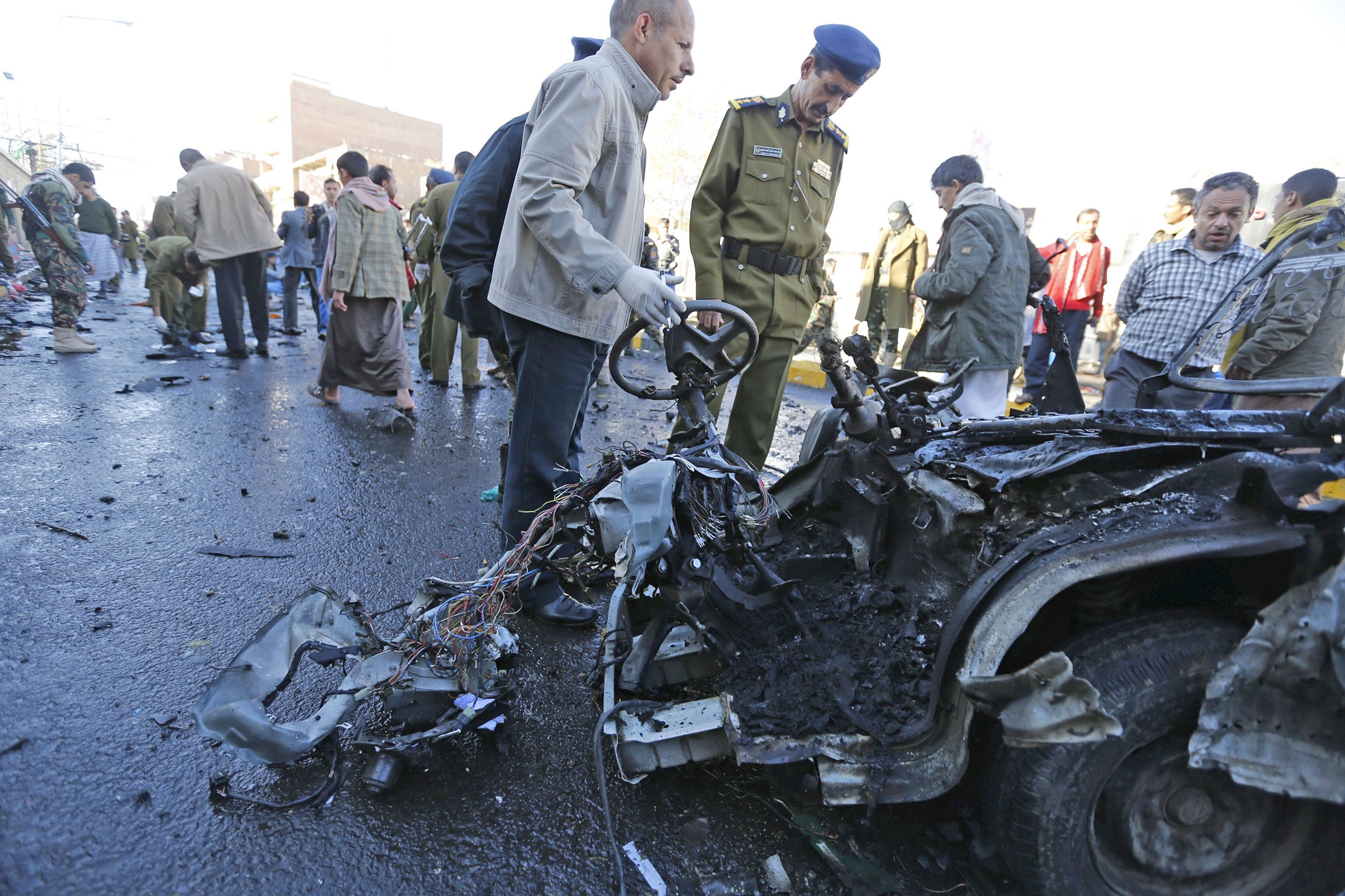 Before Wednesday's deadly attack on the offices of a satirical magazine in Paris, Khalid Mohammed al-Washali, a local Yemeni TV correspondent, became the first journalist to be killed in 2015.
His death preceded by a few days the killing of 10 staffers at the French magazine Charlie Hebdo, along with two policemen, in a terrorist attack that has left Paris reeling. A manhunt is now underway for the three gunmen, who are believed to be affiliated with an Al-Qaeda faction in Yemen.
Al-Washali, a correspondent with Yemeni TV channel Al-Masirah, was one of six people killed Sunday by a roadside bomb in Dhamar, a city south of the Yemeni capital, Sanaa, The Guardian reports. The attack was reportedly carried out by Al-Qaeda in the Arabian Peninsula, considered to be the most dangerous branch of the terrorist network. Twenty-five people were injured in the attack.
The International Federation of Journalists (IFJ) condemned al-Washali's death in a statement released Tuesday.
"This killing is a reminder of the mindless violence which continues to prey on unsuspecting members of the public attending events and journalists covering them," IFJ President Jim Boumelha said in the statement.
The Al-Masirah network is owned by members of the Houthis, an insurgent Shiite Muslim group, and it's believed the Islamist fighters were targeting Houthi militias. Houthis control large parts of Yemen and are considered enemies by Sunni fighters.
The attack that killed al-Washali is the latest in a series of strikes targeting Houthis, including a bomb blast on Wednesday outside a police academy in Sanaa that killed 37 and injured 66, the BBC reports.
Houthi rebels control some state radio and TV buildings, according to Reporters Without Borders. In its statement, the IFJ criticized Houthi leader Abdul-Malik al-Houthi for his "incitement against Yemeni media." Al-Houthi's group has threatened and harassed journalists and media outlets, including the state-owned newspaper Al-Thawra, whose offices it has occupied since December.
"We urge all sides to stop interfering in journalists' affairs and refrain from all actions likely to endanger the lives of our colleagues who work in some of the worst conditions in the Middle East," said Beth Costa, IFJ general secretary, in a statement.
Nearly 100 journalists died while doing their jobs in 2014, according to the Committee to Protect Journalists, while 220 were imprisoned. They include James Foley, who was the first journalist to be beheaded by ISIS militants, in August, and Camille Lepage, the French photojournalist who was the first to die while covering the conflict in the Central African Republic, in May.