Who is Yemi Osinbajo, the Man Quietly Running Nigeria in President Muhammadu Buhari's Absence?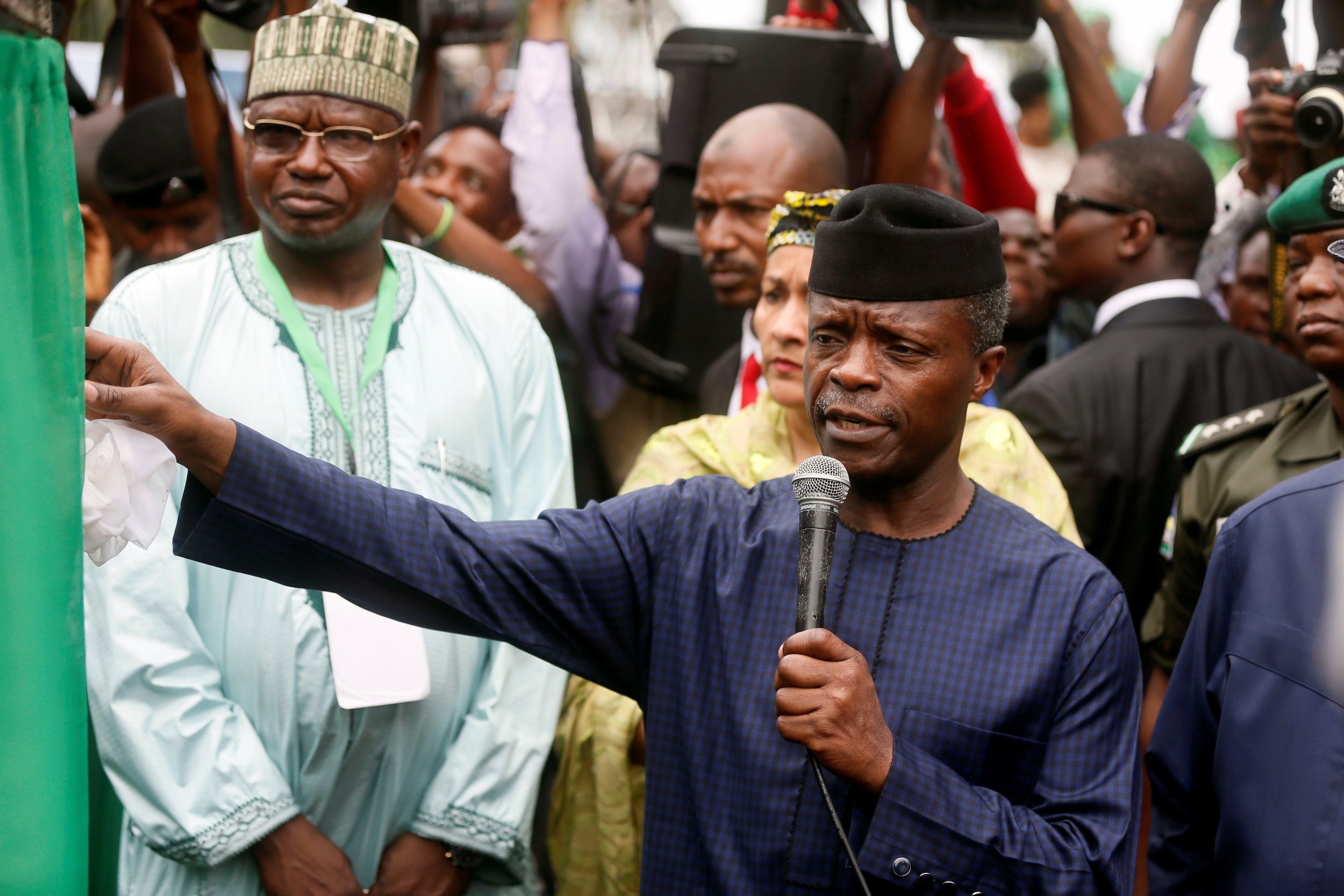 Nigeria's president has been missing in action for more than a month now. But thanks to the work of his deputy, Yemi Osinbajo, President Muhammadu Buhari's absence has not been as keenly felt as it might have otherwise.
Buhari departed from the country on January 19, ostensibly for a short period of medical leave in the U.K., activating a clause in the constitution that made Osinbajo the acting president in his absence. However, his return has been repeatedly delayed: his spokesman Garba Shehu released a fresh statement Tuesday, assuring Nigerians that his extended leave was due to doctors advising the president to take a longer period of rest. "President Buhari wishes to reassure Nigerians that there is no cause for worry," said Shehu.
But while Buhari's absence has kept the rumor mill spinning, his vice-president, Yemi Osinbajo, has been quietly effective in addressing some of the crises affecting the country. Among other things, the 59-year-old former lawyer has met with stakeholders in the volatile yet oil-rich Niger Delta and addressed protesters demanding economic reform and an end to government corruption.
Born in Nigeria's southern economic hub of Lagos, Osinbajo comes from a legal background. The vice-president is a Senior Advocate of Nigeria—an honorific title equivalent to the Queen's Counsel in the U.K.—and formerly worked within the department of justice in the Lagos state government, one of Nigeria's largest states by population, including as the state's Attorney General.
Osinbajo is also a Christian pastor at a Lagos branch of the Redeemed Christian Church of God. His identity as a Christian southerner means that Osinbajo provides the ying to Buhari's yang in Nigeria, a country that sometimes evidences sharp ethnic and religious divisions. Buhari is a Muslim hailing from the northern Katsina state. Nigeria is almost equally split between Christian and Muslim populations, with most of the former residing in the south and the latter in the north. Some of the most disruptive protests during Buhari's rule—such as militant attacks on oil pipelines in the Niger Delta and demonstrations by secessionists calling for an independent state of Biafra—have taken place in the south.
When the All Progressives Congress (APC) formed in 2013 as a merger of three opposition parties, Osinbajo was one of a select group charged with sketching out the party's manifesto and political goals. In late 2014, Buhari announced that Osinbajo would be his running mate in the 2015 election, and the APC went on to claim a historic victory over the People's Democratic Party, with Buhari replacing Goodluck Jonathan in the country's first peaceful transfer of power since independence in 1960.
In Buhari's absence, Osinbajo has not shied away from difficult topics. The vice-president has visited the Niger Delta, the country's oil hub, and tackled the issue of militancy head on. Osinbajo has said that young men in the region must be "properly engaged" to stop them falling into militant groups or participating in illegal refining of crude oil.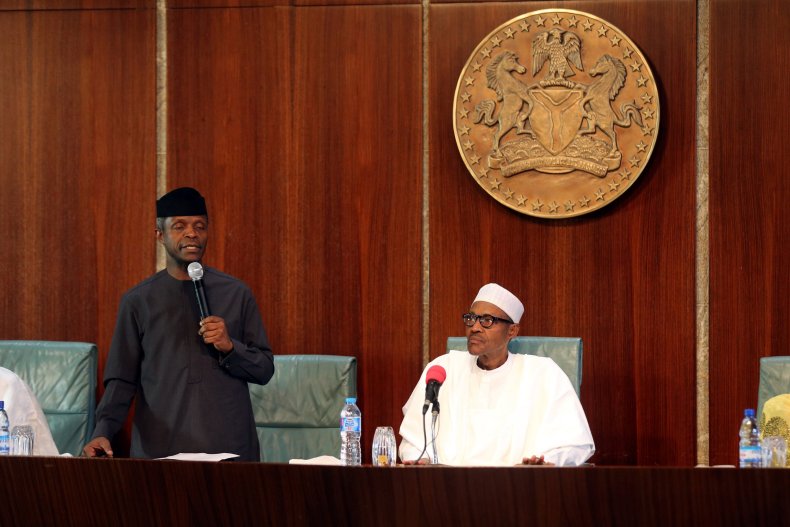 The symbolic value of the trip was perhaps worth more than anything Osinbajo said during the visit. Attacks on oil pipelines in the Delta cut Nigeria's production by as much as 700,000 barrels per day in 2016— tipping the country into recession —and were perpetrated by groups, such as the Niger Delta Avengers, who claim that the government has not engaged with communities in the Delta and that these communities have not seen a fair share of Nigeria's oil wealth.
Buhari, by contrast, during almost two years as president, has so far failed to visit the oil-producing region; the president pulled out of a planned trip to launch a cleanup operation in an area affected by oil spills in June 2016, with Osinbajo attending in his place.
The vice-president also confronted rare public demonstrations in Lagos and the capital Abuja earlier in February, where hundreds of protesters decried the state of the country. Nigeria's economy is struggling to become less dependent on oil—which makes up more than 70 percent of GDP—while various security threats continue to plague the country. These include the Boko Haram insurgency in the northeast: the group has been largely contained by Nigerian and regional military forces, but continues to launch guerrilla attacks and suicide bombings on a not-infrequent basis.
Osinbajo met with protesters who marched on the presidential villa in Abuja and put out a reassuring statement. "To those who are protesting...we hear you loud and clear. You deserve a decent life and we are working night and day to make life easier," said Osinbajo.
Despite repeated protestations that Buhari is "hale and hearty," his media team is yet to flesh out specific details of when he will return. But in the meantime, his deputy is doing more than just keeping the seat warm.