Police responded to reports of an active school shooting Friday at YES Prep Southwest Secondary in Houston.
Houston Police Chief Troy Finner confirmed during a press briefing that one school administrator, a white male, was shot. He was transported to a local hospital, but the school said his injuries are "non-life-threatening" and he is expected to level the hospital today. No students were injured during the incident.
Police have detained one suspect, a 25-year-old Black male who surrendered without incident and was a former student at the school. Finner said that the school is now "secure" and students are beginning to go back inside or reunite with parents that have gathered at a nearby staging area.
The live updates for this blog have ended.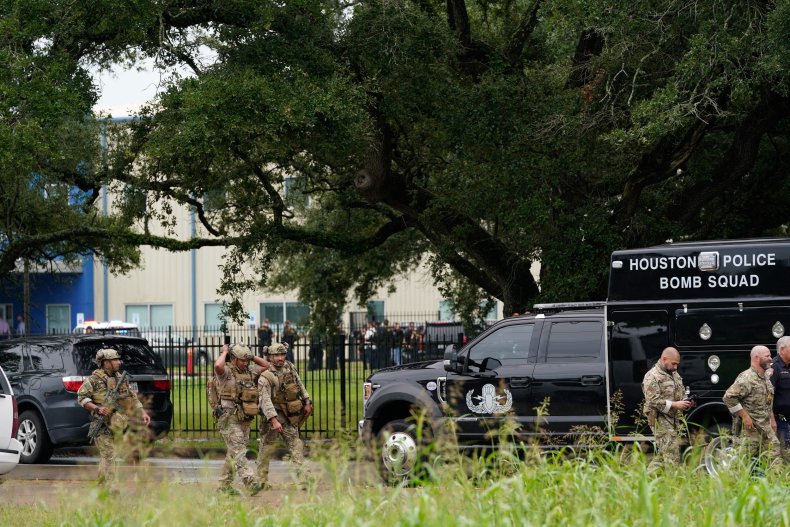 Administrator expected to recovery from non-life-threatening gunshot wound
The YES Prep Southwest Secondary administrator who was shot at the school Friday is expected to recover.
The school said the school administrator has "non-life-threatening injuries and is expected to be released from the hospital later today," according to KTRK.
Student Thought Shooting Was 'Just a Drill' After Practicing 2 Days Earlier
One YES Prep Southwest student witness said that he thought Friday's shooting was "just a drill" since the school trained for a similar situation just two days earlier.
Once he and fellow students realized it was a real shooter, "we were all scared."
"It was tough." he said.
Another student cited the recent active shooter training at YES Prep, saying that it was "scary" that they had just drilled for this possibility.
"And for it to happen now...school is not safe for anybody anymore," she said.
No kid 'should witness this,' police chief says after shooting
Houston Police Chief Troy Finner said after the shooting at YES Prep that he doesn't think "any kid or anybody should witness this, but it's the world that we live in."
He added that it was very important for the people who had experiences like these to seek help, either through the school or other agencies.
"We want to make sure the kids get counseling," he said.
School ran lockdown drill days ago, students say
Two students interviewed by KHOU said the school ran a lockdown drill a few days prior to Friday's shooting.
They said that the drill was helpful in getting to safety during the incident at the school today.
Both students said they never thought a real shooting would happen at their school.
Shooter identified as former student, administrator in "serious condition," police say
An administrator was shot and was transported to a hospital, police said during a press briefing.
The shooting victim is a white male with a gunshot wound to his back, Houston Police Chief Troy Finner said. He added that the victim is in "serious condition."
Several students told local news reporters that the school principal was shot, but the identity of the victim has not yet been officially confirmed.
Finner said the shooter in custody is a 25-year-old Black male who was a former student of the school. He shot through the glass of the front door with a rifle and fired at the employee, Finner said.
The shooter's motive is unclear, as the investigation is still ongoing.
Finner added that the school is currently "secure."
Student says he saw blood, broken glass as he exited school
One YES Prep student who was inside the building during Friday's unconfirmed shooting said that he saw blood and broken glass as he exited the school.
The student, a seventh grader, also said during an interview with ABC 13 that teachers directed him to stay back and out of sight inside his classroom. Then, police officers came in and directed the students to put their hands up and exit the building, he said.
No students injured after shots fired in building, YES Prep says
In a Facebook post, the YES Prep Southwest Secondary School said no students were injured after shots were fired inside the school.
"Police are on campus with a suspect in custody who opened fire inside the school. No students have been injured," the statement said.
Students are being transported to W. Fuqua and Hiram Clarke to be picked up.
One person injured, local news reports
One person has been injured, according to KPRC-TV in Houston.
KHOU said one person was shot, but there is no word on who that person is or their condition.
The Houston Professional Fire Fighters Association tweeted that firefighters and paramedics are "on the scene treating and transporting."
Police set parent staging area at West Fuqua, Hiram Clarke
Houston Police designated a staging area for parents of YES Prep Southwest Secondary school students at West Fuqua and Hiram Clarke.
Authorities still haven't confirmed reports of a shooting on the school's campus. However, they confirmed that they have one suspect in custody Friday afternoon and are still searching for other possible suspects.
Parents present, students crying at YES Prep amid shooting reports
Parents were reportedly present at YES Prep Southwest Secondary School Friday afternoon amid unconfirmed reports of a shooting at the school.
Video taken near the school and posted on Twitter by ABC 13 reporter Erica Simon showed cars lining streets believed to be near the school and several law enforcement vehicles driving past.
Simon wrote in the tweet's caption that students were seen crying at the school.
One suspect in custody
Houston Police have one shooting suspect in custody.
The scene is still active, as officers search the school for other possible suspects, police said.