Key Player in Putin's Ukraine War Notably Absent From Speech
One of Vladimir Putin's key players in the ongoing war against Ukraine was notably absent from the Russian president's speech on Tuesday.
In the speech, Putin spoke about Russia's war with Ukraine, which is nearing its one-year mark on February 24. A number of Russian officials such as Foreign Minister Sergey Lavrov were seen in attendance of the speech.
However, Yevgeny Prigozhin, the leader of the mercenary Wagner Group and a longtime ally of Putin, was not present at the speech.
"Notable that Prigozhin was not present for Putin speech today," Jennifer Griffin, a national security correspondent for Fox News, wrote in a tweet on Tuesday morning.
The absence of Prigozhin at Putin's speech comes as tensions continue to escalate between the Wagner leader and other Russian officials amid the ongoing war in Ukraine.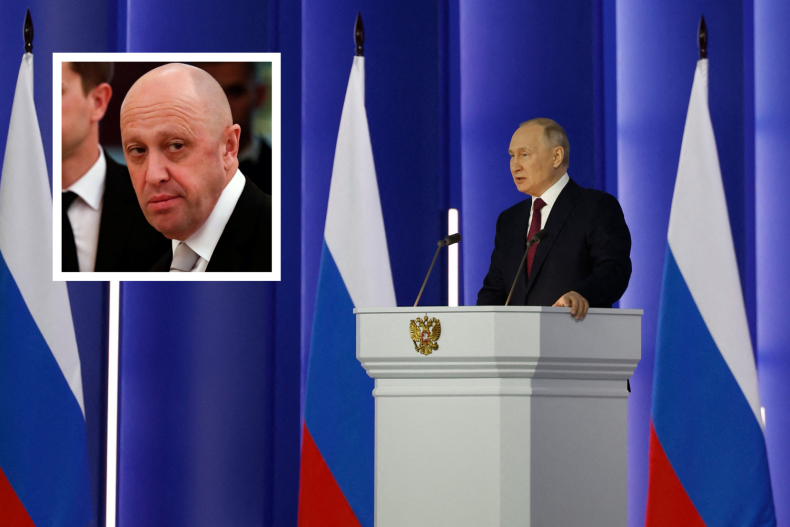 On Tuesday, Prigozhin posted a message on his Telegram channel criticizing Russian officials.
"The chief of the general staff and the minister of defense are giving away orders to the left and right, which say that Wagner PMC should not only not be given ammo, but also no help with air transport," Prigozhin wrote, according to Politico. "There is a direct counterwork."
Politico reported that Prigozhin added that Russian officials are attempting to "destroy" the Wagner Group and noted that "this can be equated to high treason."
A day earlier, Reuters reported that Prigozhin issued another message on his Telegram channel where he said that he was told to "apologize and obey" if he wanted to acquire more ammunition for his fighters.
"Those who interfere with us trying to win this war are absolutely, directly working for the enemy," he said, according to Reuters.
Earlier this month, White House National Security Council spokesman John Kirby said that the Wagner Group has suffered more than 30,000 deaths since the start of the ongoing war, noting that many of the mercenary group's soldiers that were killed were criminals.
The Institute for the Study of War, a think tank, recently published an assessment of Russia's offensive in Ukraine and wrote that "Prigozhin claimed that Wagner has 'complete shell hunger' as a result of Russian military officials ignoring his demands and introducing new limitations and restrictions on his ammunition procurement."
During his speech on Tuesday, Putin spoke about the war in Ukraine and said that Ukraine's Western allies "do not hide their purpose."
"But they also cannot fail to realize that it is impossible to defeat Russia on the battlefield," Putin added, according to Reuters.
Newsweek reached out to the Russian Foreign Ministry for comment.