New York City Program Teaches Yiddish to Dogs
Yiddish was once spoken by more than 11 million people, but today there is concern its a dying language. One group is trying to change that perception with a "Yiddish for Dogs" class, held Sunday in New York's Central Park.
The class was hosted by The Workmen's Circle, a progressive Jewish nonprofit boasting "the largest Yiddish language program in the world." In it, owners and pets learned the Yiddish words for common commands like "sit" (zits) and "stay" (bleybn).
"Yiddish, I find that the words are pretty sharp," trainer Miguel Rodriguez told ABC 7. "So dogs really get the tones of words very well. I find they actually responded to it better than English."
The program dates back at least to 2017, when Workmen's Circle's executive director Ann Toback told NY1 that while the institute offers plenty of Yiddish language courses, "people were looking for more ways to connect to their mameloshn [mother tongue]."
She said also appealed to people interested in Yiddish but who were "maybe intimidated by the more formal learning."
Yiddish has its origins in ninth century Jewish communities in Central Europe, who blended German, Hebrew and other Slavic and Romance languages to develop their own vernacular.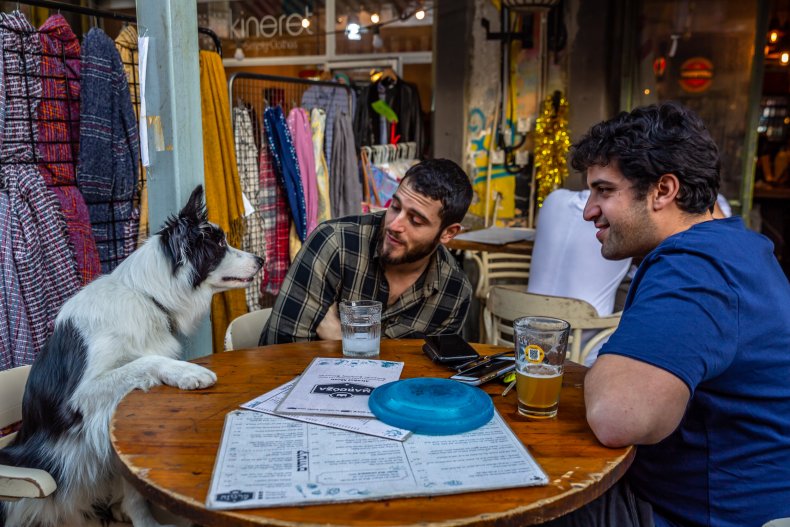 By the mid-20th century, the Holocaust, assimilation and emigration to Israel and the United States saw a decline in the number of Yiddish speakers. Since then, many others who grew up in Yiddish-speaking communities have passed away.
The threat of yiddishkeit dying out has sparked a renaissance in the language and culture: A Yiddish-language version of Fiddler on the Roof is currently garnering rave reviews off-Broadway and both Wikipedia andGoogle Translate both includes Yiddish as one of their languages. (Google search accepts queries in Yiddish, as well.)
Institutes like the Yiddish Book Center have worked to preserve Yiddish titles and put thousands online. Language and literature classes are taught at universities around the world.
A program at Lithuania's Vilnius University is believed to be the first Yiddish center of higher learning in Eastern Europe since the Holocaust.
The Forward, a 122-year-old Jewish news outlet, was originally a Yiddish-language daily newspaper. After switching to English in the 1990s, it revived its Yiddish edition online in 2016.
In practical terms, though, Yiddish's use as a daily conversational language is limited mostly to certain Hasidic communities, hence the need for programs like the one from Workmen's Circle. The institute also offers Yiddish classes for humans, too, "for every age and skill level, from absolute beginner to total maven."