What Is 'Yik Yak'? Local, Anonymous Social Media App Rises From the Ashes
Four years after it shut down, social media app Yik Yak is available to download again.
The rights to the app were purchased by the new owners in February 2021 with the intention of creating an "authentic" social media space, free from the "labels" associated with other apps, according to its website.
What Is Yik Yak?
Yik Yak originally launched in 2013 and became a huge success on college campuses a year later, resulting in a valuation of around $400 million.
What made the app unique was that all posts were initially anonymous and could only be seen by other users who were within the local area, with students often using it as a campus community bulletin board.
In its latest incarnation, much remains the same.
Yik Yak users will be able to post and comment on short text posts that are only viewable within a five-mile radius. Similarly to Reddit posts, posts can be up and down-voted with a "hot" feed listing the app's trending posts.
Why Did Yik Yak Shut Down?
The anonymity of Yik Yak users led to reports of cyberbullying and harassment, prompting many high schools to ban its use.
While all users had to be 18 and over to use Yik Yak, the company blocked its use near middle schools and high schools.
In 2015 one Yik Yak user was arrested after using the app to make anonymous threats.
Christian Malik Pryor was 18 and studying at California State University, Fresno when he posted a photo of the Henry Madden Library and wrote that he planned to "release my frustrations" with a shooting on campus.
Pryor pleaded no contest to the felony charge of making a criminal threat.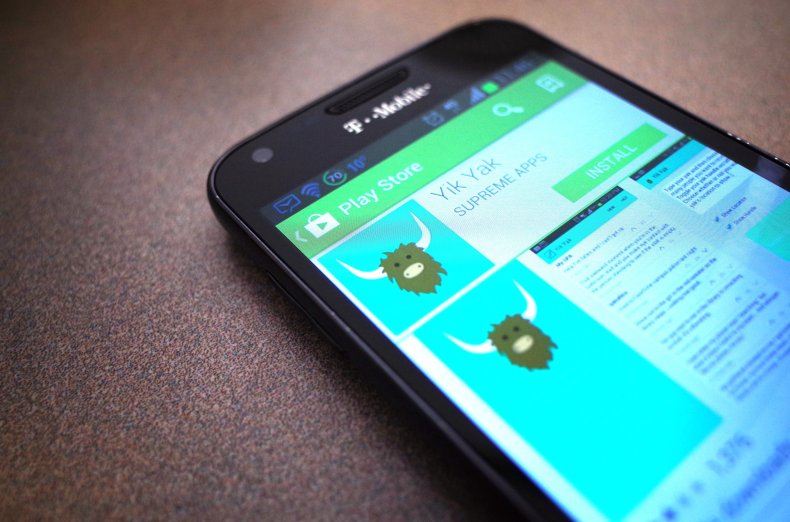 In an attempt to remove bullying from its platform, Yik Yak invited users to add a username to their account in early 2016, removing a layer of anonymity.
At the time, Yik Yak's co-founder Tyler Droll told The Verge of the decision to add handles: "We're all about forming and encouraging these tight-knit local communities. We expect this to even further the connections and the closeness of this community."
In August 2016, usernames became compulsory and by the end of the year downloads were down by 76 percent compared to the previous year.
By 2017, Yik Yak was shut down.
What Is Yik Yak Doing About Bullying and Harassment?
Keen to avoid some of the problems that plagued Yik Yak in the past, the new owners are taking a tough stance on bullying and harassment.
Users will be encouraged to report abusive posts and for serious violations of its "community guardrails" and terms of service, Yik Yak now operates a "one strike and you're out" policy, immediately banning that user.
Posts that receive enough downvotes to give it an overall score of -5 are also hidden from the feed, in a bid to stop the spread of negative and harmful content.
How Can I Download Yik Yak?
The relaunched app is available to download now from the iOS App Store.
Currently, it's not available to download on Android and is only available in the U.S., though there are plans to roll out Yik Yak to other countries in the future.