Victoria Gibbs: Pushing the Limit With Hot Yoga
Victoria Gibbs knows how to push the limit. It was 91 degrees inside the Bode NYC yoga studio in midtown, and you could feel the heat rising from the floor to the ceiling--but that's the norm. Heat is a defining characteristic of Bikram yoga, a type of "hot yoga."
"It's not even as hot as it usually is," Gibbs told Newsweek as she sat on her blue yoga mat. "That's what drew me to the practice originally—that heat and the ability to just sweat. I like to sweat. That's how I feel like I'm doing something."—dash—dash—dash
Gibbs, 33, has practiced yoga for nearly six years and competed at the 2018 USA Yoga Asana National Championship in Madison, Wisconsin on June 29.
While Bikram yoga classes are normally conducted at around 100 degrees, the championship routines take place in venues like conference centers, where the room temperatures are unlikely to exceed 75 degrees.
"A lot of times after I'm done with competition, I will be sore for the next week, because I've pushed my body to do things that normally it only does in a 110-degree room," Gibbs said.
At Nationals, contestants have three minutes to perform a routine composed of six postures, four of which are required from the "Compulsory Categories," and two poses that are optional for each competitor.
Judges rule each posture on a scale from one to 10 points. If the contestant performs a posture out of order, or if time expires prior to the completion of a posture, the score for the posture is zero.
Gibbs said the mental game is what separates the higher levels of competition. "My first competition, there was a posture that I do all the time, pretty much in my sleep, and I just totally bombed it and I got a zero," she said.
To prepare for this year's championship, Gibbs said she was trying to showcase her routine in front of people, channeling her performance roots as a ballet dancer. In fact, it was her background in dance, and subsequent retirement, that led her to yoga.
"It was the first thing that I had embarked on that actually gave me a sense of fulfillment again and felt like I was doing something physically, so I pretty much never went to the gym again and took yoga classes four or five times a week," she said with a laugh.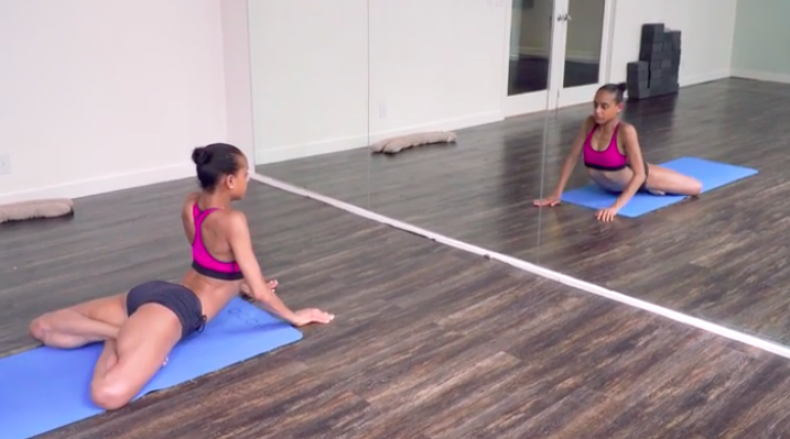 "It's actually been a total game-changer for me," she said. "I lost my best friend to suicide and I didn't really know how to handle it. When I found my practice, it was like a way for me to release my energy in a positive way."
Gibbs has been able to overcome an eating disorder, which was exacerbated by her friend's death.
"Once I found the yoga, it was just a way for me to really feel what was going on inside my body. For so long, I had just neglected it," she said.
Gibbs said everyone could and should try yoga. "It's so good for your body… just the overall need to be in tune with your body. You really learn a lot about yourself through yoga," she said. "It's about finding what works for you."