Beloved Baseball Hall-of-Famer and 15-Time All-Star Yogi Berra Has Died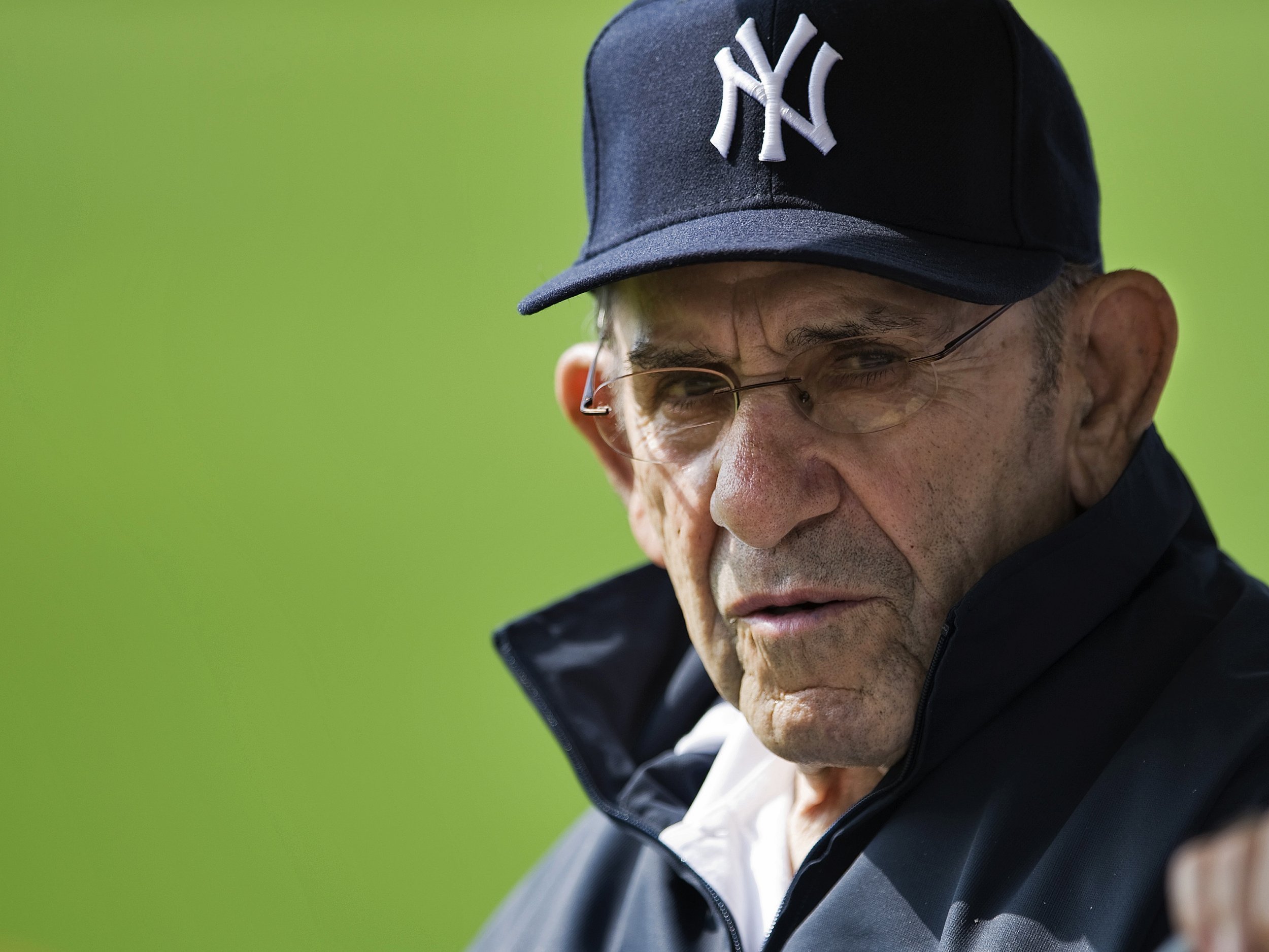 Updated | Lawrence "Yogi" Berra, the New York Yankees' Hall of Fame catcher, died Tuesday night of natural causes at his home in New Jersey. He was 90 years old.
The news began circulating on Wednesday morning, following a tweet published by the Yogi Berra Museum & Learning Center.
"While we mourn the loss of our father, grandfather and great-grandfather, we know he is at peace with Mom," Berra's family said in a statement released by the New Jersey museum. "We celebrate his remarkable life, and are thankful he meant so much to so many. He will truly be missed." Berra was married to his wife, Carmen, for 65 years. The couple had three sons, 11 grandchildren and a great-grandchild.
Berra, who for more than half a century lived in Montclair, New Jersey, was a popular sports legend on par with the late baseball player Babe Ruth and former professional boxer Muhammad Ali. He played almost his entire 19-year baseball career with the Yankees. He anchored the Yankees from the late 1940s to the early 1960s, becoming a 15-time All-Star and record winner of 10 World Series championships. He was a three-time MVP during the seasons in 1951, 1954 and 1955.
Berra retired after the 1963 World Series and then was named as manager of the Yankees. He further cemented his name in U.S. baseball history as the manager both of New York's baseball teams. He won a pennant for the Yankees in 1964 and for the New York Mets in 1973, becoming the first man in more than 40 years to win pennants in the American and National Leagues, respectively.
In 1972, Berra was elected to the Hall of Fame. He also is a member of Major League Baseball's All-Century Team.
Berra was known for his wise way with words. He is credited with paradoxical sayings, such as: "When you come to a fork in the road, take it," and "It ain't over till it's over." When someone asked Berra how he liked school, he said, "Closed."
Lawrence Peter Berra was born on May 12, 1925, in St. Louis, Missouri, to Italian immigrants. He got the nickname "Yogi" from a friend who said he resembled a Hindu yogi the pair had seen in a movie. Early in his life, he developed a passion for sports, especially baseball. He left school after eighth grade to work to help his family, but he continued to play American Legion ball. He signed with the Yankees in 1942, making $90 a month with the team's Class B affiliate.
He joined the U.S. Navy during World War II at 18 years old. He trained to operate machine guns on a 36-foot boat and, along with his five crewmates, is credited with helping to provide cover fire on Omaha Beach, the code name for one of the five sectors of the Allied invasion of German-occupied France in the Normandy landings of June 1944.
After the war, Berra joined the Newark Bears, the Yankees' top minor-league team, in 1946. Later that year, he debuted with the Yankees, hitting a home run against the Philadelphia A's in his first game. He quickly rose to become a star, once going 148 games straight without making an error.
In 1996, Berra received an honorary doctorate from Montclair State University in New Jersey. Two years later, the Yogi Berra Museum first opened its doors. Located in Little Falls, New Jersey, the museum aims to preserve and promote the values of social justice, respect, sportsmanship and educational excellence.
In May, a petition was submitted urging the Obama administration to award Berra the Presidential Medal of Freedom for his "military service and civil rights and educational activism." The petition gathered more than 100,000 signatures.
President Barack Obama in a statement on Wednesday called Berra "an American original," "humble veteran" and "prolific jokester."
By Wednesday afternoon, New York City Mayor Bill de Blasio ordered flags be flown at half-staff in honor of Berra.
Berra's life also was remembered on social media:
This story has been updated to include remarks from Obama and de Blasio.