Yogi Berra in the Pages of Newsweek: 1964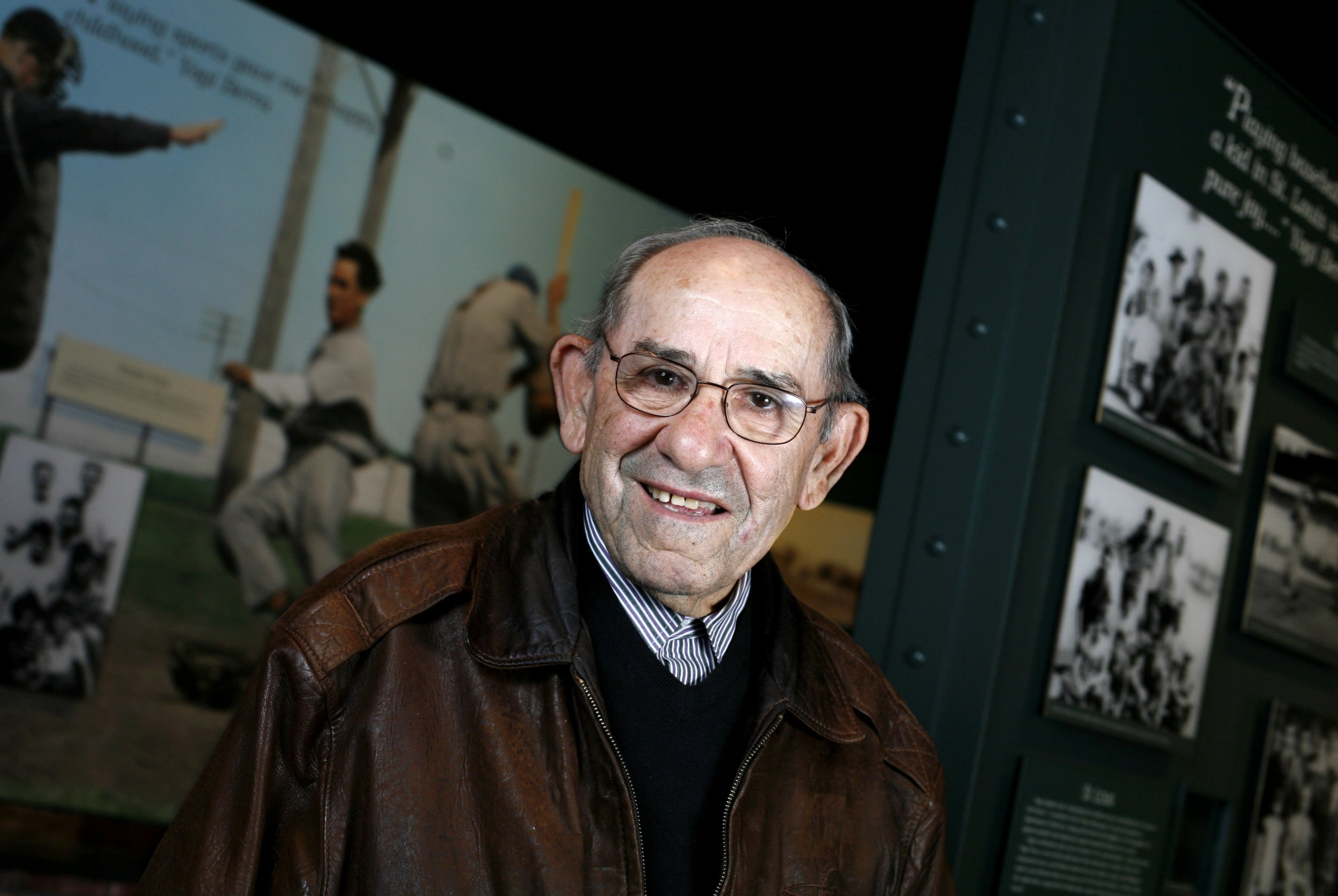 Yogi Berra passed away on Tuesday. The New York Yankees catcher was mourned by generations of baseball fans who remembered his wit and kind personality. As a player at the height of the Yankee dynasty, Berra won 10 World Series championships. After his retirement in 1963, he immediately became the club's manager and led the Yanks to the 1964 World Series, despite tensions between players that came to a head during an incident when infielder Phil Linz loudly played his harmonica in the back of the team bus. In the World Series that year, the Yankees eventually lost to the St. Louis Cardinals in seven games. In a bizarre move, Berra was fired and replaced by Johnny Keane, who had been the Cardinals' manager prior to his resignation immediately after the end of the season. Keane had grown concerned over the widespread firing of Cardinals staffers by ownership, and took over from Berra, who immediately moved across town to manage the Mets.
Newsweek's account of the bizarre personnel shakeup charmingly captures the state of baseball after Yogi's playing career, when managers went through cigars like tootsie rolls, team owners rashly let personnel go after winning championships, and an 80 percent stake in the New York Yankees sold for a whopping $11.2 million.
To moonfaced August (Gussie) Busch Jr. [owner of the St. Louis Cardinals], it was clearer than a bubbling glass of Budweiser that his Cardinals would never get into the 1964 World Series. The Cards were in fifth place two months ago when the 65-year-old brewery owner's impatience brimmed over. He began firing people, starting with Vaughan (Bing) Devine, 47, his crew-cut general manager.
The way it made the sports pages, four days later, Devine had officially "resigned." No matter. It might not have been noticed at all back on August 13, because that was the day CBS owned up to purchasing 80 percent of the New York Yankees for $11.2 million. The Yanks' freshman manager, 39-year-old Lawrence (Yogi) Berra, cracked: "Why didn't somebody tell me the franchise was for sale? Mickey [Mantle] and I would've bought it."
Johnny Keane, manager of the Cards, didn't feel like making funnies—not even after his fizzed-up Cards fought their way back into the pennant race. The word was out in St. Louis that Leo Durocher, excitable Los Angeles Dodger coach, was set to replace Keane. Durocher finally quit the Dodgers "to accept a major-league managerial offer." From Busch? Well, until the next-to-last day of the season, owner Busch, apparently overstocked, refused to offer a new contract to Keane, his manager since 1961 and a Cardinal employee for 35 years.
Over in the American League, they were so preoccupied with the rare treat of a real pennant race that an interesting angle went largely unnoticed: The Yankees hadn't said anything about next year's manager, either.
After the Yanks had beaten his ace, Bob Gibson, to even the series in the second game at Busch Stadium, Keane leaned back thoughtfully under the fluorescent lights of his green-tiled office. Puffing evenly on a King Edward—25 to 30 thin cigars a day are his main concession to nerves—he glanced lightly at a fresh copy of The Sporting News lying on his desk (DEVINE FIRING SEEN AS CARD FLAG SPUR) and offered, "I think that this series is going right down to the wire."
Down to the wire it went. It wouldn't have, lamented Berra later, if Yankee lefthander Whitey Ford had been able to pitch after the first game. Ford was sidelined, supposedly with an ailing heel. But afterward Berra admitted a serious shoulder ailment had cut off all feeling in the pitcher's' fingers. "We didn't want to let the Cardinals know anything more about Ford than necessary," he explained gruffly.
The way the Yanks fielded in the last game, Ford wouldn't have helped. Their poor throwing—and the hard throwing of Card hurler Gibson—settled the show. He fastballed his way past three Yankee homers, one a three-run blast by Mantle for his third of the series, and won the game, 7-5.
That afternoon, a job opened up: Yogi Berra's. Yankee general manager Ralph Houk, admitting that he'd been thinking about a change since mid-August, revealed that the bumptious ex-catcher was being booted out to become a "special field consultant," whatever that meant. But the decision did mean that Yankee brass agreed at last with those who had second-guessed the hiring of a so-called "personality manager." Yankee Stadium attendance remained disappointing—and Yankee discipline declined. Second baseman Bobby Richardson, in fact, was so disturbed by the antics of teammates who abused Berra's loose rein that he told Houk he wanted to quit. Affecting unconcern, Berra told a reporter, "They asked me to take it for a year and see if I liked it. Sometimes I did, and sometimes I didn't."
Yogi was inducted into the Baseball Hall of Fame in 1972. He would go on to manage the Mets to the 1973 World Series. He later rejoined the Yankees as a coach, and he was with them for their World Series titles in 1977 and 1978. He also managed them in 1984 and the first 16 games of the 1985 season. In 1999, he returned to the team for training camp to coach young catcher Jorge Posada.