A new peace award named in honor of Yoko Ono will be presented during a virtual gala to be held by The Peace Studio, an organization co-founded by President Barack Obama's sister Maya Soetoro to promote "active peacebuilding" through artists and storytellers. The Dalai Lama, Ted Danson and Rhiannon Giddens will be in attendance.
"I am thrilled to have The Peace Studio inaugurate the Yoko Ono Imagine Peace Award. I look forward to working with The Peace Studio to honor deserving recipients as they further the causes of peace and justice that have been central to my life's work," Yoko Ono said, in a statement provided to Newsweek by The Peace Studio. "I wish you well with the gala and your work in spreading the message of peace, which is needed now more than ever."
The Yoko Ono Imagine Peace Award is to be officially established on September 21, during a live stream gala hosted by The Peace Studio in commemoration of the United Nations' International Day of Peace and the launch of a U.N. initiative with 17 goals for the next decade:
Each of the goals is accompanied with in-depth research and specific targets through 2030. The Peace Studio's Yoko Ono Imagine Peace Award is intended to honor an activist and artist who has worked toward one or several of the U.N.'s Sustainable Development Goals enumerated above, and will come with a financial gift to further their peace-building efforts.
The first Yoko Ono Imagine Peace Award will be given to a young artist and activist in 2021, with Ono participating in the selection process.
An artist, filmmaker and musician, Ono is also known for her activism, most famously the 1969 "Bed-In," which transformed her honeymoon following her marriage to her third husband, John Lennon (you know, of The Beatles), into a headline-grabbing protest against the American invasion of Vietnam and in promotion of peace. Over a week in bed in the Amsterdam Hilton Hotel and a subsequent bed-in in Montreal, Ono and Lennon met with activists, revolutionaries, artists and the press.
"Unless we change their minds, Vietnam is going to happen everywhere," Ono said during the bed-in.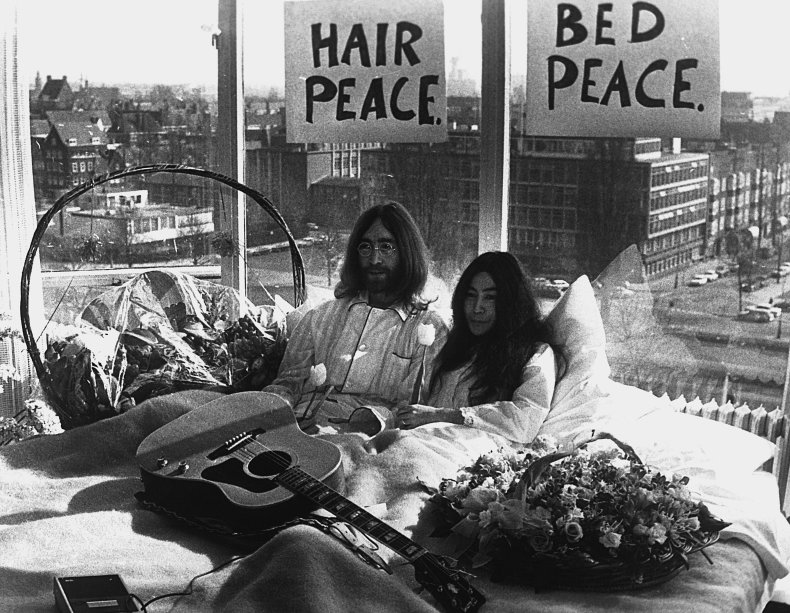 The anti-war song "Give Peace a Chance" was also written and recorded during a bed-in and was quickly adopted by the anti-war movement. On November 15 of that year, Pete Seeger and a half a million people sung "Give Peace a Chance" during a mass protest in Washington D.C., interspersing the lyrics with a direct address to President Richard Nixon—"Are you listening, Nixon?"—and other administration officials.
Ono would later lend her support to a bed-in protest of the U.S. invasion of Iraq in 2003, a war that resulted in the deaths of more than 650,000 civilians, according to The Lancet medical journal.
Freely combining her art and activism, Ono has used her musical career as a platform for open feminist dialogue, including at a 1973 performance of songs from her album Feeling the Space, released that same year.
"What happened to me was that I was living as an artist and had relative freedom as a woman and was considered a bitch in this society. Since I met John, I was upgraded into a witch, and I think that's very flattering. Anyway, what I learned from being with John is that the society suddenly treated me as a woman—as a woman who belonged to a man who is one of the most powerful people in our generation, and some of his closest friends told me that probably I should stay in the background, I should shut up, I should give up my work and that way I'll be happy," Ono told the audience at the First International Feminist Conference, held at Harvard University in June 1973. "This is one thing I want to say, sisters, because I really wish that you know that you're not alone."
In the years since, Ono has adopted a number of causes, including public activism against gun violence and nuclear proliferation.
The Peace Studio virtual Gala is to be held on September 21 at 6 p.m. Eastern. Registration for the live stream is now open.