Where Is John Lennon's Wife Yoko Ono Now? The Artist-Activist Has Been an Icon For Decades
In the nearly forty years since her husband's death at the hands of crazed fan Mark David Chapman, Yoko Ono has traveled the world, creating art for every partially every major museum and institution imaginable, and recording new music while remixes of older songs became dance hits. She's done all of this while also fastidiously tending to the legacy of John Lennon's life and spreading his message of peace and love.
It wasn't always this way. "After John died," she said in a sprawling interview for the New York Daily News in 1990, "some days, it just wasn't that important for me to go on." Her initial motivation for pulling herself up was son Sean, who was just 5 years old when John Lennon died. "As a mother I told myself, 'I gotta survive.'"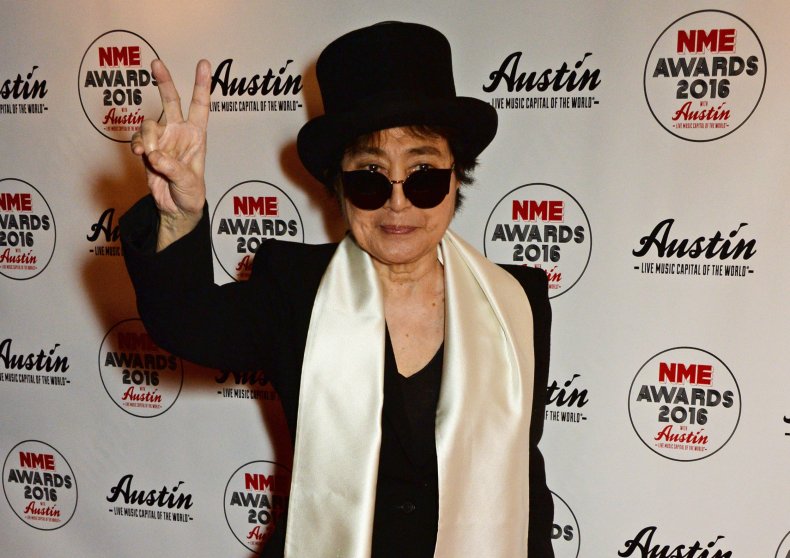 Ono doesn't often talk much about her private life, though she was in a longterm relationship for around twenty years with an antiques dealer until 2001. Unvierified estimates place her wealth at upwards of $700 million, much of which comes from Beatles and John's solo music proceeds. Though she licenses out John's music and likeness, she's very selective about the companies she will work with and has sued when his work is used without permission. She still lives at the Dakota, the cooperative apartment on Manhattan's Upper West Side where John was shot. This year, she celebrated her 87th birthday.
Meanwhile, her public image and artistic endeavors have been very much on display in the past four decades.Just last month, Ono was presented with an award named in her honor by The Peace Studio, an organization co-founded by President Barack Obama's sister Maya Soetoro, for her role in promoting "active peacebuilding" through artists and storytellers. The virtual ceremony was attending by The Dalai Lama, Ted Danson, and Rhiannon Giddens.
Her initial peak period in the avant-garde art world occurred arguably around the time John met her in the 1960s. Retrospectives of those works continue to show in London, Tokyo, Copenhagen, Venice, Oslo and too many other major cities to name. But she continues to produce new art.
Images of her work filled John's hometown of Liverpool during its 2004 Biennial, while in 2006 a major work using ropes simulating light beams was displayed at London's St. Paul's Cathedral. One of Ono's major projects is the participatory Wish Tree, in which a tree native to the installation site is planted with a note attached that includes a wish. Examples of Wish Tree are at New York's Museum of Modern Art, as well as sites in London, Washington, DC, San Francisco, Japan, Dublin, and Venice.
In 2010, Ono received the eighth Hiroshima Art Prize for her contribution to world peace.
Of course, for many fans, Ono will always be associated with music, as she's performed solo work, as well as collaborated with her husband during his post-Beatles career, and even with her son Sean since the 1990s. In recent years, she released an album entitled Yes, I'm a Witch, which featured collaborations with artists such as The Flaming Lips, and the album Yokokimthurston, made with Sonic Youth's Thurston Moore and Kim Gordon. In 2018, she dropped Warzone, which included new versions of previously recorded tracks.
Ono's also enjoyed a surprising career as a dance/club musical artist, particularly in Europe. Remixes by underground DJs and high-profile artists like the Pet Shop Boys have gone number one on the Billboard Dance Club chart--beginning when Ono was in her 70s. In January 2012, a Ralphi Rosario mix of her song "Talking to the Universe" became her seventh consecutive No. 1 hit on the Billboard dance club list.
In October 2007, Ono unveiled the Imagine Peace Tower, composed of skyward-shooting beams of lights, on Vidlet island in Iceland to honor Lennon on his 67the birthday. Among those on hand for event were Sean Lennon, Ringo Star and George Harrison's widow Olivia. In 2010, Yoko Ono was given the eighth Hiroshima Art Prize for her contribution to world peace, through her art.
One of the most poignant tributes to her late husband comes every year on his birthday with the lighting of the Imagine Peace Tower. This memorial is located on an island near Reykjavík, Iceland, and consists of large white stone monument projected a light into vertical columns. On the monument, "Imagine Peace" is carved in 24 languages. Ono dedicated the location when it was unveiled on what would have been John's 66th birthday in 2007. It's been lit every year ever since from his October 9th birthday through the day he was killed, December 8.