Yolanda Saldívar, Convicted of Murdering Tejano Pop Star Selena, Requests New Trial, Claims Prosecution Withheld Evidence
Yolanda Saldívar, convicted of the 1995 shooting death of Tejano singing star Selena Quintanilla-Perez, requested a new trial in March, according to documents filed in federal district court.
The petition, registered with the court in March, requested a new trial on the basis that the prosecution had access to evidence that her defense team did not.
In the filing, Saldívar claimed that a pair of White Reebok hightop tennis shoes and a black baseball cap, both of which Quintanilla-Perez was wearing when she was shot, existed in the case's evidence files but had not been shown to her defense attorney, and were thus being hidden from them. This, according to Saldivar's petition, denied her the right to due process and a fair trial.
Her writ as submitted to the court states, "The jury, not the defense or the prosecutor is the 'trier' of fact of all relevant material evidence and they alone should and did determine between conviction and acquittal."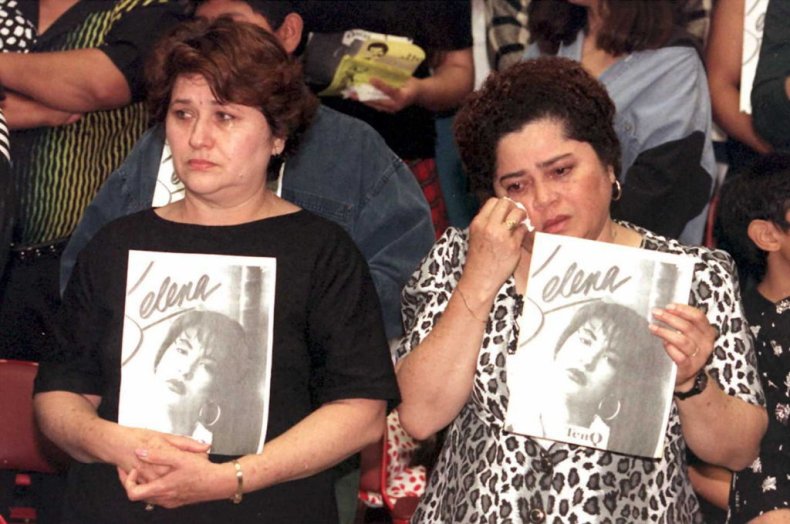 The claim of hidden evidence was debunked by ex-prosecutor Carlos Valdez for KIII-TV, who produced proof that the clothing had always existed in a place accessible to both teams of attorneys.
"This says, 'DT, August 15th of 1995.' What that means is that Doug Tinker opened this and looked at the evidence that was in here. Mr. Tinker was the chief defense attorney for Yolanda Saldívar, so he had access to it. He had access to the evidence," Valdez said. "He had access to the tennis shoes. Nobody was hiding them. They've been with the clerk the whole time."
Saldívar, in turn, claimed that Valdez brought the evidence to light in a brand new Spanish-language interview in March 2018.
Saldivar, Quintanilla-Perez' former fan-club president and manager of a chain of boutiques bearing the singer's name, has long claimed that the death of Quintanilla-Perez was an accidental shooting that occurred when the weapon misfired as Selena left the room after Saldivar threatened suicide in front of her, to the contradiction of witness testimony and a written confession.
This was Saldivar's second petition for a writ of habeas corpus. This petition was denied because of a misfiling; Saldivar filed with the United States District Court in Waco instead of the Fifth Circuit Court of Appeals, which handles such cases. The results, without written statement by the court of criminal appeals, were released on July 24th according to KIII-TV.
Saldívar will be up for parole in 2023.