Yosemite Climbers Find Themselves On Top of the World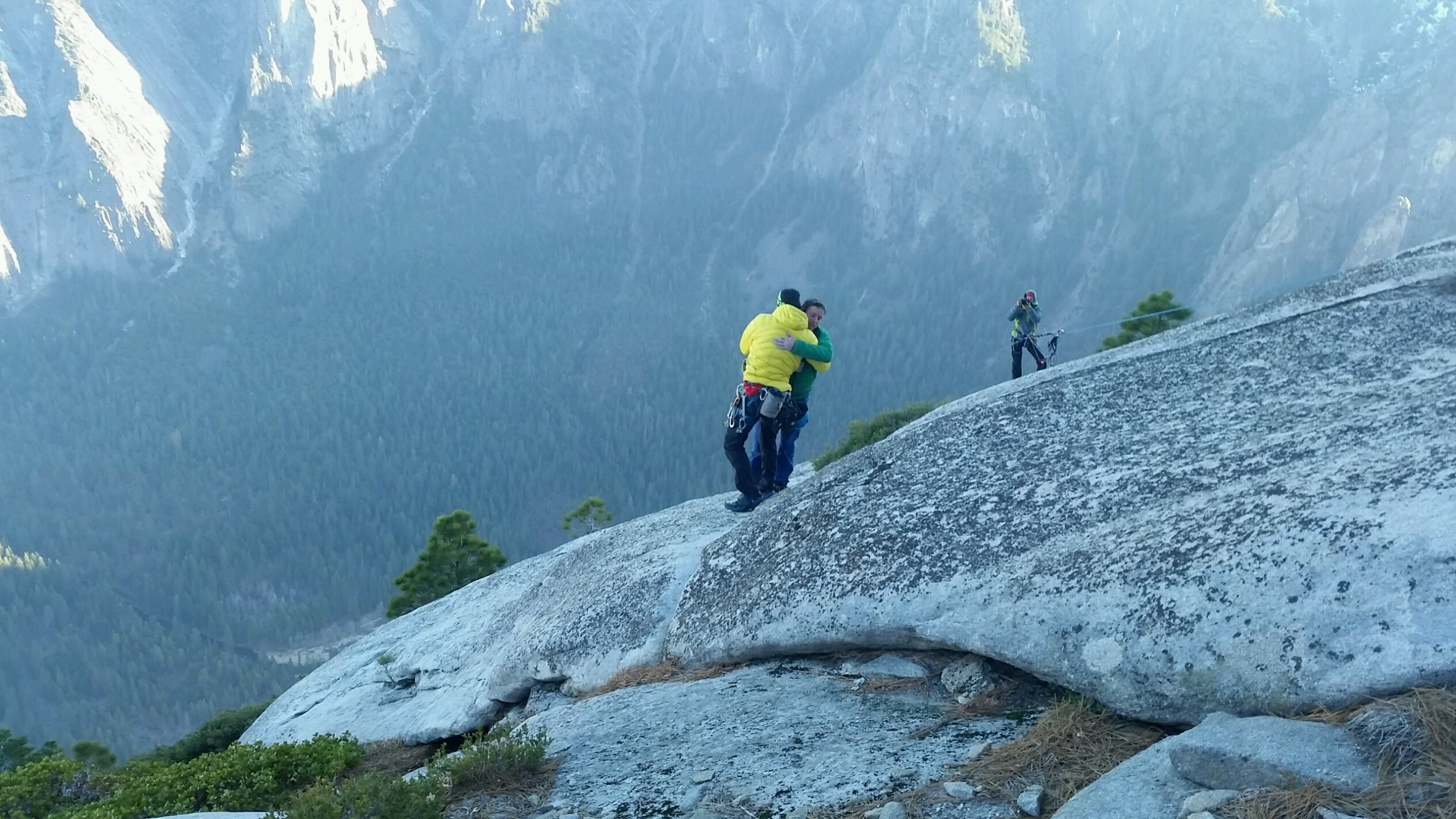 If his hands didn't still hurt, Kevin Jorgeson might not believe he and fellow climber Tommy Caldwell had made it to the top of the Dawn Wall, Jorgeson wrote on Instagram Sunday.
But after nearly three weeks, the two climbers summited the El Capitan rock formation in Yosemite National Park Wednesday, making history as the first to ever complete a free climb of its steep wall.
Scaling the Dawn Wall has been Caldwell and Jorgeson's goal for years, but climbing has been a lifelong pursuit. Jorgeson, 30, can't remember a time when he wasn't climbing on something, he tells Newsweek.
"My parents tell me I've been climbing since I was born, just scrambling all over couches and trees and fences. I definitely remember as a kid climbing on top of roofs and ladders," he says. When a climbing gym opened in his hometown of Santa Rosa, California when he was 11, he discovered rock climbing. "I went to the grand opening and I've been climbing ever since."
Caldwell, 36, began climbing even before his buddy was born. "My dad was a mountain guide, and it's just what we did as a family," he says. His father convinced him to go on his first real climb when he was 3 by taking a kite to fly once they reached the top, he recalls. "It really is a lifestyle for me," he explains, one that gives him a view of nature he wouldn't get as a tourist and has helped build lifelong friendships.
"It's a great way for me to explore sort of the limits of what I think is possible," he says.
Many people, including Caldwell and Jorgeson at times, thought a free climb of the vertical, 3,000-feet-high Dawn Wall was impossible. They spent years mapping out routes on El Capitan and practicing individual maneuvers to figure out how to ascend individual pitches, or segments of the wall. The sequence of movements required to reach the end of a pitch without falling—which would mean starting that section over again—is highly choreographed, Jorgeson says.
"You really need to be in the right mindset in order to climb these pitches and that requires you to be pretty quiet up there in your head and pretty calm and confident," he says, calling the climb as much a mental battle as a physical one. "That whole stretch of 19 days was for me way more of an emotional roller coaster and stressful mental battle than purely physical."
During their down time at "camp"—tents suspended from the face the wall—Caldwall tried to keep a light attitude to counteract the intensity of difficult pitches. "If the whole thing gets too heavy, it kind of crushes me a bit," he says.
The two climbers and a film crew that spent time on the wall with them joked around, listened to music, talked, huddled together during storms and made food. Despite their unorthodox dining circumstances, Caldwell and Jorgeson were well stocked to eat vegetables, sandwiches and even Indian food in addition to the more traditional camping staples of Clif bars and trail mix.
"I feel like food tastes better on the wall, every experience is just heightened a bit," says Caldwell. "It's one of the things I love about it," he says. "We're just on this vertical ocean of granite and we're in the middle of Yosemite National Park. … It's a very very inspiring environment."
Besides sharing the adventure with one another—Caldwell says having a partner in crime was key—they used social media to let others in on the experience. As they progressed from pitch to pitch, they posted updates, reflections and photos on Twitter, Facebook and Instagram.
"This climb provided a pretty unique opportunity in that we got good cell phone service on the side of the greatest granite wall in the world," Caldwell says. "We had to share the experience for all the people that don't get to experience it themselves."
While Caldwell's wife blogged from the ground and photographers and filmmakers documented their climb, the two protagonists tried to give a firsthand window into the process. At one point, about one third of the way through, Jorgeson held a live Q&A session on Twitter from 1,200 feet up El Capitan.
Part of the reason the story got so much traction, he guesses, is that people can relate to elements of the journey. "It's a big dream, it requires teamwork and determination and commitment," says Jorgeson. "And those aren't climbing specific attributes. Those are common to everybody, whether you're trying to write a book or climb a rock."
The specific objective is irrelevant, he says, but he and Caldwell hope their objective might inspire others to tackle their own, to ask themselves: "What's my Dawn Wall?"