Ferguson Fire Update, Map: One Firefighter Injured as Blaze Continues to Grow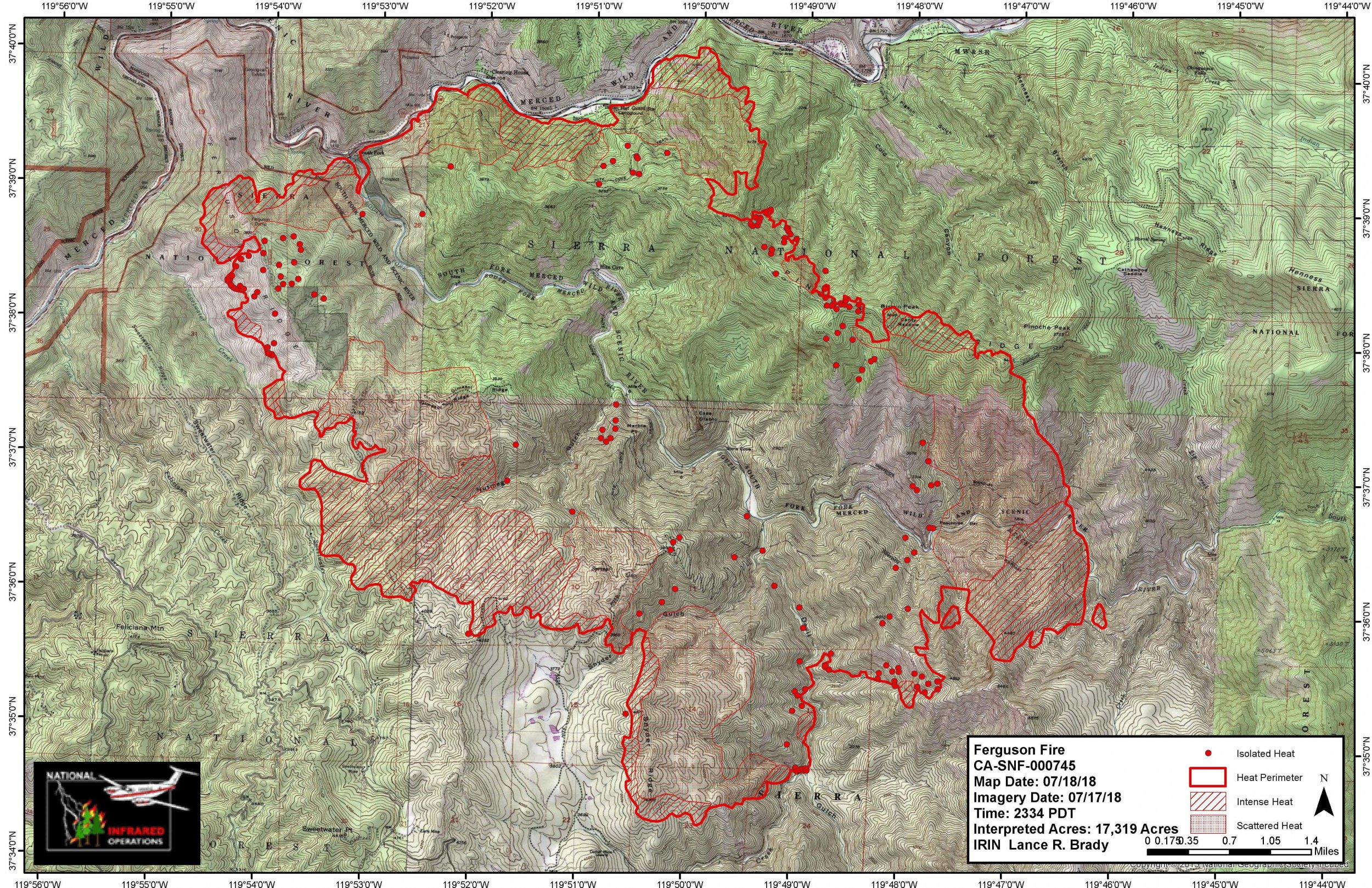 The Ferguson fire that's been burning near Yosemite National Park since Friday spread to cover 17,319 acres of land in California by Wednesday morning, according to the California Department of Forestry and Fire Protection.
Firefighter Braden Varney, while working with the heavy equipment used to contain fires, died over the weekend when the bulldozer he was operating accidentally rolled into a ravine, USA Today reported.
Another firefighter was injured while fighting the blaze Tuesday afternoon, a Ferguson fire spokesperson told Newsweek. That firefighter suffered a broken bone and was still undergoing treatment Wednesday morning.
While no structures have been destroyed or even damaged since the fire started burning, there was a power interruption to some of the buildings in the El Portal and Yosemite West areas.
The fire was only 5 percent contained Wednesday as it approached 20,000 acres of burn. The weather forecast for Wednesday predicted hot and dry conditions in the area, with thunderstorms building in the Sierra Crest later in the day. Those thunderstorms could pose a threat to firefighters because they're typically accompanied by "gusty, erratic winds," said a Cal Fire update.
The cause of the fire was unknown Wednesday. It was fueled by a mix of brush and timber, and burning in an area that's difficult for firefighters to reach.
There were evacuations ordered for Jerseydale, Mariposa Pines, Cedar Lodge, Indian Flat Campground, Savage's Trading Post and Sweetwater Ridge. In addition to the mandatory evacuation areas, there were some evacuation advisories ordered for other areas that might be in danger if the conditions changed quickly.
The fire was one of more than 10 that was burning in California as of Wednesday. The Ferguson fire was one of the largest and least contained of all the fires, with 1,850 people working to rein it in.
The smoke from the fire was contaminating the air in the Merced River Corridor, and Cal Fire advised that those with sensitivities take precautions against breathing the smoky air, such as limiting their time outside.
Cal Fire will issue updates about the fire on InciWeb as well as on social media for those looking for evacuation information.