Yosemite Fire Latest: Blaze Doubles in Size, Blankets Park in Smoke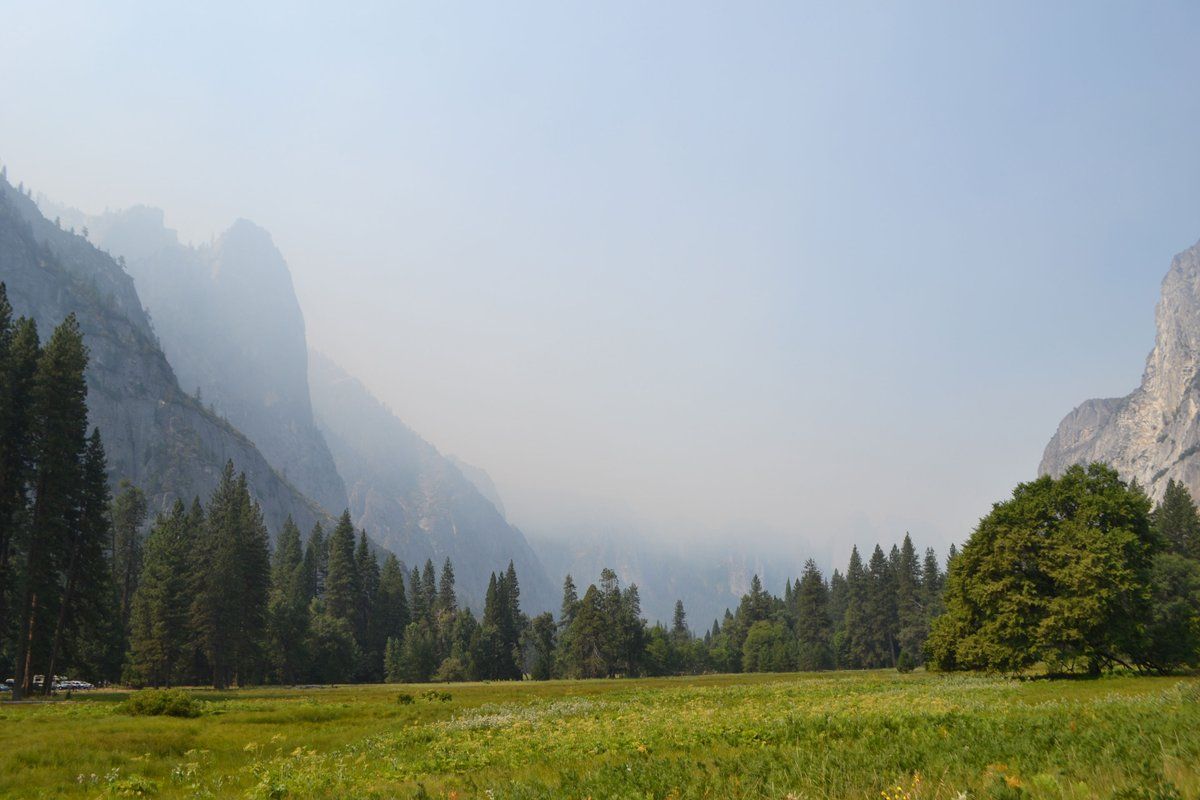 A California wildfire that has claimed the life of a firefighter doubled in size Monday, and blanketed much of Yosemite National Park in smoke.
The Ferguson Fire in Maricopa County spread to 9,266 acres, with hundreds of firefighters assisted from the air battling the blaze that is only 2 percent contained.
Several small communities near the fire have been evacuated, with weather expected to remain hot and dry for the next week.
"It's very, very steep and very, very rugged terrain, and there are not many opportunities in these mountains to directly fight this fire," fire spokeswoman Adrienne Freeman told Reuters.
Thick smoke was limiting visibility in canyons, Freeman said, making it difficult for water-dropping helicopters and fixed-wing tankers to fly in low over the blaze in narrow canyons.
Pictures released by the national park Monday show some of its iconic landmarks obscured by smoke from the blaze, which it said is creating poor visibility and affecting air quality.
The fire broke out Friday near Savage Trading Post, southwest of the national park, and spread rapidly on Saturday through trees and brush dried by drought, forcing the closure of Highway 140, one of the major roads into the park. Energy companies to shut off power lines in the area affected by the fire in a bid to stop it spreading.
On Saturday, a firefighter was killed when his bulldozer flipped. He has been identified as Braden Varney, 36, a married father of two. The fire is burning in terrain so inaccessible that officials were unable to recover his body until Monday.
Firefighters had stood sentinel over his body night and day in a revolving guard of honor, reported the San Francisco Chronicle. Residents lined by roads to pay their respect as his body was transported to Stanislaus County coroner's office.
Firefighters are focused on preventing the fire destroying buildings in evacuated communities, and keeping it out of the park itself.
Daniel Swain, a climate scientist at the University of California at Los Angeles, believes the fire could pose a major threat to the 1,200 square mile park.
"#FergusonFire, already large, is likely to burn for many days and may eventually become major threat to @YosemiteNPS. Fire is burning in area of extensive drought/beetle-related tree mortality, and there is a long period of hot weather to come," he tweeted.
California has had its worst start to the fire season in a decade, with more than 220,421 acres burned so far, according to the agency.
U.S. wildfires have already burned more than 3.3 million acres this year, more than the year-to-date average of about 3 million acres in the past 10 years.
As the summer continues, the risk of large wildfires is set to ease in much of the Southwest and Rocky Mountain due to expected summer rains, but risk levels will remain high in California through at least October, according to the National Interagency Fire Center.