Yosemite Fire Latest: Blaze That Killed Firefighter Spreads to 4,000 Acres
A forest fire burning near Yosemite National Park has swept across 4,310 acres, and forced the evacuation of several communities.
The Ferguson Fire in Mariposa County is burning in the Sierra forest southwest of Yosemite National Park, and is only 2 percent contained, the U.S. Forest Service said Sunday evening.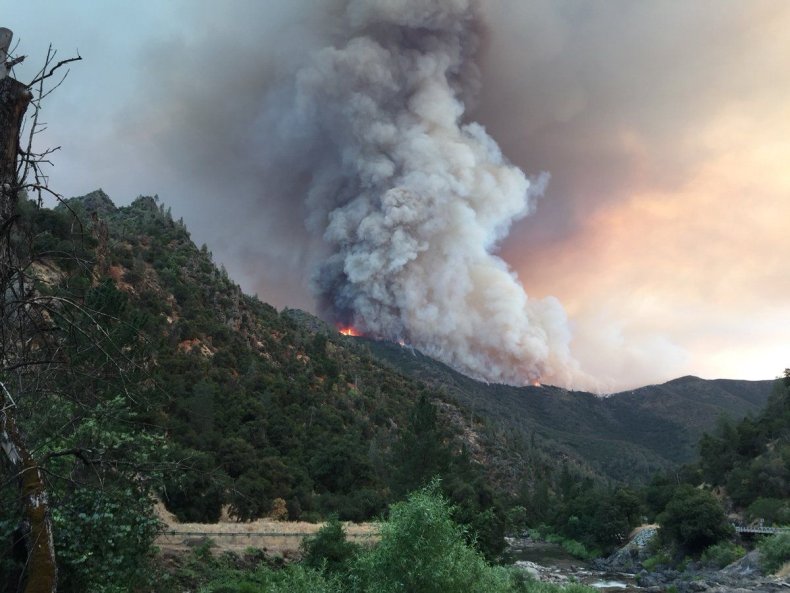 No structures have been damaged by the blaze, which 500 firefighters are tackling with support from aircraft, said the agency. Evacuation orders are in place in Clearing House, Mariposa Pines, Cedar Lodge, Savage's Trading Post and Sweetwater Ridge, while a pre-evacuation warning has been issued for Yosemite West.
The fire broke out late Friday, tearing through trees and brush stricken by drought and burning in high, inaccessible terrain.
On Saturday it took the life of a firefighter and forced the closure of one of the main roads into the national park. To stop the blaze spreading further, Pacific Gas & Electric Co cut off power lines to the areas affected, reported the Los Angeles Times.
"Highway 140 between Midpines and El Portal remains closed with no anticipated time to reopen," tweeted Yosemite National Park Sunday.
California Department of Forestry and Fire Protection bulldozer operator Braden Varney, 36, of Mariposa, died when his bulldozer rolled over as he built a firebreak, a Cal Fire spokesman told SFGate.
Varney worked for Cal Fire for 10 years. Like his father, he was also a bulldozer operator for the service. He is survived by his wife and two children.
"In the meantime, please join us in keeping Braden and his loved ones in your prayers and all the responders on the front lines in your thoughts as they continue to work under extremely challenging conditions," California fire officials said in a statement Saturday.
Daniel Swain, a climate scientist at the University of California, Los Angeles, said the fire could pose a major threat to the national park.
"#FergusonFire, already large, is likely to burn for many days and may eventually become major threat to @YosemiteNPS. Fire is burning in area of extensive drought/beetle-related tree mortality, and there is a long period of hot weather to come," he tweeted Sunday.
The U.S. Forest Service said that weather is expected to remain hot and dry for the next week.