Yoshihide Suga Affirms 'Tight Bond' Between U.S., Japan In Visit with Joe Biden
Japanese Prime Minister Yoshihide Suga praised a continuing "bond" between Japan and the United States during his first visit to Washington D.C. since President Joe Biden took office.
Speaking to reporters before meeting with Biden at the White House, Suga said the trip — the first diplomatic trip hosted by the Biden administration — is intended to "reaffirm the new and tight bond between" the two countries.
During a joint press conference, Suga said that democracy and human rights are among the items which make "the very foundation of prosperity of the region and the globe." Though those comments from the prime minister did not directly mention China, Suga said that he and Biden discussed the Asian nation and "its influence over the peace and prosperity of the Indo-Pacific, and the world at large."
"We agreed to oppose any attempts to change the status quo by force or coercion in the East and South China Seas and intimidation of others in the region. At the same time, we agreed on the necessity for each of us to engage in frank dialogue with China, and in so doing, to pursue stability of international relations, while upholding universal values."
Biden echoed Suda's remarks, adding North Korea to the list of areas the two discussed during their meeting.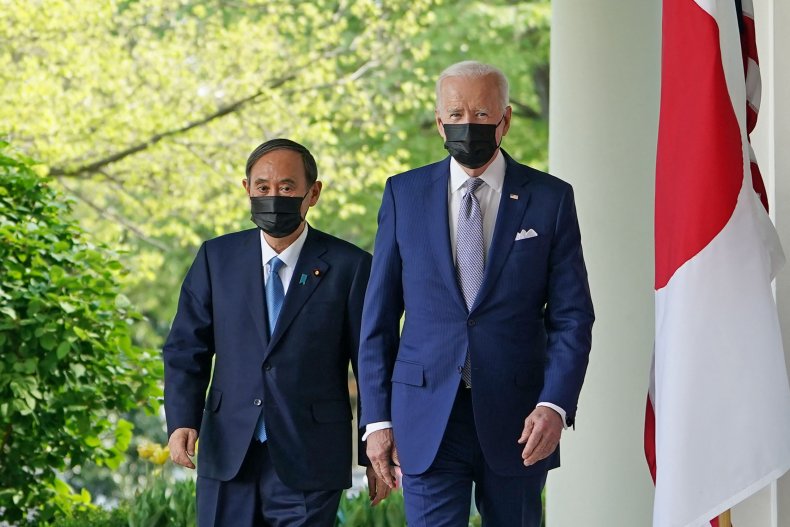 For additional reporting on this story, read more from the Associated Press below.
For Biden and Suga, "our approach to China and our shared coordination and cooperation on that front will be part of the discussion," White House press secretary Jen Psaki said Thursday. The two will discuss other regional security issues, including North Korea's nuclear program.
Suga, a farmer's son who rose to Japan's highest political office after an early stint as a worker in a cardboard factory, succeeded boss Shinzo Abe last September, after long serving as his chief Cabinet secretary.
Suga expressed eagerness to meet with Biden early on despite global COVID-19 lockdowns. The pandemic is changing the normal routine for a visit by a foreign leader, so Biden won't be hosting Suga for a meal, Psaki said. Earlier Friday, Suga placed a wreath at the Tomb of the Unknown Soldier at Arlington National Cemetery and visited with Vice President Kamala Harris. An honor guard greeted his arrival at the White House.
Suga began brief remarks to reporters before his session with Biden by expressing sympathy for the victims and families of the mass shooting at a FedEx facility in Indianapolis. "Innocent citizens must not be exposed to any such violence," he said.
The months-old Biden administration looks to Suga to keep going on alliance-strengthening moves by both countries.
The two governments have been working to strengthen technology supply chains independent of China during a shortage of semiconductors that's worrying businesses around the world. Japan is expected to announce an investment in 5G cellular networks, boosting alternatives to China's network, as part of that supply chain cooperation.
Both countries are expected in coming days to make deeper commitments to cutting climate-wrecking fossil fuel emissions, in line with Biden's climate summit with 40 world leaders next week.
The Biden administration may also have tougher requests of Japan, including pressing Suga for a rare public statement of support from a Japanese leader for Taiwan. China, which claims the self-governed island of Taiwan as its territory, tested U.S. and Taiwanese resolve weeks into the Biden administration by sending fighter jets and bombers near Taiwan.
Japan long has moved cautiously on steps that might worsen relations with China, though Suga has been more outspoken. His administration pushed its comfort zone in a statement stressing "peace and stability" on the Taiwan Strait. That came during a visit last month by Secretary of State Tony Blinken and Defense Secretary Lloyd Austin, which was the Biden administration's highest-level face-to-face meeting at the time.