Yoshihide Suga Wants Everyone in Japan Vaccinated by November
Japanese Prime Minister Yoshihide Suga wants everyone in Japan vaccinated by November, the Associated Press reported.
Suga said on Wednesday, "I want vaccines to be given by the October-November period to all the people who want to be vaccinated."
The prime minister is also pushing to have 1 million shots administered daily so all of the country's 36 million older adults will be fully vaccinated by the end of July, just in time for the Olympics.
As of Tuesday, less than 4 percent of Japan's population was fully vaccinated.
For more reporting from the Associated Press, see below: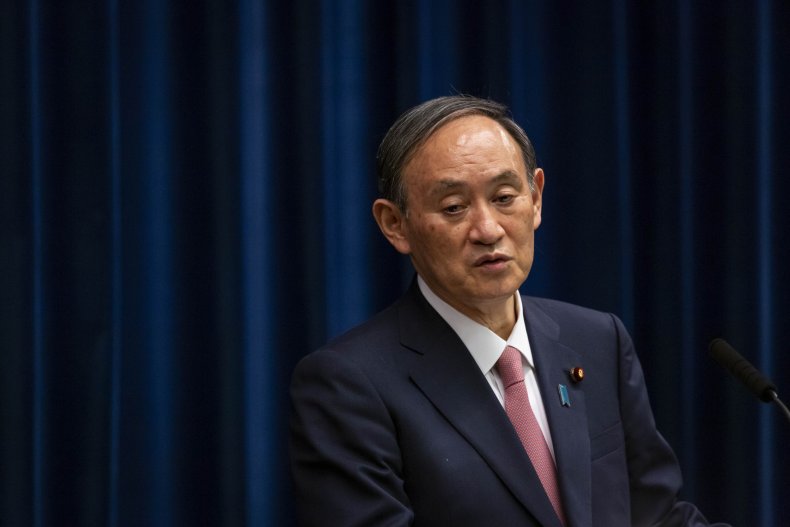 Suga called the vaccines "a trump card" of anti-virus measures. He is desperately seeking to accelerate Japan's COVID-19 vaccination program ahead of the Olympics, which are scheduled to be held in Tokyo from July 23 to August 8.
Suga also urged major companies to prepare to start vaccinating their employees later this month to accelerate the process ahead of the Olympics.
Slow vaccinations and concerns about holding the games amid the pandemic have prompted protests and sent Suga's approval ratings to their lowest levels since he took office in September.
In other global COVID-19 news, billionaire philanthropist Mo Ibrahim is criticizing vaccine hoarding by wealthy nations, urging the international community to "walk the talk" as Africa desperately lags in vaccinating against the coronavirus.
Ibrahim, a British mobile phone magnate who was born in Sudan, is hailed as a voice of moral authority across Africa. The 75-year-old earned his fortune by establishing the Celtel mobile phone network across Africa in the 1990s.
He is now using his fortune to promote democracy and political accountability on the continent, including through his sponsorship of the $5 million Ibrahim Prize for African leaders who govern responsibly and who give up their power peacefully. Speaking during a Zoom call with the AP from London, where he is based, Ibrahim urged "at least a reasonable portion" of the vaccines should go to front-line workers in Africa.
"We need to hold our leaders accountable," he said. "You deny and you pay the price.... Unfortunately, your people also pay the price."
Africa has administered vaccine doses to 31 million of its 1.3 billion people. Only 7 million people are fully vaccinated, according to World Health Organization (WHO) Africa director Matshidiso Moeti. Health experts are concerned the continent will suffer greatly in the long term if more of its people are not vaccinated.
Africa has confirmed more than 4.9 million coronavirus cases and 132,000 deaths.
In the global race to vaccinate people against COVID-19, Africa is tragically at the back of the pack. In fact, it has barely gotten out of the starting blocks.
South Africa has the continent's most robust economy and its biggest coronavirus caseload, but just 0.8 percent of the population is fully vaccinated, according to a worldwide tracker kept by Johns Hopkins University. And hundreds of thousands of the country's health workers, many of whom come face-to-face with the virus every day, are still waiting for shots.
Only 0.1 percent of the population is fully inoculated in Nigeria, Africa's biggest country, with more than 200 million people. Even a smaller share of Kenya's 50 million people have received the doses needed to be fully vaccinated.
The WHO says the continent of 1.3 billion people is facing a severe vaccine shortage at the same time a new wave of infections is rising. Vaccine shipments into Africa have ground to a "near halt," the WHO said last week.
Chad didn't administer its first vaccine shots until this past weekend. And there are at least five other countries in Africa where not one dose has been put into an arm, according to the Africa Centers for Disease Control and Prevention.
In Pakistan,10 million vaccine doses have been administered as coronavirus cases and deaths steadily decline in the country.
Asad Umar, minister for planning and development, announced the milestone in a televised ceremony Wednesday. He asked people to get themselves vaccinated to return to a normal life.
From the beginning of its campaign in March up to Wednesday, Pakistan counts more than 2.5 million people fully vaccinated and more than 4.7 million partially vaccinated.
Pakistan is now seeing a single-day coronavirus positivity rate of about 2.5 percent, compared with more than 11 percent in April.
It reported 77 COVID-19 deaths and 1,118 cases of coronavirus infection in the past 24 hours. Pakistan has registered a total of 936,131 cases and 21,453 deaths in the pandemic.