'Yoshi's Crafted World' Release Date Announced, 'Kirby's Epic Yarn' Gets 3DS Port
Nintendo has announced the release date for the next installment of the Yarn Yoshi series, as well as a 3DS port for Kirby's Epic Yarn.
Yoshi's Crafted World will release exclusively for the NIntendo Switch on March 29, delivering more of the cute, platforming action that is expected from this series. In a departure from Yoshi's last adventure, Crafted World allows our favorite yarn dinosaur to flip the stage to find his way to the end of each level, while also retrieving hidden items.
Here's a description of Yoshi's Crafted World from the official Nintendo press release:
In the game, you play as an adorable Yoshi exploring a big world crafted from household items like boxes and paper cups, journeying through each themed stage to solve puzzles and find hidden treasures. On the flip side, stages can be played backward, providing new perspectives to explore and the challenge to find Poochy-Pups that are hiding around the course.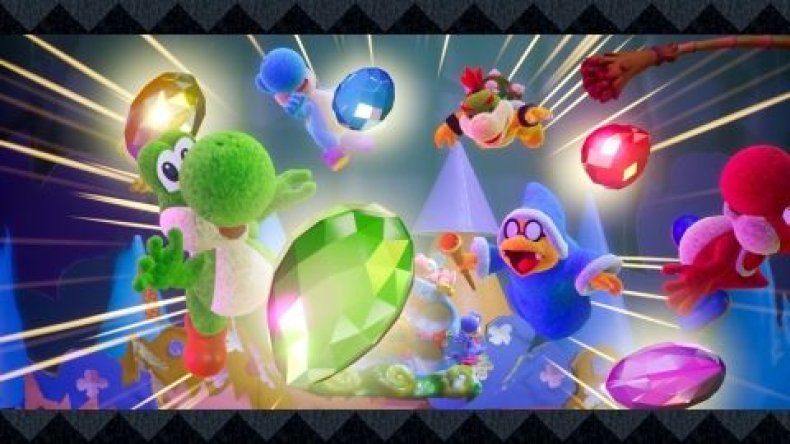 Nintendo also released a brand new story trailer for the upcoming Yoshi game which you can watch below.
Nintendo announced Yoshi's Crafted World at E3 2017,and the game follows up Yoshi's Wooly World, which launched on the Nintendo Wii U in 2015. An enhanced 3DS port was released in 2017 titled, Poochy and Yoshi's Wooly World.
Speaking of the Nintendo 3DS, Nintendo also revealed that Kirby's Epic Yarn will be making its way onto the handheld console in a new "enhanced" version.
Kirby's Extra Epic Yarn will launch on March 8 and comes with some nifty new features. The Ravel Abilities will power up Kirby, new mini-games featuring characters like Meta Knight and King Dedede, new furniture to personalize and decorate Kirby's Pad, and a new Devilish mode that brings a new challenge to each stage.
The original Kirby's Epic Yarn released in 2010 on the Nintendo Wii, and the 3DS port features amiibo support with Kirby series figures. The amiibo figures will give Kirby hates and abilities based on what you tap.
What do you think of both game announcements? Are you excited for a new Yarn Yoshi game? Let us know in the comments section below.