"You Are Stupid": Man Gets Three Years In Jail For Relentless Prank Calls To Police
A man who made repeated prank calls to police over the last 18 years was sentenced to three years in jail by a court in Singapore on Thursday.
Gurcharan Singh, a 61-year-old cleaner who was previously jailed for the same offense, was found guilty on multiple counts, including one found under Singapore's Telecommunications Act for transmitting a false message, along with calling the police hotline with the intent to abuse or annoy the operator.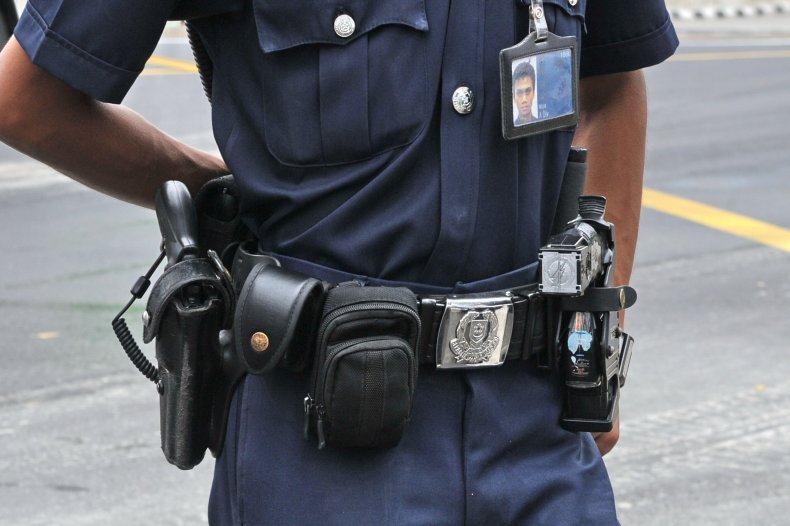 "You are stupid," Singh told the phone operator when he was asked why he was calling.
Get your unlimited Newsweek trial >
"You are the police emergency ... you should find out everything in the world what's happening ... and question everything ... all you should have find out ... what a ****ed up police emergency you are," Singh reportedly told the operator when he called from a public phone in June while under the influence of alcohol. Singh also made the false claim that he "put one dynamite to the immigration house," according to Channel NewsAsia.
That phone call lasted two minutes and 10 seconds.
Singh was arrested after making a second phone call later that night that lasted six minutes, telling the phone operator," You are scared to see me… you got balls to see me not," after complaining about the immigration authorities, according to Yahoo News.
The calls didn't stop after Singh was arrested. Several days later, he called the emergency hotline a total of 15 times, while again being under the influence of alcohol. Singh received a two-year sentence in 2016 for the same offense.
Get your unlimited Newsweek trial >
"His underlying problem is alcohol use disorder," the prosecutor said after asking the judge for a jail sentence of three years and nine months, according to The Times Of India.
Singh asked for a lighter sentence but the judge did not relent, ruling that he disrupted an important public service.
"Despite long incarceration in the past, there has not been any significant difference except the brief period in NAMS (National Addictions Management Service), but this period can offer hope for you. Just thinking about it and making promises in court does not cut it, you must take action. Hopefully, this will be the last time for you," District Judge Eddy Tham said, according to Channel NewsAsia.
A man in Florida was arrested in 2017 after calling emergency services 98 times in one day. Michael Mott was charged with making harassing phone calls when he reportedly called authorities asking for money that was taken from him during a drug arrest earlier that year.
"You Are Stupid": Man Gets Three Years In Jail For Relentless Prank Calls To Police | World