'You Can Lose Your Legs': Nurse Warns About Dangers of Cracking Your Back
A registered nurse went viral online for warning viewers about the dangers of getting your back cracked, including the possibility of paralysis.
The nurse named Sugar, or @mylifeassugar_, posted the video to TikTok where it received more than 1.3 million views and 3,300 comments.
"Be careful when you ask someone to crack your back," the caption of the video read.
Studies have shown that while there are benefits to cracking one's back, the risk associated can be significant and sometimes fatal. In addition to a risk of paralysis, back cracking can also lead to a higher risk of stroke and fractures.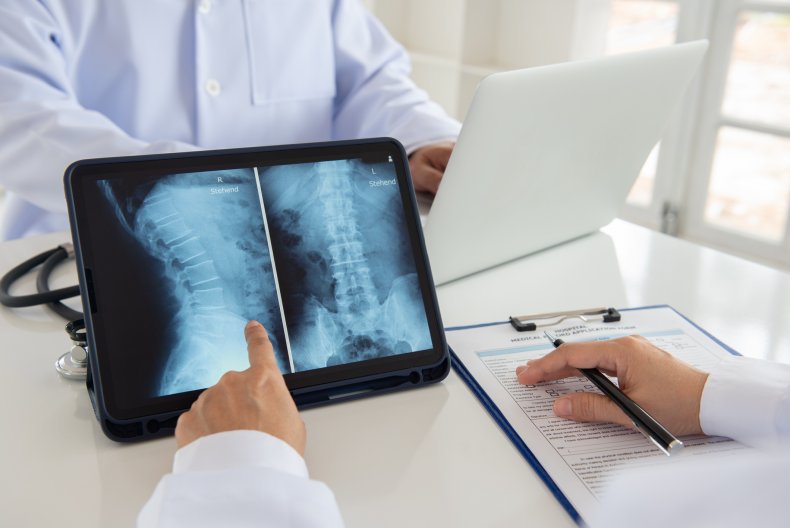 In the viral video, which can be viewed here, the nurse said she's seen a lot happen in the hospital but has never seen anything like her recent patient.
"For you guys that like to ask people to crack your backs, whether that be your friend, your significant other, this is your warning to freaking stop," she said.
She said the patient allegedly asked someone to crack their back but "something went wrong" which resulted in them becoming paralyzed.
"I'm talking lower extremities paralysis," she said. "Now this is your warning."
She added that if you are experiencing back pain or tension to seek a professional rather than ask a friend to attempt to crack it.
"Number one: you can lose your legs," she said. "Number two: the person that cracked your back will be forever in regret for doing that."
More than 3,300 users commented on the TikTok, many said they often ask people to crack their backs without realizing the dangers.
"New fear unlocked," one user commented.
"The regret of the friend is something that most people often don't think about. Two people's lives were irrevocably changed that day," another user commented, receiving 12,300 likes.
"I beg my husband ALL THE TIME! And he always tells me it's dangerous...won't ask again! Thank you!" one user commented.
"Thank you for telling us. It was always in the back of my mind! I didn't know it was actually possible," another user wrote.
"I can confirm! I worked on a neuro unit for 2 yrs. We saw multiple patients with injuries from chiropractors and self popping their backs," one user commented.
Newsweek reached out to @mylifeassugar_ for comment.
In another viral TikTok a doctor warned viewers about the dangers of cracking your neck. He told Newsweek that neck popping or cracking can put one at risk for stroke and damaged arteries, bone, tendons, and ligaments.