You Can Now Buy Girl Scout Cookies: How, Where and What to Get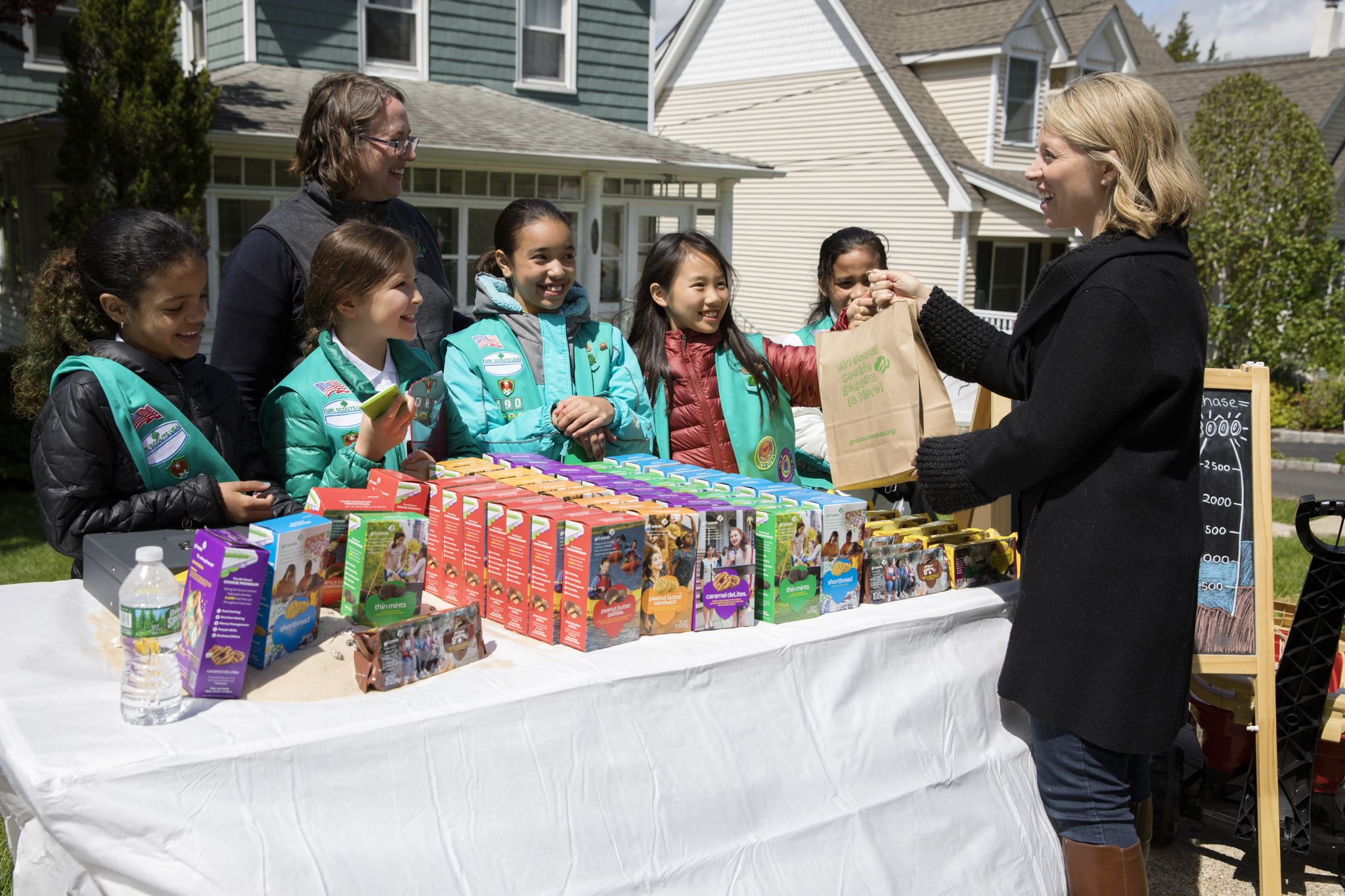 Updated | It's that time of year again, when Girl Scout cookies appear in time to taunt Americans all over the country as they embark on New Year's resolutions to be healthy.
Girl Scouts of the USA officially announced the start of the organization's 101st cookie season on Wednesday morning, marking the start of another century of delicious treats for sale. But it's also the annual return of a program meant to impart valuable leadership skills in girls from a young age and prepare them to take on important roles at school and in their future careers.
"It's my most favorite time of year," Stewart Goodbody, senior director of communications and external affairs at GSUSA, told Newsweek in a phone interview on Tuesday. "It's funny because not everyone gets it. They see the cookies, they know they're delicious, they think it's adorable the girls are selling them, but there are so many other levels cookie season could and should be appreciated on."
Yes, the cookies really are delicious, (who knows a Girl Scout around here?) but the program is fundamentally about teaching participants five skills—goal setting, decision making, money management, people skills, and business ethics. Three cookie seasons ago, GSUSA also launched the long-awaited Digital Cookie, allowing Girl Scouts to set up an online store and sell cookies over the web.
Related: Training Future Digital Entrepreneurs With Girl Scout Cookie Sales
"For girls who are basically living their lives online, it gives them a way to sell cookies and experience what it's like to run an online business," Goodbody said. It's not meant to replace the in-person experience, but to complement it.
The exact end date for cookie season varies depending on the local council, but sales generally wrap up in March. The money raised goes to the local councils to fund programming for the girls and troops can decide where their portion of the earnings goes. As Goodbody explained, it might fund anything from helping a local animal shelter to taking an educational field trip or volunteering abroad.
This year's cookie season started as Donald Trump finished his first year in office, after beating out what could have been the first female president of the United States. More recently, it follows months of sexual misconduct, harassment and assault allegations against men in Hollywood, politics, journalism, food and other industries, which have put a renewed focus on the unequal ranks of leadership in most of these areas.
"The idea that we have this point in time where there's such a spotlight on female leadership or lack of female leadership, girls are tuned into that," said Goodbody, though she emphasized that GSUSA is non-partisan. "Investing in female leadership from the beginning is really what the Girl Scout cookies is about," she added. It's about talking to "our littlest leaders" and giving them skills that will "help them, their families and our country succeed."
So, without further ado, here's this year's full lineup of Girl Scout cookies. Note that GSUSA works with two different bakers (ABC Bakers and Little Brownie Bakers), which sometimes make different variations on the same cookie and give them different names. Some cookies are only available from select councils.
Search selling locations online or with the free Girl Scout Cookie Finder app for iOS or Android. Find a list of local councils participating in the Digital Cookie program here.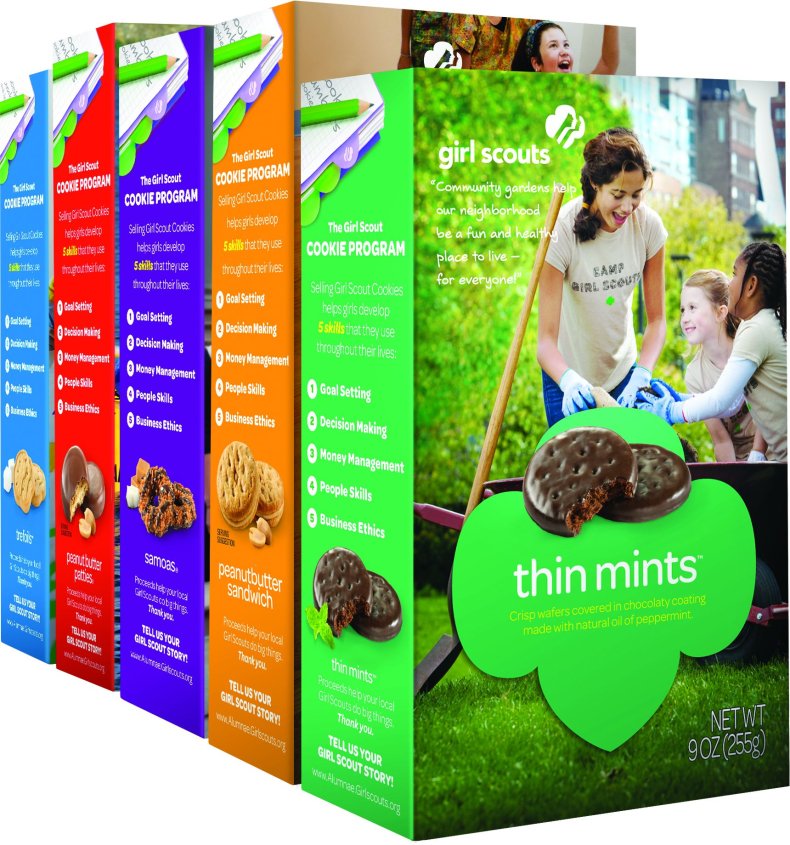 Thin Mints
This is the most popular cookie every year, Goodbody told Newsweek, always claiming the top spot in sales.
Caramel deLites or Samoas
These varieties generally come in second in sales each year, Goodbody said.
Girl Scouts S'mores
The Girl Scouts introduced two quite different varieties of S'mores cookies last year—one is a "crispy graham cookie double dipped in yummy crème icing and finished with a scrumptious chocolatey coating" and the other is a "crunchy graham sandwich cookies with creamy chocolate and marshmallowy filling." It was the most successful launch in the cookie program's history, Goodbody said, and so there was little question about bringing both S'mores varieties back for another year.
Peanut Butter Patties or Tagalongs
This old favorite features peanut butter, milk chocolate and a little bit of a crunch.
Shortbread or Trefoils
These are perhaps the most classic and simple of the bunch.
Do-si-dos or Peanut Butter Sandwich
Two thin oatmeal cookie rounds are held together with a layer of peanut butter.
Thanks-A-Lot
​These shortbread cookies have a layer of fudge on the bottom.
Lemonades
These brighter treats are "tangy lemon-icing-topped shortbread cookies."
Savannah Smiles
For those who want the lemon without the icing, these cookies are coated in powdered sugar instead.
Toffee-tastic
These gluten-free cookies have little bits of toffee embedded in them.
Trios
Another gluten-free variety, these peanut butter oatmeal cookies feature chocolate chips.
This post has been corrected to reflect the fact that Digital Cookie launched three cookie seasons ago, not two, and to clarify how the money raised by the cookie program is spent.