You Can Still Order Lyft Or Uber In California This Weekend as California Court Grants Emergency Stay
Rideshare giants Lyft and Uber are no longer facing immediate orders to cease operations in California, as they were granted an emergency stay from an appeals court just hours before the state had ordered the popular apps to shut down over violating a worker classification law.
Both companies will be allowed to continue operating through at least October while an appeal is heard, but must provide plans by September 4 for how they will abide by the law, Dave Lee, a Financial Times reporter, wrote in a tweet Thursday.
Lyft wrote in an updated blog post Thursday that its rideshare service was back on in the state.
"The California court has granted our request for a further stay, so our rideshare operations can continue uninterrupted, for now," the post read.
Without this reprieve, Uber and Lyft would've been forced to shut down in California by midnight Thursday.
"We are glad that the Court of Appeals recognized the important questions raised in this case, and that access to these critical services won't be cut off while we continue to advocate for drivers' ability to work with the freedom they want," Harry Hartfield, a spokesperson for Uber, wrote in an email to Newsweek.
The companies have recently been under huge amounts of pressure from the state of California concerning a law called AB5, which went into effect in January.
AB5 is a state statue that provides Californians classified by their companies as "employees" labor protections such as minimum wage, sick leave and compensation benefits, all of which do not currently apply to those classified as "independent contractors."
Uber and Lyft use independent contractors to supply their labor force, which they claim allows the drivers to maintain a flexible schedule. But labor unions and state officials argue that classifying the drivers as freelancers allows the companies to deny them typical benefits like health insurance and workers' compensation.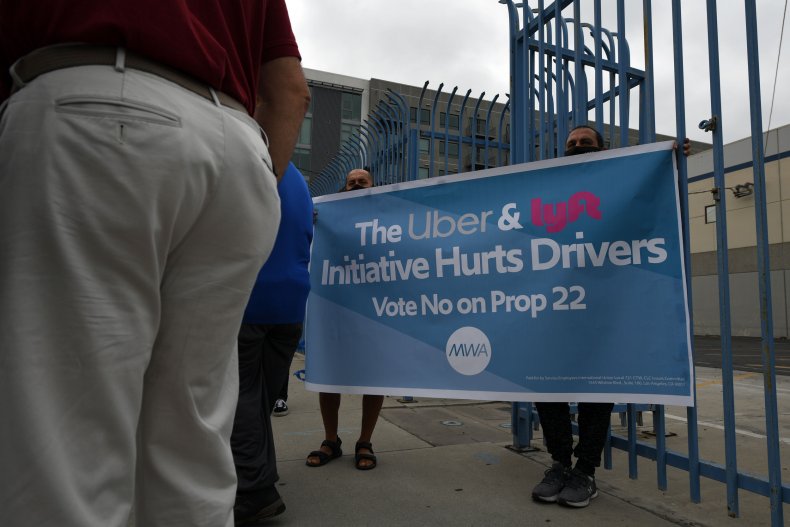 A California judge ruled in a preliminary injunction August 10 that Uber and Lyft must classify their drivers as employees, giving company officials until August 20 at 11:59 p.m. to make it happen.
The mayors of San Jose and San Diego urged the state's 1st District Court of Appeal to put the injunction on hold, citing the already hurting economy as a reason to keep the rideshare companies running.
Both Uber and Lyft said that the changes being asked of them by the state could not be feasibly accomplished in the timeframe provided. Switching the driver classification would "necessitate an overhaul of the entire business model," Lyft wrote in a blog post Thursday.
"It's not a switch that can be flipped overnight," according to the post.
Uber CEO Dara Khosrowshahi echoed this sentiment in a podcast interview Wednesday.
"We can't go out and hire 50,000 people overnight," Khosrowshahi said on the Pivot School podcast. "Everything that we have built is based on this platform that... brings people who want transportation or delivery together. You can't flip that overnight."
Instead of being forced to comply with AB5, the companies are supporting Proposition 22, a California ballot measure that would continue allowing them to classify their drivers as independent contractors while also provide them with added benefits like a minimum wage and health insurance, The Verge reported.
Julie Wood, a spokesperson for Lyft, wrote in a statement to Newsweek that while the company wouldn't be forced to suspend its operations Thursday, it needed to continue its fight for independence plus benefits for drivers.
"That's the solution on the ballot in November, and it's the solution drivers want because it preserves their ability to earn and to use the platform as they do now — whenever they want — while also getting historic new benefits," she wrote.