'You Can't Answer That': Ivanka Trump, Jared Kushner Security Clearance Questions 'Shut Down' by White House Counsel, Democrat Says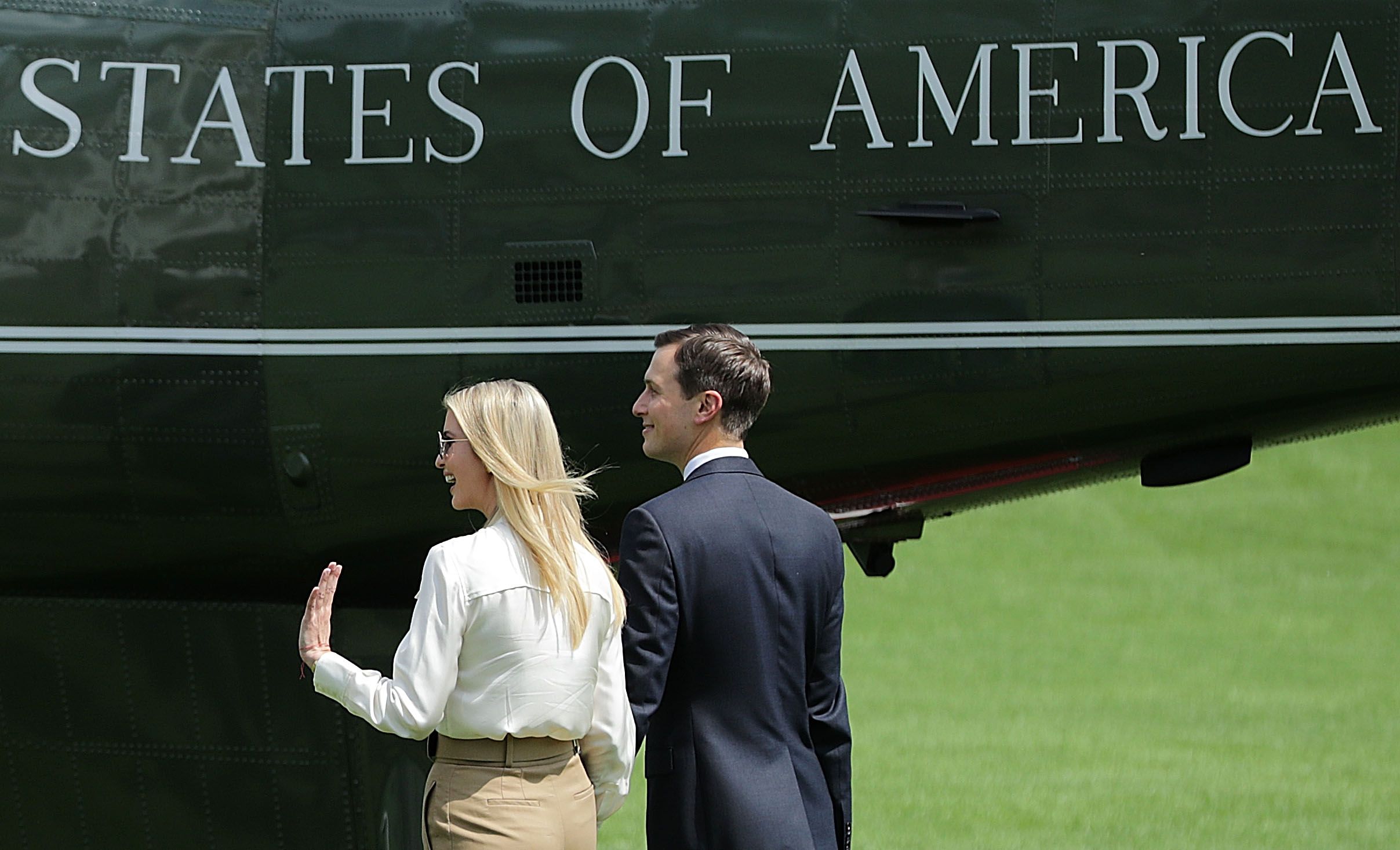 When a former White House official was asked questions about the security clearances of senior advisers Ivanka Trump and Jared Kushner during a closed-door meeting Wednesday with members of Congress, a White House attorney reportedly "shut down" this line questioning.
"They wouldn't touch it, and that's one of the reasons we were so concerned about having the White House counsel there," House Oversight Committee Chairman Elijah Cummings said Thursday, according to The Hill. "Whenever there was any mention of Ivanka or any mention of Mr. Kushner, he shut him down."
The committee was interviewing ex-White House personnel security director Carl Kline as part of its probe on how the Trump administration granted security clearances, following reports that President Donald Trump ordered clearances for his daughter Ivanka Trump and son-on-law Kushner against the recommendations of career security officials.
The committee subpoenaed Kline to testify after whistleblower Tricia Newbold claimed Kline and the administration overruled her and other career employees to grant clearances for 25 officials, including Ivanka Trump and her husband, Kushner.
Cummings, a Democrat, said his committee wanted to know "about the Kushner and Ivanka Trump" matter.
"We wanted to know how these 25 people who were presented security clearances after Ms. Newbold said that they shouldn't have," Cummings said. "The White House, basically when it came to any kind of information about specific people, the White House counsel shut him down, said, 'You can't answer that.'"
Cummings said Kline was also "very reluctant" to comment on retaliation against Newbold.
"He claims he didn't do anything. We have evidence to the contrary," the congressman said.
A spokesman for Cummings did not immediately return a request for comment from Newsweek on Thursday.
In a statement emailed to Newsweek Thursday afternoon, a White House official said, "Carl Kline, a government employee and military veteran with over 40 years of service, informed the Oversight Committee that nobody in the White House, including senior officials, pressured or influenced his security clearance determinations in any way."
"Career officials who worked under Kline provided recommendations, and Kline, as the chief of personnel security, made final decisions," the statement continued. "Contrary to the Committee's assertions, the White House provided the Committee with 500 pages of documents for review, and the White House has voluntarily provided multiple briefings to the Committee regarding the security clearance process. "
President Trump denied reports in March that he pressured then-Chief of Staff John Kelly to give top-secret security clearance to Ivanka Trump and Kushner.
The watchdog group Citizens for Responsibility and Ethics in Washington (CREW) demanded that the Inspector General for the Intelligence Community investigate how Kushner received top security clearance and if it "presents a threat to national security."
"We're deeply concerned that President Trump may have played a role in granting Jared Kushner a security clearance against the recommendation of career security officials," CREW spokesman Aaron Rodriguez told Newsweek at the time.
The security clearances of Ivanka Trump and Kushner have long been under scrutiny, primarily for concern of their foreign contacts and business background potentially posing conflicts of interest. Kushner had his top security clearance downgraded in February 2018, but it was soon restored.
This story has been updated with a statement from a White House official.