You Can't Sit With Us: Democrats in Congress Refuse to Let Republican Join Hispanic Caucus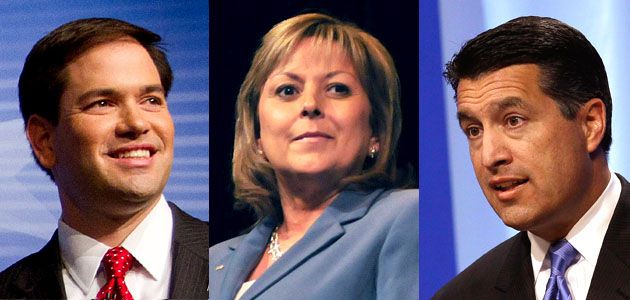 The all-Democratic Congressional Hispanic Caucus rejected Republican Representative Carlos Curbelo's membership bid on Thursday, setting off a bitter debate over discrimination, bigotry and values.
"Today the @HispanicCaucus formally adopted a policy of discriminating against fellow Hispanics," Curbelo wrote on Twitter following the vote. "Independents & Republicans need not apply. Only registered Democrats count. Shameful and deplorable."
The caucus for weeks considered whether to accept Curbelo—who represents a heavily Latino district in Miami that Democrats have their eyes set on for 2018—and some members suspected his move was politically motivated.
Many in the caucus initially welcomed Curbelo's efforts to join beginning in January, when he became part of the caucus's nonprofit arm, but their support waned when jabs between the Republican and some members turned personal. In a private argument, Curbelo accused the caucus and its chairwoman, Michelle Lujan Grisham of New Mexico, of discriminating against him.
"The CHC isn't just an organization for Hispanics; it is a Caucus that represents certain values," caucus spokesman Carlos Paz Jr. said in a tweeted statement on Thursday. "This vote reflects the position of many of our members that Rep. Curbelo and his record are not consistent with those values."
Some caucus members pulled support for Curbelo because he would not co-sponsor the DREAM Act (Development, Relief and Education for Alien Minors) they are pushing to provide legal status to so-called Dreamers, undocumented youth who could be subject to deportation as early as March. Curbelo, who said he would vote for the bill if it made it to the floor, and the caucus are both making a push in Congress for a legislative fix for Dreamers.
"Today's dark decision gives me more strength & resolve to fight for the young immigrants enrolled in the #DACA program," Curbelo tweeted, referring to the Deferred Action for Childhood Arrivals program. "While some are interested in exploiting the politics of #immigration, many of us are working to find a solution."
Apart from Curbelo's position on the DREAM Act, the caucus took issue with his support for the GOP tax plan and Republican attempts to repeal Obamacare.
"Many of those votes in this climate gave members who voted no, and maybe other members, pause about whether or not this was a good time for changing membership," Grisham told Politico.
Curbelo retweeted politicians who came to his defense, including former Florida Republican state legislator José Félix Díaz, who wrote: "Florida's State Legislative Hispanic Caucus is bipartisan. If the federal caucus isn't bipartisan it should just simply switch its name to the Democratic Hispanic Caucus. Don't pretend to represent all Hispanics if you don't represent ALL Hispanics."