George Michael's Humanity Inspired Fans' Adoration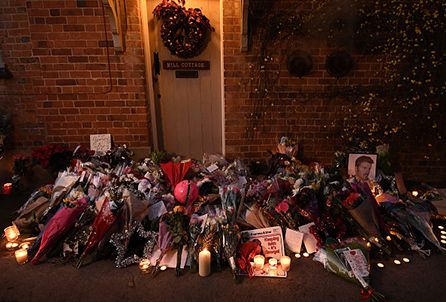 This article, and others about the life and death of the pop icon George Michael, are featured in Newsweek's Special Commemorative Edition: George Michael.
George Michael never harbored any ambitions toward grand courage or heroism: He was very open about his enthusiasm for pop music and his early desire to be a pop star. But because of the times and cultures in which he was destined to live, the man who came into the world as Georgios Kyriacos Panayiotou was nevertheless called upon to show remarkable courage as a result of the spotlight he craved in youth.
His ability to persevere has made him a hero to more than one community across a world touched by his music, making the strength of his character just as important to his fans as the quality of his recordings.
After skyrocketing to the top of an ivory tower with the success of Wham!, the duo he founded with his schoolmate Andrew Ridgeley, George Michael found himself in a precarious position atop the same tower after having achieved that rarest of feats: realizing his teenage dream. Unaware of what fame entailed, he had hoped for it beyond all hope. Though like many he was shocked at fame's dark side, he was also open in his anxieties about immense celebrity, always providing pointed insight about his situation and allowing his fame to define his life without drowning it.
Because of that fame, he was outed as a gay man in a painfully public manner and at a time he didn't choose, but Michael accepted his new status with the same self-deprecating charm with which he had lived a closeted life—a life that his interviews and memoirs prove caused him no small amount of stress, confusion and misery.
It was also fame that drove him both toward the spotlight and, periodically, away from it. He once drew the uncharacteristically polite, measured criticism of Frank Sinatra himself because, suffering from what he later recognized as clinical depression, Michael had expressed his desire to back away from fame.
Ol' Blue Eyes didn't understand, but legions of fans did. In fact, it was these very human reactions to fame that made George Michael more than a pop star to his fans. For them, he was perhaps the only link between the untouchable world of celebrity and the very real fears and anxieties that colored their days—now anxieties held in common with one of their pop idols.
Forced out of the closet by an unfeeling press, he stayed strong and inspired members of the LGBTQ community to empower themselves. Boxed into corners by his record label, he showed similar strength by refusing to kowtow even at the risk of damaging his pocket book. Faced with injustice, whether it was the treatment of striking miners in the North of England or the rights of the LGBTQ community, he opened his heart and his wallet in equal measure.
He hadn't been given a choice as to the nature of his coming out, and the way he handled himself in spite of that was a significant beacon of hope for many members of the community both closeted and out. In a world sometimes still convinced of their ancient ignorances about homosexuality, George Michael was proof that kindness, charity and love for others are not virtues that depend on one's interpretation of any holy text any more than they depend on geographic location. They are free for all the world, available through anyone lucky enough to have them in his or her nature.
In the few days after his death, anecdotes of Michael's generosity spread with wildfire speed across the internet, from the tales of £5,000 tips to the occasion when, watching a contestant on Deal or No Deal fail in her attempt to raise money for IVF, called her the next day to pay for the procedure himself. He was among the first musicians to make his catalog available for free to download, encouraging that listeners donate to charity what they would have spent on the albums.
And on top of all this, there was still the music. From his days penning Wham!'s hits to the expanded reissue of Listen Without Prejudice, Vol. 1 he was planning at the time of his death, Michael's inspired brand of what was once called "Blue-Eyed Soul" never lost a step, no matter how much he may have worried that smoking may have damaged his voice. The sounds of singles he created are inseparable from the sounds of the 1980s themselves, whether one is hearing the lonely saxophone in "Careless Whisper" or the syncopated pop hook of "Faith." That was one of his most endearing qualities for his fans: Not only did George Michael live a life that, apart from the spotlight, wasn't all that different from their own, he also provided the soundtrack to millions of similar lives all over the world.
This article, written by Senior Editor Tim Baker, was excerpted from Newsweek's Special Commemorative Edition: George Michael. For more on the life and legacy of the groundbreaking superstar, pick up a copy today.