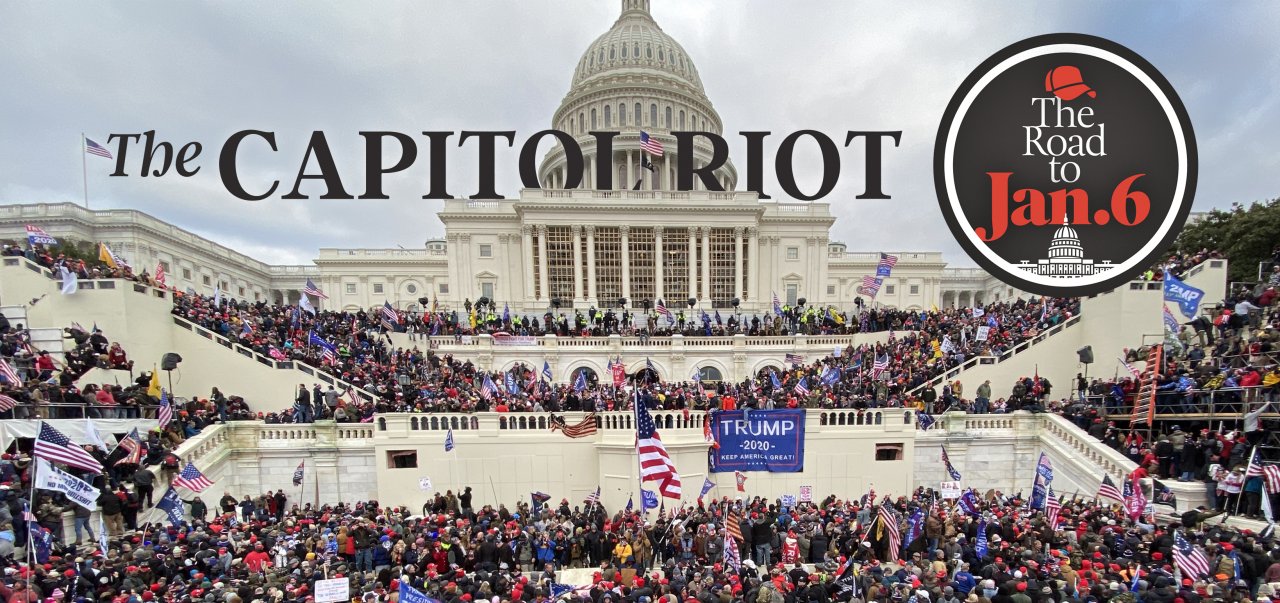 'You Must Really Hate Trump,' a Furious Donald Trump Said to Bill Barr
In this daily series, Newsweek explores the steps that led to the January 6 Capitol Riot.
On December 1, the dam finally broke. Attorney General William Barr invited Associated Press reporter Mike Balsamo to lunch, telling him on the record that he was breaking with President Donald Trump.
"Disputing President Donald Trump's persistent, baseless claims, Attorney General William Barr declared Tuesday the U.S. Justice Department has uncovered no evidence of widespread voter fraud that could change the outcome of the 2020 election," the AP reported.
"We have not seen fraud on a scale that could have effected a different outcome in the election," Barr said.
"There's been one assertion that would be systemic fraud and that would be the claim that machines were programmed essentially to skew the election results," Barr said, referring to Sidney Powell's allegations that elections systems that stored results in Germany had flipped votes, and the software created in Venezuela "at the direction of Hugo Chavez" was capable of changing votes. "The DHS and DOJ have looked into that, and so far, we haven't seen anything to substantiate that," Barr went on, referring to the Department of Homeland Security and the Department of Justice. (Hugo Chavez died in 2013.)
The reaction from the Trump campaign was immediate. Rudy Giuliani issued a statement claiming that, "with all due respect to the Attorney General, there hasn't been any semblance" of an investigation into the president's complaints.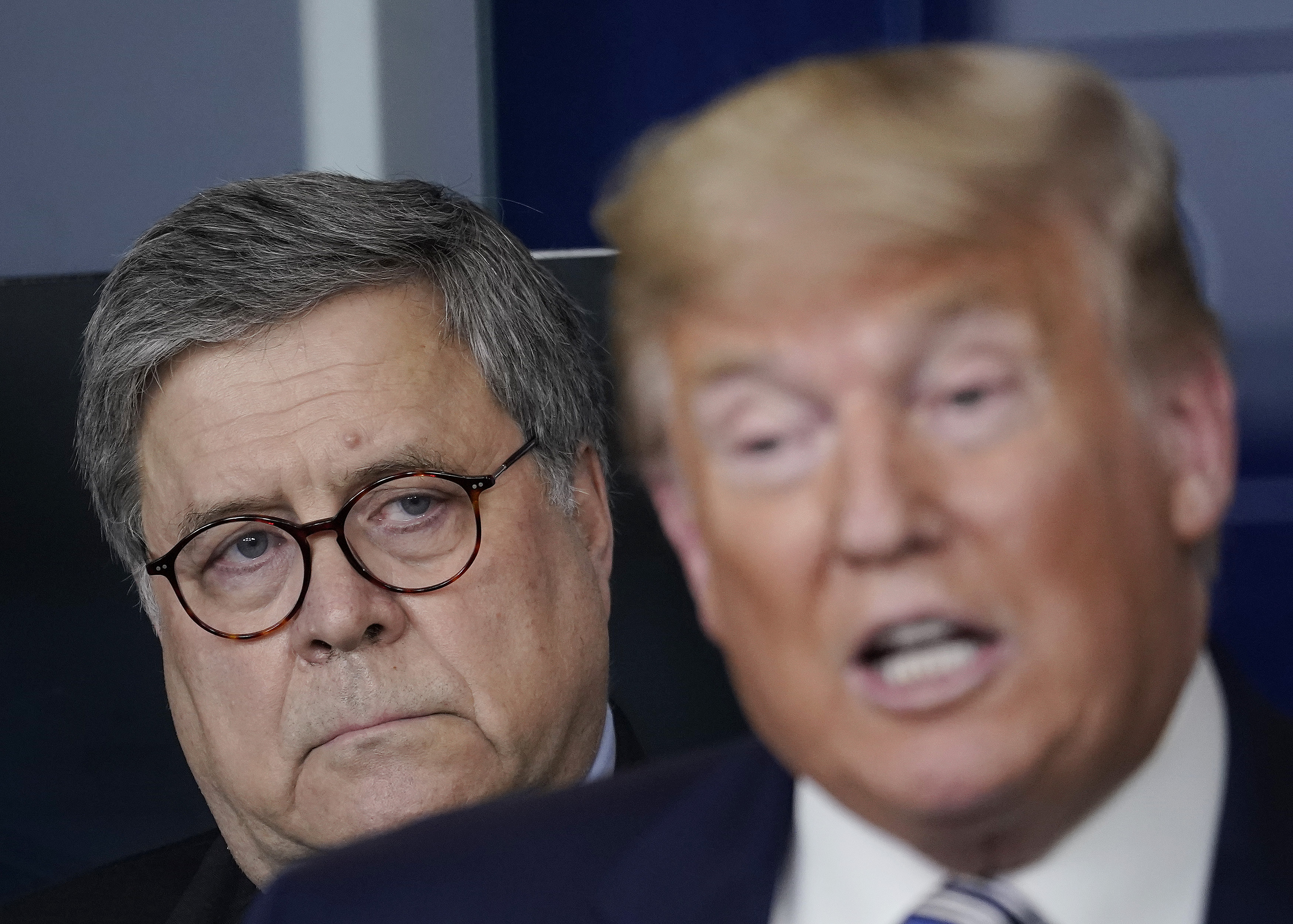 But the most painful part of the day was Barr's visit to the White House for a previously scheduled meeting with Chief of Staff Mark Meadows, where he was called into the Oval Office. Barr met with Donald Trump for three hours. The president continued to rail against the vote outcome, repeating some of the same claims of fraud and a stolen election. He asked Barr about his quotes in the AP story. "You must have said that because you hate Trump, you must really hate Trump."
Barr tells the president that he thinks the White House has no strategy. He says, according to Bob Woodward and Robert Costa's "Peril" that "every self-respecting lawyer in the country has run for the hills. Your team is a bunch of clowns. ... You have wasted four weeks on the one theory that is demonstrably crazy, which is these machines."
"Barr had never seen Trump in such a fury," the authors write in "Peril." "If a human being can have flames coming out of his ears, this was it. Barr imagined the flames. He had never seen Trump madder."
Senator Chuck Schumer is quoted as saying: "I guess he's the next one to be fired."
Meadows asked Barr not to resign before January 20. He agreed to stay on if the president wanted him to, but, according to "Peril," "Barr immediately regretted saying he would stay ... Trump was not listening to him, and the attorney general was now a figurehead at best."
That night, Barr had dinner with Secretary of State Mike Pompeo, and they commiserated about Trump and the potential dangers to the country. Chairman of the Joint Chiefs Army Gen. Mark Milley later called Barr, saying "you can't leave now. We need you," begging him to stay on to January 20. The silent coup plotters of the government, cabinet members now untethered from the president, worried that something terrible was ahead: there were still almost two months before the inauguration of Joe Biden.
In Colorado Springs, U.S. Northern Command (USNORTHCOM) was holding a two-day conference on threats to North America, including extensive panels on its mission of homeland defense: "deterring, detecting, and defeating threats to the United States."
"The command is assigned forces whenever necessary to execute missions, as ordered by the president or secretary of defense," the command says in its official mission statement. "Per the Posse Comitatus Act, military forces can provide civil support, but cannot become directly involved in law enforcement," it says. All during COVID, the command coordinated nationwide National Guard response, even if those guard forces stayed under control of state governors.
Created after 9/11, NORTHCOM "consolidates under a single unified command existing missions that were previously executed by other DOD organizations," but it had really developed to coordinate the air defense of North America and then missile defense as well. It became involved in the drug war, the military efforts on the border, and support to civil authorities in a natural disaster like Hurricane Katrina. The command took charge of assisting local authorities should there be a weapon-of-mass-destruction event inside the United States. And finally, during the Obama administration, it also took on, in its own words, efforts to "protect our nations' critical infrastructure."
It was a jumble of missions, some that seemed remote as the world evolved in its 18-year existence. There were secret operations and contingency plans behind the scenes, shadowy task forces and compartmented plans for emergencies in Washington and for continuity of the presidency and the government in case of an attack. There was Special Operations Command North, established during the Obama administration, with special operators skulking around at the southern border and in Mexico, but also having domestic mission. And there were other under-the-table projects that hinted at what was going on in highly classified corners. That day there was a panel: "Combatting False Information in Social Media via Machine Learning," evidently another threat to the homeland and an effort to defend it. Except that, in every way, as January 6 neared, NORTHCOM was completely absent, the Pentagon deciding what the military response would be.