'You Need To Calm Down': How To Listen To Taylor Swift's New Song and Full Album, Lover
You Need To Calm Down became a top Twitter trend Thursday after Taylor Swift revealed that was the name of her new single. She is dropping the song at midnight, just in time for Spotify's New Music Friday playlist. Fans can listen to her latest tune on all digital platforms. Her "romantic" seventh album, Lover, won't be available in full until August 23. It will reportedly have 18 tracks, including "ME!" and "You Need to Calm Down."
Swift, 29, explained where she came up with the idea for her song on Instagram Live Thursday. "So a lot of people, I saw, had a theory regarding the idea of 'Calm etc. etc.' I can confirm that I have a new single tonight coming out tonight at midnight. It's called, 'You Need to Calm Down.' I'm so excited for you to hear it," she said.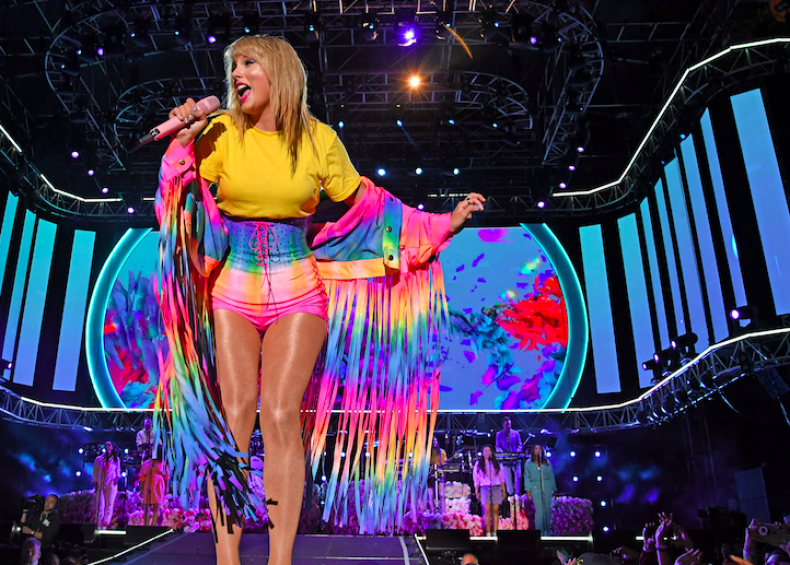 But fans will have to wait for the video, which is going to premiere first on Good Morning America Monday and will then be available on YouTube. "The video is very worth the wait. There's a lot going on in the video; I wanted that to be a separate discovery," she said.
The release date for the album is special to the Grammy winner. It equals her favorite number, 13. She got the figure by adding the month, August (8), and the date, 2 + 3.
"This album in tone, it's very romantic—and not just thematically, like it's all love songs," she said on Instagram. "I think the idea of something being romantic, it doesn't have to be a happy song. You can find romance in loneliness or sadness or going through a conflict or dealing with things in your life ... It looks at things with a very romantic gaze."
The day before her reveal, Swift teased her fans on Instagram Live, saying: "Hey guys, so at 5 pm eastern tomorrow I'm gonna be doing an Instagram live. Just filling you in on some stuff and things and you know. Hope you're free tomorrow."
In April, Swift released her latest hit, "ME!" which is a song about loving yourself. "'ME!' is a song about embracing your individuality and really celebrating it and owning it," Swift told Good Morning America's co-anchor Robin Roberts in April. "I think that with a pop song we have the ability to get a melody stuck in people's heads, and I just want it to be one that makes them feel better about themselves, not worse."