'You Need a Little Education': GOP Lawmaker Confronts Tucker Carlson on U.S.-Ukraine Ties
A Republican congressman told Fox News host Tucker Carlson that he needs more education on the United States' relationship with Ukraine.
Representative Mike Turner of Ohio appeared on Carlson's show Wednesday night to discuss U.S.-Ukraine relations after he joined 14 other Republicans in a letter asking President Joe Biden to increase support to Ukraine amid a buildup of Russian military forces along the border.
Turner said Russia's actions are a threat to the United States and its allies, but Carlson asked why the U.S. should take Ukraine's side and not Russia's.
"If you're looking at America's perspective, why?" Carlson said. "Who's got the energy reserves? Who's the major player in world affairs? Who's the potential counterbalance against China, which is the actual threat? Why would we take Ukraine's side? Why wouldn't we be on Russia's side? I'm totally confused."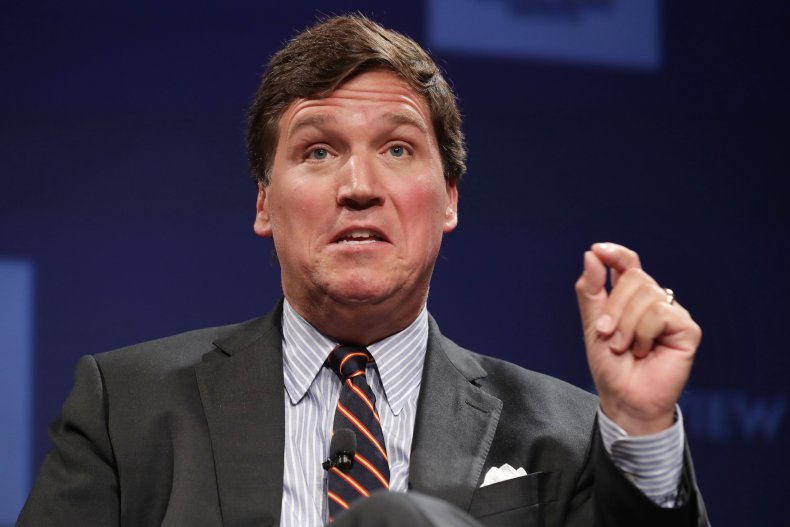 Carlson also asked why it is in America's interest to send more troops to "risk their lives" in Ukraine after a "tragic, cowardly and counterproductive exit" from Afghanistan.
Turner noted Ukraine's strategic importance and the need to protect its territorial integrity.
"Ukraine is a democracy," Turner said. "Russia is an authoritarian regime that is seeking to impose its will upon a validly elected democracy in Ukraine. And we're on the side of democracy."
Carlson then turned his attention to China, suggesting that Russia is "the only other country with any throw weight" that could help the U.S. counterbalance a threat from the Asian nation.
Turner explained to Carlson why Russia's 2014 annexation of Crimea, as well as its threats against neighbors in the region that are part of NATO "or heading towards NATO," is harmful to the U.S.
"You should be against—I'm sure you are, Tucker—any country using tanks to invade another and putting their will on that country and changing that country's borders," Turner said.
Turner also clarified that the letter to Biden did not ask for U.S. troops to be sent to Ukraine but rather for the U.S. to provide intelligence and weapons so Ukraine "can defend itself."
He and Carlson continued to argue over U.S. support for foreign countries, the closing of the U.S. southern border and former President Donald Trump's policies. Then, Turner told Carlson he should be more educated on the situation in Ukraine.
"Tucker, I don't know who you're arguing with here, because I'm on your side on all of those issues, except apparently you need a little education on Ukraine. I'd be glad to send you some stuff on it," the congressman said.