You Need More ID to Eat Out in New York Than You Do to Vote | Opinion
You now need more identification in New York City to eat in a restaurant than you do to vote.
New York City Mayor Bill de Blasio announced Tuesday that residents of the Big Apple will be required to show proof of vaccination in order to enter many indoor businesses within the city. The initiative, the first of its kind in the country, will require not just customers but also workers in the dining, fitness, and entertainment industries to show proof of vaccination or be denied entry.
It's ironic to say the least: The party pushing this policy forcing people to identify themselves as vaccinated is the same one that told us identification for voting is racist because it is hard for Black Americans to obtain ID.
Democrats have been making this argument for a while, now: In 2014, then-President Barack Obama claimed voter ID laws were a serious barrier to Black voters. In 2018, Stacey Abrams said voter ID laws are intended to "scare people out of voting." In 2016, Senator Raphael Warnock (D-GA), then a pastor, claimed voter ID laws were a form of "voter suppression." In March, President Joe Biden said that Republicans' voter integrity initiatives made "Jim Crow look like Jim Eagle."
The most outlandish claim was made by Vice President Kamala Harris, who said that it was "almost impossible" for rural voters to photocopy their identification credentials.
One wonders: How will Black people ever get a meal in a restaurant in New York City ever again?
In fact, unlike voter ID laws, the new policy demanding proof of vaccination will actually discriminate against minorities, who are less likely to be vaccinated. Recent data from New York shows that Black residents have the lowest vaccination rates in the city. Only 35 percent have received at least one shot, and a mere 31 percent are fully vaccinated—as opposed to the more than 60 percent of all New York City residents who have received at least one dose the vaccine, and the 55 percent who are fully vaccinated.
It's clear that the result of this new policy will not be more people getting the jab, but rather, unvaccinated people congregating indoors together, thereby spreading the virus even further; the overwhelming majority of current COVID cases—97 percent of hospitalizations and 99 percent of deaths—are not among the vaccinated, after all, but the unvaccinated. Moreover, many of the states seeing spikes right now are in warm climates, where people go indoors where there is air conditioning to escape the summer heat, spreading the virus exactly like they did last summer.
But the vaccine mandate for eating out is not only hypocritical and discriminatory; it reflects the unwarranted hysteria from which it stems from and that it will induce. The current seven-day average of COVID deaths is 362, according to The New York Times, half what it was last summer. As concern over the Delta variant mounts, we should not be panicking, but rather looking to other countries that already went through it. The Netherlands and the United Kingdom both saw a spike from Delta and then a decrease, which shows that the best policy for public officials is to continue to protect the vulnerable, encourage vaccinations and wait for three to five weeks for cases, hospitalizations and deaths to drop.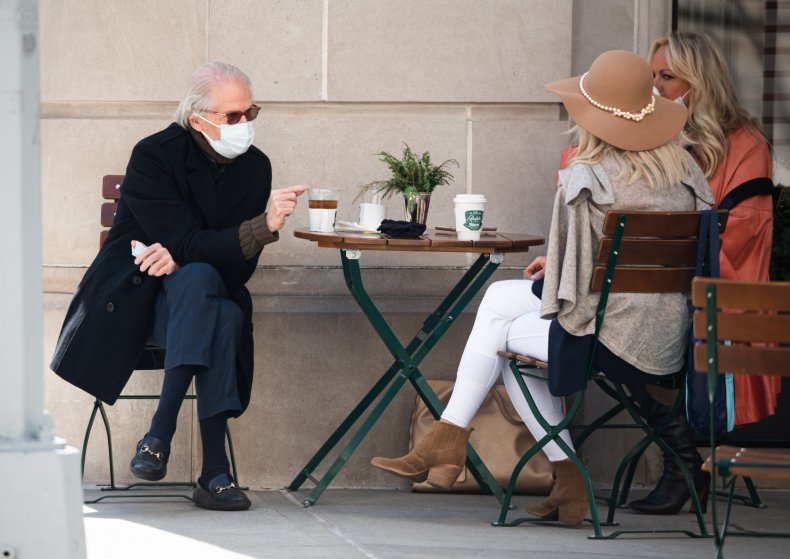 Instead, the White House Press Secretary indicated we might be going back to lockdowns. And blue states are taking their cues. San Francisco reinstated mask mandates this week for both vaccinated and unvaccinated residents as the city hit 1,000 cases per day, even though their rolling death rate was zero for multiple consecutive days.
These measures are counterintuitive. Telling vaccinated people to mask-up disincentivizes the unvaccinated from getting vaccinated. It sends the signal that the vaccines are not effective, even though we know they are—overwhelmingly.
And the science has still not shown conclusively that the cloth masks make much of a difference, unless you wear an N-95 mask or better and change it regularly. Furthermore, the overwhelming majority of those who are vulnerable to the virus have already been vaccinated; among children 11 and under who cannot get the vaccine yet, the coronavirus poses a threat so small it's not even a statistical anomaly.
I have never met a person who chose to be unvaccinated who is worried about getting the virus. But I have met many people who have gotten the vaccine and are convinced we are all going to die because of petri dish children and "Trump supporters," though the unvaccinated are just as often minorities in blue urban centers. Thankfully, that number is improving.
Among 165 million Americans who have been vaccinated, 0.001 percent have died. 99.9 percent have not tested positive for COVID. We are already seeing the peak of this wave in multiple states.
Instead of celebrating the efficacy of the vaccine, politicians have gone back to instilling fear with a rehash of failed policies. These "new" policies will not only be just as ineffective the second time around; they will continue to disincentivize vaccination. And that is the most dangerous thing that anyone could do at this moment.
Ari Hoffman is the host of The Ari Hoffman Show on Talk Radio 570 KVI. He is an associate editor and Seattle correspondent for The Post Millennial.
The views in this article are the writer's own.