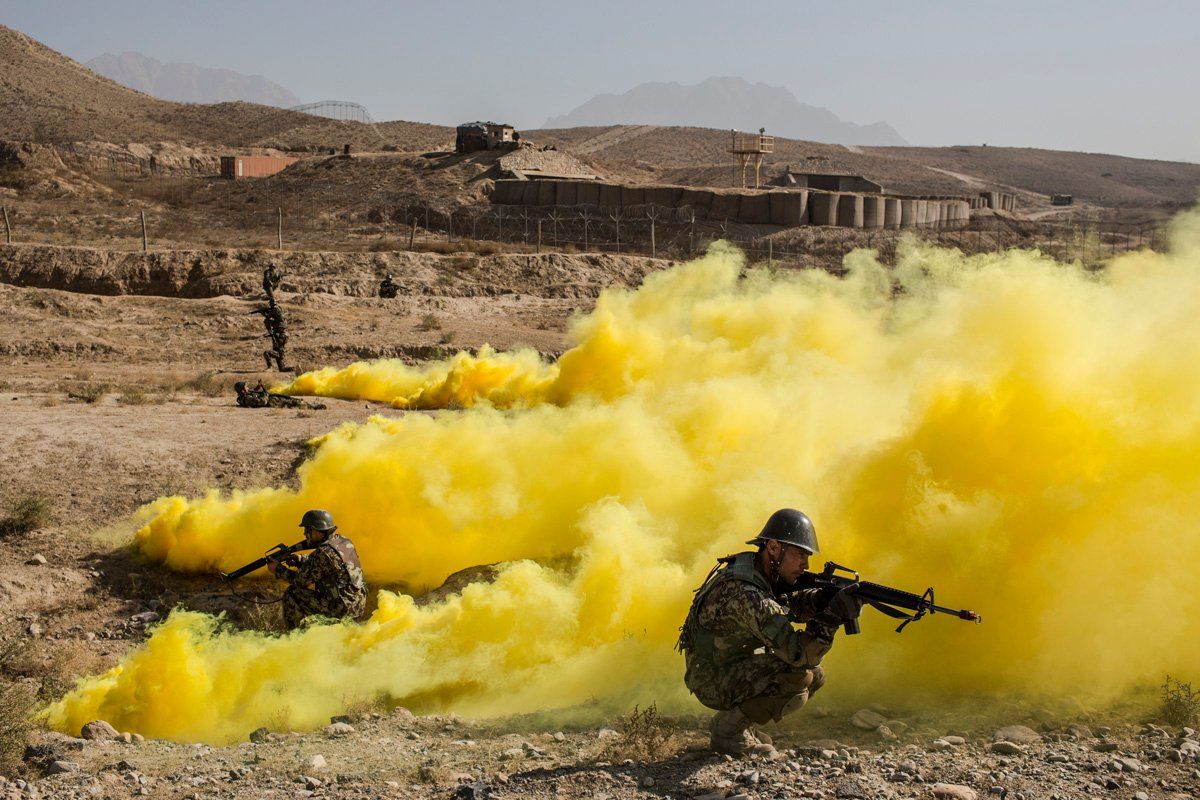 A shroud of anxiety hangs over the coming year in Afghanistan. It's not only the country's war-weary civilians who are beset with trepidation and uncertainty—even the Taliban are uncharacteristically worried. The people of Pakistan next door are bracing for trouble as well. To be sure, the Afghan insurgents unabashedly welcome the impending U.S. troop drawdown. Maybe now they can start to regroup and regain some of the momentum they've lost over the past three years. At the same time, however, they're acutely aware that their ranks have been decimated, while the Americans have worked overtime to transform the Afghan National Army into a credible fighting force. The Taliban's propaganda department keeps claiming that the ANA is a laughably hollow threat, unable to fill the vacuum left by the departing Western troops. But privately, the guerrillas in the field aren't sure which side is stronger now.
The country's civilians are likewise on edge—and not only over the danger of intensified fighting. They worry that the U.S. departure will threaten both their personal livelihoods and the Afghan economy as a whole. According to the World Bank, roughly 97 percent of Afghanistan's $18 billion GDP comes from foreign military and development aid and from spending by foreign forces. The West's reduced involvement in the conflict will necessarily mean the end of many formerly lucrative contracts. Unemployment, already soaring, will grow still worse; capital flight will accelerate, and rising numbers of educated and talented Afghans will flee the country, whether legally or by employing people smugglers.
On top of everything else, there's a rapidly growing threat of civil war. Afghans saw it happen 20 years ago: after the Soviet military pulled out, the pro-Kremlin regime in Kabul collapsed, and the West lost interest in Afghanistan. The country disintegrated into a bloody free-for-all among rival militias. Today, as the allies' withdrawal gathers steam, powerful former warlords are hastening to rebuild and rearm the private armies they commanded during the 1990s, preparing to fight the Taliban—and quite likely each other—once again.
Their militias now control large swaths of territory, particularly in northern Afghanistan. "We have to be ready to restart our resistance against the Taliban as the Americans go home," says one northern militia commander, declining to be named. In the western province of Herat, the powerful former mujahedin leader Ismail Khan, formerly a kingpin in the anti-Taliban Northern Alliance, is rearming his men. A senior Afghan government official describes the rearming of the warlords as "a dangerous cancer" and a prelude to civil war. "The private militias are speedily taking shape again," he warns. "Next year they will be flexing their muscles even more."
Many Afghans fear that as aid dollars and military contracts shrink, the resurrected warlords will move to grab as much of that wealth as possible, as fast as they can. "We're in a civil war already, and the U.S. withdrawal will make it worse," says Hajji Ahmadzai, a well-todo construction contractor. "The business community will be like raw meat in front of hungry dogs." Many of his colleagues are thinking of emigrating, he says. "There is and will be a significant increase in the numbers of Afghans going to the West because of all this uncertainty," he predicts. He personally feels so doubtful about the future that he has stopped investing in new projects and has put some of his businesses and buildings up for sale.
In fact, Ahmadzai confesses, he's considering whether to go, too. "If things don't dramatically improve in 2013, I will shift to Dubai or Canada," he says. It's not an easy decision, he says; unlike millions of other Afghans, he has stayed in his home country through years of war and Taliban rule. "I've never left my country in my entire life," he says. "But I fear that a civil war will endanger my life, my family, and property. The rich will be the first targets." Since the U.S. and allied withdrawals began, his business has almost dried up. He owns five houses in the upscale, heavily guarded Kabul neighborhood of Wa zir Akhbar Khan. At present, he says, he can find no takers for any of the properties, even though they had been bringing him monthly rents of $10,000 for each.
Longtime Taliban officials say their plan is only to hang on and hope for the best. "This will be a crucial and decisive period," says a former cabinet minister from the toppled Taliban regime. "Our resistance will remain, but it may become harder than in the past two or three years to carry on. We have lost so many fighters, leaders, and commanders. No one knows what will happen next." A senior Taliban intelligence official echoes his doubts. Where in winters past the insurgents have always predicted major advances for the coming year, he says the aim for 2013 is merely to keep the movement united and continue fighting. "Our strategy is to keep attacking, no matter if the attacks are large or small or skillful," he says. "We have to stay intact and prove ourselves in 2013."
That won't be easy. "Even though we will keep attacking, we could lose more territorial influence and control in the north and south," the former minister admits. He frankly wonders whether the Afghan guerrillas of today are capable of outfighting the numerically far superior and largely U.S.-trained ANA—particularly with Kabul's forces continuing to enjoy support from overwhelming American firepower. "One big question is: can we expand our influence in areas where the ANA is taking over?" he says. Otherwise, more Afghans are likely to abandon the insurgency as a losing cause. "If the Afghan army can hold its ground, that would be a huge moral victory for the Kabul regime."
The biggest worry is the Taliban's lack of leadership at the top, the former minister says. "In terms of running the insurgency, most of our current military commanders are weaker and poorer than the old guard of Mullah Obaidullah, Mullah Dadullah, and Mullah Baradar," he complains. (The notoriously bloodthirsty Dadullah was the Taliban's top military commander at the time of his death in action in 2007; Barada r, formerly Mullah Omar's righthand man, has been imprisoned by Pakistani authorities since early 2010; and Obaidullah, once the Taliban's third in command, died in a Pakistani jail that same year.) "The new top guys' abilities and prestige just don't compare," says the former minister. "Everyone misses Baradar."
Even more than that, the insurgents miss Mullah Omar himself. They've had no verifiable communications from their Amir-ul-Momineen (Leader of the Faithful) since he disappeared into the Kandahar mountains on the back of Baradar's motorcycle in late 2001. Now Omar's loyal followers can only pray that 2013 will be the year he finally makes his presence known, resumes full leadership responsibility, rallies his forces, and begins issuing orders once again. "This is the right time for Mullah Omar to show up," says the former minister. "It's getting very late for us." In fact, he warns, many Taliban are close to losing hope that Omar will ever come back. "But if he proves he's alive and begins to lead, we will have a winning hand."
The truth is that the Taliban's problems go far deeper than Omar's absence. The insurgents remain intent on killing their way back into power, rather than developing an economic and political platform that would be acceptable to most Afghans, who are heartily sick of corruption and carnage. The country's voters are supposed to elect a new president in 2014; their constitution prevents Hamid Karzai—an ethnic Pashtun, like the plurality of Afghanistan's people and like almost every member of the Taliban—from running for a third term, and so far he has no obvious successor. "The Taliban have to draw up a map for Afghanistan's future in 2013," the former minister says. "Waiting until 2014 could be too late."
But as feckless and sticky-fingered as President Hamid Karzai's regime has been, the insurgents have failed until now to turn its flaws to their advantage. "There is a serious leadership vacuum, particularly among Pashtuns on Kabul's side," the former minister says. "If the Taliban can change, become more open and flexible, we could win more popular support among Afghans." It may be too late for that. Long, painful experience has taught many Afghans—city dwellers especially—to hate and fear the Taliban. The group became a synonym for cruelty and intolerance during its years in power, and since then its roadside bombs and suicide attacks have slaughtered thousands of civilians. Many Afghans have endured more than enough of the Taliban's brand of persuasion. Ahmadzai charges that the coalition is leaving its work unfinished. "U.S. and NATO forces came here to accomplish a mission—which they did not complete," he complains. "And now they're flying home, leaving us with a corrupt regime and a strong Taliban."
The crowning irony is that Afghanistan's fate in 2013 may very well be determined not by the Afghans themselves but by the Pakistanis next door. Most Afghans—including most Taliban—are convinced that the insurgency answers ultimately to Pakistan's armed forces, particularly to the Inter-Services Intelligence spy agency (ISI). After all, Pakistan has powerful leverage over the Afghan guerrillas in the form of the safe havens and assistance that enable them to keep fighting. As a result, the Taliban fear that Pakistan might decide to betray them for its own reasons. "Our biggest worry for next year is not the ANA or U.S. forces. It is that Pakistan may stab us in the back, as it did in 2001," says the senior Taliban intelligence officer. The insurgents have not forgotten Islamabad's abrupt abandonment of Omar's regime under American pressure after the 9/11 attacks.
For the Taliban, the fear is that Pakistan could try forcing them into a peace deal they can't refuse. The insurgents are deeply divided among themselves over whether to keep fighting or pursue a negotiated settlement. At present the Qatar peace process seems to have gone nowhere since the Taliban suspended the talks last March. Nevertheless, the former minister says, a few Taliban representatives are still sitting in Qatar, awaiting further instructions. "The Taliban in Qatar are isolated and in an embarrassing situation," he says. "They have to produce some fruit or close the office." And yet there's nothing they can do until Pakistan allows them to close shop or resume talking.
But other than the castaways in Qatar, the insurgents are not completely at Pakistan's mercy. In fact, they have made it clear that if Pakistan double-crosses them this time, they will retaliate, the Taliban intelligence officer says. "If Pakistan withdraws its support, as it did in 2001, we will not collapse as we did back then," he warns. "We are much stronger now. We could join forces with the Tehrik-e-Taliban Pakistan [the Pakistani Taliban, who are fighting Pakistani security forces in the tribal areas] and pose a great danger to Pakistan."
And Islamabad already has plenty to worry about. In addition to the TTP, who have killed more than 3,000 members of the country's security forces in the past several years, the people of Pakistan are suffering from grinding poverty, recurrent financial crises, and chronic short ages of energy and clean water. All three of the country's most powerful men—President Asif Ali Zardari, Army chief Gen. Ashfaq Parvez Kayani, and Chief Justice Iftikhar Muhammad Chaudhry are due to retire in the next 12 months, and in that order. Neither Zardari nor Kayani wants to be at the mercy of the hard-nosed chief justice, but no one can say how either of them might try to protect himself.
Zardari has been plagued by unresolved corruption charges for more than 20 years, and Kayani now has his own legal headaches. The Army and the ISI have always operated with practically no legal interference, but now they're facing a spate of lawsuits challenging their sweeping powers and their habits of arresting, detaining, disappearing, or eliminating just about anyone they regard as a national security risk. One lawsuit, brought by a courageous former army lawyer, Inam ur Raheem, even contests the legality of Kayani's remaining in office, having reached the official retirement age of 60. The Army doesn't take kindly to outside interference in its powers, perquisites, and privileges. Recently Raheem was savagely beaten by a gang of thugs. The military denied any responsibility.
Still, Pakistani politics may give the Taliban at least a slight respite from their troubles—that is, those insurgents who make it through the first few months of 2013. National elections, due in May, will pit the deeply unpopular Zardari's ruling Pakistan Peoples Party against his longtime archfoe, former prime minister Nawaz Sharif, and the upstart politician and former cricket star Imran Khan. Neither of the two has much good to say about America's conduct in Afghan or its counterterrorism programs, and both publicly are opposed to the Obama administration's escalating drone war over Pakistan's tribal belt. But before either one takes over, the Predators seem likely to be busier than ever. Expect street protests, flag-burnings, and a recruiting surge for the militants in the tribal areas. And keep your head down.